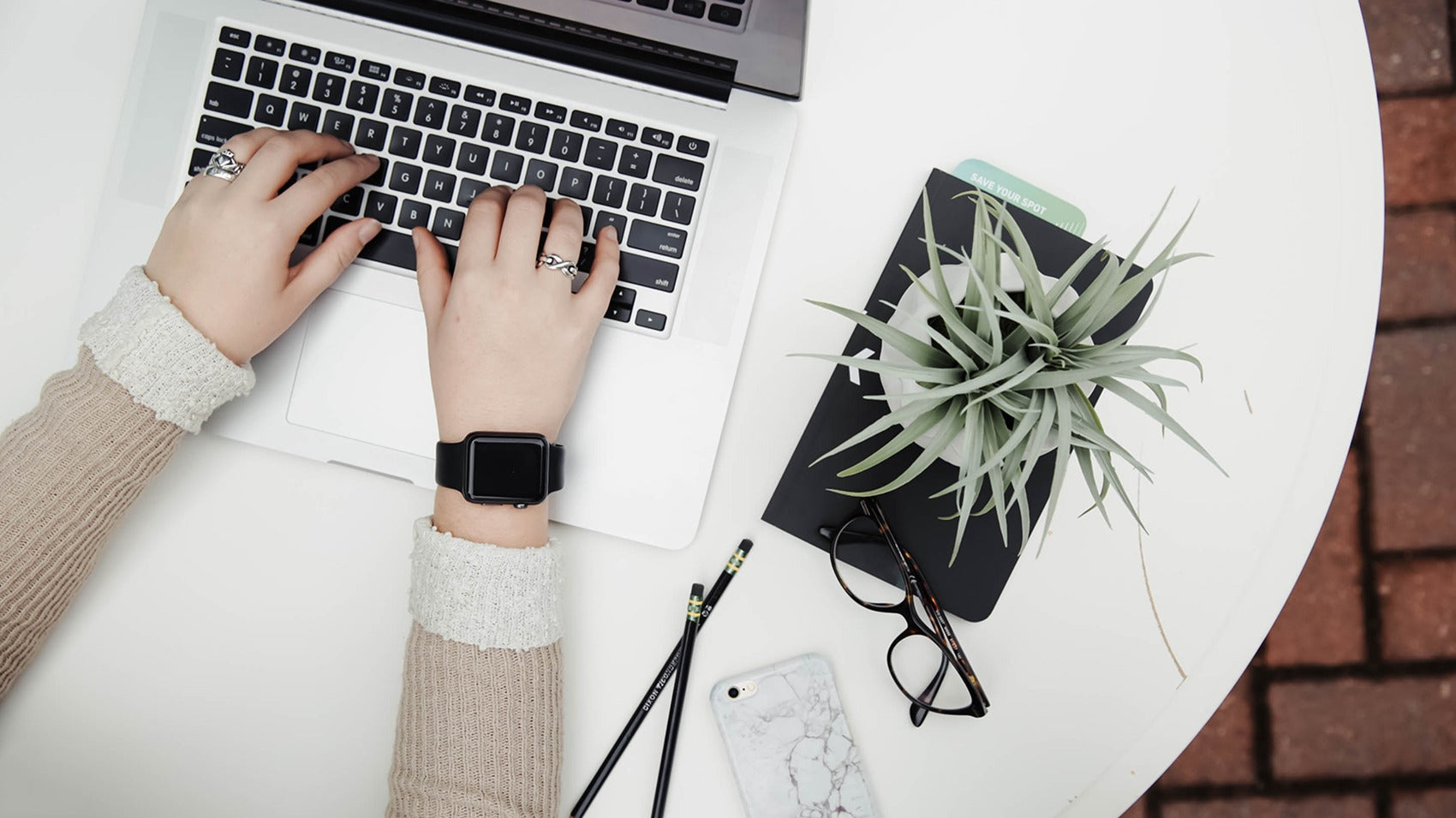 7 ways blogging can help you grow your online store
Every Shopify entrepreneur wants to drive more traffic to their online store. It's the easiest way to increase sales, right? Well, not exactly. Driving traffic usually requires time, effort, and money. Whether it's building your email list, growing your social media following, pitching your brand to the media, creating paid ad campaigns, or improving your SEO, gaining traffic isn't easy.
Fortunately, there are cost-effective ways of steadily and passively driving traffic to your online store—and one of the best ways is by creating blog content.
You don't have to be a pro writer to add a blog to your online store. If your products are visually appealing, consider creating a photo blog (don't forget alt tags!). If you're a video editing wiz, post video content in your blog. If you're selling food or kitchenware, share your favourite recipes. If you're stuck for ideas, check out your competitors' blogs to get some inspiration.
If you're worried you don't have enough time to manage a blog—dismiss this idea. Even if you only post once a month, you're still building your SEO strength and letting Google know you're updating your online store regularly. For this, you'll be rewarded.
Keep reading to discover the benefits of blogging, and learn a few tips about what it takes to run a successful blog in your online store.
Increase organic traffic
The content pieces most likely to rank on Google's first page—and bring in customers who haven't been exposed to your brand—are blog posts. Blog posts that cater to common questions within your niche will bring the best results. These results might not be immediate, but with time they can become the pages that drive the most traffic to your store.
The Google Analytics chart above shows the pageviews for our blog post on single-product ecommerce stores. The spike at the beginning of the timeline shows a jump in traffic when we first promoted the post on social media and in our newsletter.
Since then, it has slowly increased in popularity and driven over 25,000 unique visitors to our website. We wrote the post as a guide for entrepreneurs looking to launch a store with one (or very few) products.
Writing content that answers questions your customers are asking should always be your top priority. If you can link that content back to one of your products, even better. That being said, don't write every blog post as a sales pitch for your products. Be authentic, transparent, and most importantly, helpful, and you'll see your store's organic traffic increase.
Establish yourself as an expert
Establishing yourself as an expert in your niche is a great way to gain the trust of potential customers. Don't just write about your products—also write about topics related to them. Showing an interest in improving the lives of your customers will do wonders for your brand.
Herbivore Botanicals (users of Pixel Union's Startup Shopify theme) is a health and wellness store selling plant-based products that range from shampoo to air diffusers.
"The Herbivore Botanicals blog, Naturally Speaking, has not only had a positive impact on our business through creating and providing educational and inspiring content around our products, but has also been a great platform to share topics we are passionate about," says the brand's beauty editor, Desireé Pace.
Their blog post "Six On-Trend House Plants + How to Care for Them," for example, came about from their love for plants. This post doesn't mention a single product. Its purpose is to educate readers on how houseplants can improve your well-being. It targets browsers who are interested in plants—a topic closely related to health and wellness.
"With blogging, we've been able to share so much more with our customers and give more life to our brand," says Desireé. "All the while creating content that inspires readers to incorporate more natural beauty and sustainable living into their lives."
Talk about your products in greater detail
When writing product descriptions, it can be tempting to include every detail and intended use of your products. Don't do this. Your product descriptions should be succinct and sales-focused.
Blog posts are a great opportunity to dive deeper into how your products can be used and to showcase how customers are using your products.
Fox & Bagel (users of Pixel Union's Pacific Shopify theme) is a boutique goods store selling cute pins, patches, and stickers. Their most recent blog post tackles the topic of how to apply their popular sticker patches. Going into this level of detail in product descriptions would create a lengthy block of text and distract potential purchasers from converting. Instead, the store's owners have written a blog post that includes three different application methods and accompanying instructional photos.
This blog post is great for their SEO. If someone Googles "how to apply sticker patches" or "sticker patches," Fox & Bagel's blog post appears on the first page of results. This drives a large volume of interested searchers right to their store.
Cultivate a community
A blog is not only great for sharing content, it can act as a hub for customers and cultivate a community. Featuring loyal customers, promoting local events, and responding to comments are great ways of engaging with your customer base and connecting like-minded people.
Biolite Energy is a leading outdoor gear brand that manufactures and sells products ranging from camp stoves to headlamps to solar panels. Through their superior products and generous charity, they've fostered an engaged audience that's as socially-conscious as they are outdoors-obsessed. Biolite taps into this audience through their beta testing program. They send new products to loyal customers so they can test and review them.
This initiative provides Biolite with user-generated content, social proof, and a stronger connection with their most valuable customers. Win, win, win!
Establish your brand voice
Your brand voice should be consistent across all content you produce. Whether it's your About page, Instagram bio, or blog, customers shouldn't notice a major difference in voice between each. Your blog is the channel where you can let your brand voice shine brightest.
The Landmark Project is an outdoor lifestyle brand selling apparel that pays homage to US National Parks. They use their blog as a space to build their brand.
"We try to be as human as possible," says the brand's marketing coordinator, Ben Croft. "We keep the John Muir quotes pretty sparse, and when we're on a trip we share something funny from behind the scenes."
The Landmark Project strives to make their customers feel involved with their brand and welcomed when they visit the store. Their brand voice reflects this to a T, and it's ingrained into every blog post they publish.
Grow your email marketing list
Your blog is the perfect place to gather signups for your email marketing list. Since your blog content relates to your industry, your readers should be considered as acquired leads. And while you may already have a homepage popup promoting a first-purchase discount, consider switching it out for a different popup on your blog pages.
Pixelpop is the ideal app to use to display a popup promoting a newsletter signup to blog visitors. It can be set up to appear 40% of the way through an article so that only readers who are invested in our content are prompted. If you display a popup asking your readers to subscribe to your newsletter before they've had a chance to get interested, they'll be less likely to convert.
Share more (and better) content on social media
Finding engaging, relevant content to share on social media isn't easy. If your store doesn't have a blog, most of that shareable content is going to come from news sites or other blogs. Yes, you can tweet out your About page and some of your more popular product pages, but that content is going to get old quick (and isn't the most shareable to begin with). Can you see where we're going with this? Sharing content from your own blog is your best bet.
Maillard.co is an online butcher shop specializing in delivering quality Canadian meats. Their blog article topics focus on unique recipes and cooking tips.
"Sharing our blog posts on social media is essential to our content experience strategy," says the brand's president, Michel St-André. "We publish on a regular basis to help us engage with our customers throughout their buying journey, whether it's at the awareness or retention stage."
This wealth of content ensures that Maillard.co are driving their social media followers back to their website and getting them engaged with their content and products.
Start posting
Every Shopify theme, free or paid, supports a blog. If you're unsure of how to add a blog to your store, read through this helpful guide to get started.
It's important to research your niche before working on your first blog post. Perform some keyword research, determine the questions your customers are asking, and find out what your competitors are writing about. From there you'll have a solid starting point and plenty of ideas for what to feature in your blog.
Find more helpful articles in The Ultimate Guide to Starting an Online Store.