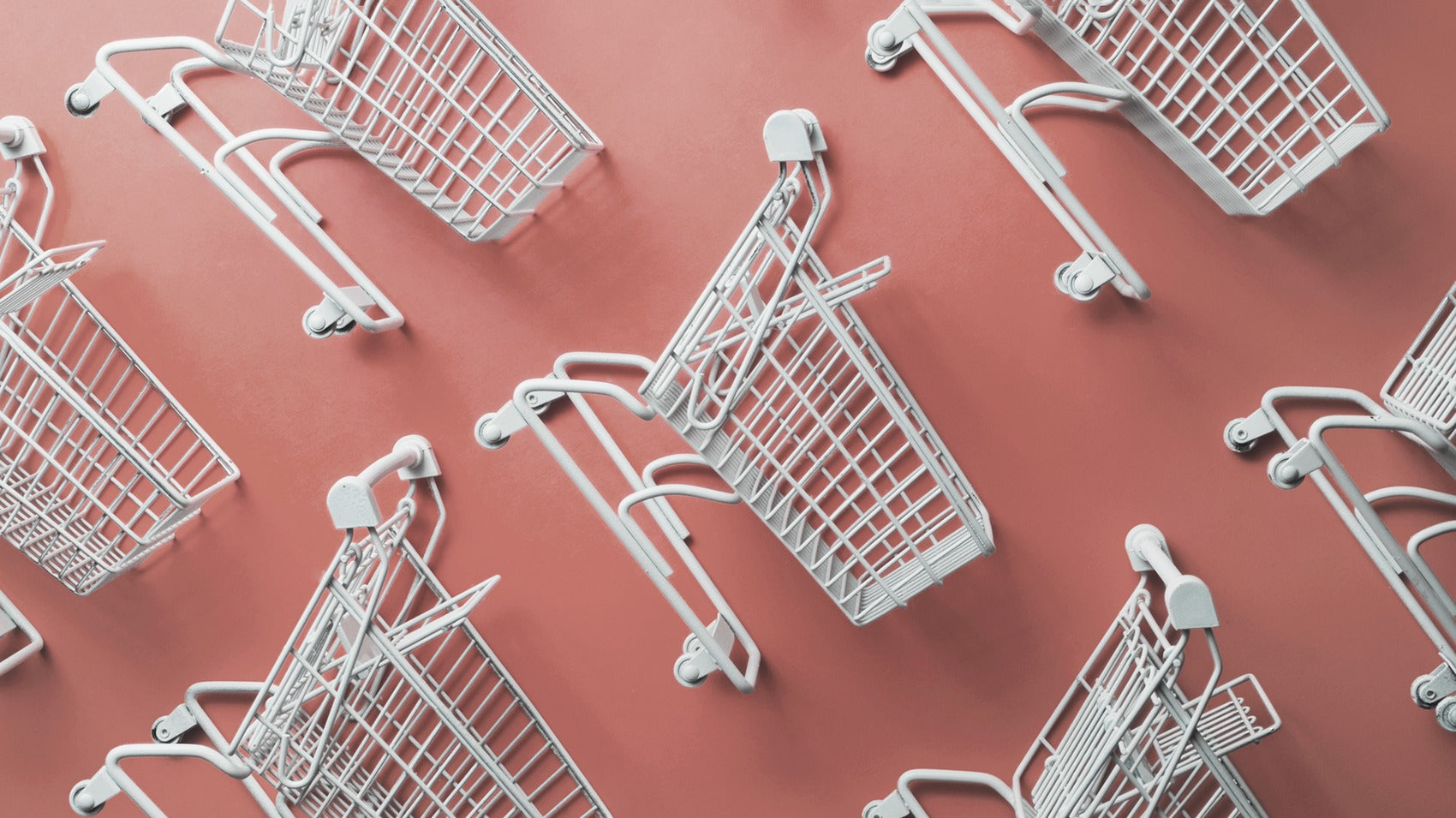 10 tips for reducing shopping cart abandonment
Running an online store can be stressful. Between fine-tuning your product offering, fulfilling orders, maintaining your website, and so much more, it's easy to lose sight of something as dreary as reducing shopping cart abandonment.
If you've ever felt personally victimized by cart abandonment rates, don't. You're not alone. In fact, the Baymard Institute has estimated the current global cart abandonment rate at approximately 69%. You can be sure every successful online business has "lower cart abandonment" high on their company wish list.
There are plenty of reasons why a shopper might abandon their cart. Maybe they got distracted by a really cute dog outside their window. Probably not. More likely, they left items in their cart for one of the following reasons:
There were unexpected shipping costs
They had to create an account
They were "just browsing" all along
They didn't trust the site enough to enter their credit card info
The checkout process was too complicated
Thankfully, for every reason customers abandon their carts, there's a solution (and sometimes more than one). Don't lose hope. Simply read on to discover 10 proven ways of lowering shopping cart abandonment rate.
Be transparent with fees, especially shipping
A few months ago, I was trying to buy stationery online. But when I got to the checkout, the shipping fees to Canada were going to double the price of my order, and I was going to have to pay additional duties. I didn't find this out until I was halfway through the checkout process. How annoying. I abandoned my cart.
There's something about high shipping fees that deter customers like no other. According to Kissmetrics, "unexpected shipping costs" is the top reason for cart abandonment. Try to provide as much information as you can, right off the bat, about how much it's going to cost your customers to receive your products.
Also be transparent with taxes. Are they included in the listed price? What percentage of the purchase is being taxed? Will the customer have to pay duties for international shipping? These are all questions customers like to know as soon as possible, as they can make or break a sale.
Being honest with costs, even if they're high, shows your integrity. Customers are more likely to revisit stores they like and trust. And whatever you do, don't try to sneak in additional costs at the end of the transaction. It makes you look sleazy and annoys or completely deters your customers.
Make use of exit-intent popups
If you've never heard of them, exit-intent popups are those clever little popups that wait to display until the visitor moves their cursor to leave the page. Done right, they're an excellent way to increase conversions.
Before a potential customer leaves your site (thereby abandoning their cart), show an exit-intent popup that encourages them to complete their purchase by offering additional product information or a coupon code to use at checkout.
We're obviously a bit biased, but Pixelpop is a perfect solution for all your exit-intent popup needs. Sign up for the free Pro trial and see if you can bring down your cart abandonment rate by creating a popup.
Include a persistent cart/checkout button
Can you imagine going to a grocery store and not being able to find the checkout or exit? What a nightmare that would be! Well, same goes for an online store. If your customer can't easily find their shopping cart or the checkout, how are they supposed to buy anything?
Implementing a persistent cart and/or checkout button ensures your customers won't get lost or overwhelmed trying to find their way out of your product pages. It's a nuanced call to action. You want to make it as simple as possible for your customer to add items to their cart and proceed to the checkout.
Make it easy for customers to ask questions
No matter how many positive reviews you have, no matter how good a job you've done of writing great product descriptions, your customers are bound to have questions. Make it easy for them to get in touch with you, so you can answer their questions and help them continue on their lucrative shopping journey.
If you're able to, consider integrating an automated chatbot or something like LiveChat. If not, make sure your contact information is easily available—and that you're checking and responding to emails regularly.
Include security badges
No one wants to lose money. And no one likes to be tricked. According to Shopify, 50% of online shoppers worry about being conned by companies online. Additionally, 66% of internet users are concerned about other people accessing their personal details. None of this is your fault, but you can ease concerns by assuring customers that their purchases and personal details are secure.
You can reduce worry by displaying SSL Certificates or trust seals, but make sure the trust seals themselves are trustworthy. It doesn't do much good if people distrust the thing they're supposed to trust. Do some research to figure out the concerns of your primary demographic and act accordingly.
We suggest making your website as secure as possible and sharing the actions you're taking to keep information safe with your customers.
Give the option to "save shopping cart"
People accidentally exit out of browsers all of the time. Maybe their computer randomly decides to update, or they just have to leave their device. This isn't ideal for you or your customer if they have a cart's worth of goods they're intending to purchase. Giving shoppers the option to save their cart is a great way to lower cart abandonment rate and ensure that customers complete their purchase.
There are a few ways you can do this. You can give the shopper an option to sign up for an account that will automatically save their cart and recently viewed items. You can also have a save-cart option or just automatically save the cart in their browser or cookies. There are a couple of apps that can do this for you. Remember My Cart is just one of many found in the Shopify App Store.
Additionally, you might want to include a wishlist option that easily allows customers to add items to their cart when they're ready to purchase. Apps such as Wishlist Plus can help you out with this!
Send cart recovery emails
Cart recovery emails are exactly what they sound like—emails that let potential customers know they've left items in their shopping cart. Done well, they're a super-effective way of increasing conversions.
The best thing is that these emails can be totally automated, with the help of apps such as Consistent Cart. So with a little bit of setting up, you can increase conversions and decrease instances of cart abandonment in no time at all. Consider including a coupon code or even just product details and photos to remind them what great products they're missing out on.
Streamline your checkout
One of the best ways to cut down shopping cart abandonment rates is to streamline your checkout. There's no need for customers to click through six pages, sign up for an account, and give you their paternal grandmother's maiden name. Don't be Rowan Atkinson in Love Actually.
You want your checkout to be as intuitive and user-friendly as possible. There's a lot that you can do to expedite your checkout and leave your customers feeling excited about their purchase instead of frustrated.
Kissmetrics offers a few great ways to reduce the number of steps in your checkout. First, make sure your checkout is coherent with the rest of your website. If it looks like a completely different website, the trust that's been established thus far might not be carried over to this new-feeling checkout page.
Second, Kissmetrics suggests that merchants ask for shipping information before billing information. You care about billing first, but your customer cares about where and when their products will arrive. Align your checkout with what your customer wants. It shows that you care.
Additionally, Shopify recommends reducing the number of pages in your checkout process. The fewer number of pages, the fewer opportunities for frustration and cart abandonment.
Allow for guest checkout
It seems like we have a zillion accounts for a jillion different things. I can't even tell you how many different accounts I've created in the last week. Sometimes the last thing we want to do when we're about to buy that highly coveted water-filtering straw is to create another account.
According to Invesp, 14% of online shoppers say being forced to create an account or sign in with a social account was reason enough to abandon their cart. Giving customers a guest checkout option is a great way to slash cart abandonment rates. The checkout process will be easier for the customer, and that's great for you.
If shopping with you is hassle-free, customers are more likely to return or recommend you to their friends.
Offer multiple payment options
It sucks when you go to a store, find something you like, and go to pay for it, only to find out that the retailer only accepts cash. Often times you'll end up buying the product elsewhere or waiting for another day to come back. Either way, you've effectively just abandoned your cart. 
Frustration over a lack of payment options isn't a brick-and-mortar exclusive experience. It happens online all the time. According to comScore, 56% of shoppers want a variety of payment options. And Invesp says that 7% of shoppers will abandon their cart completely if there isn't a good variety.
Sure, adding more payment options might be a hassle for you, but with a platform like Shopify, things are a little bit easier. Not to mention, you're opening yourself up to a wider demographic of purchasers.
Thinking about your customer personas will help you determine which payment options you should include. Of course, you'll want to support credit card purchases, but also consider PayPal, Apple Pay, Visa or Mastercard debit, and Google Pay.
Find more helpful articles in The Ultimate Guide to Starting an Online Store.