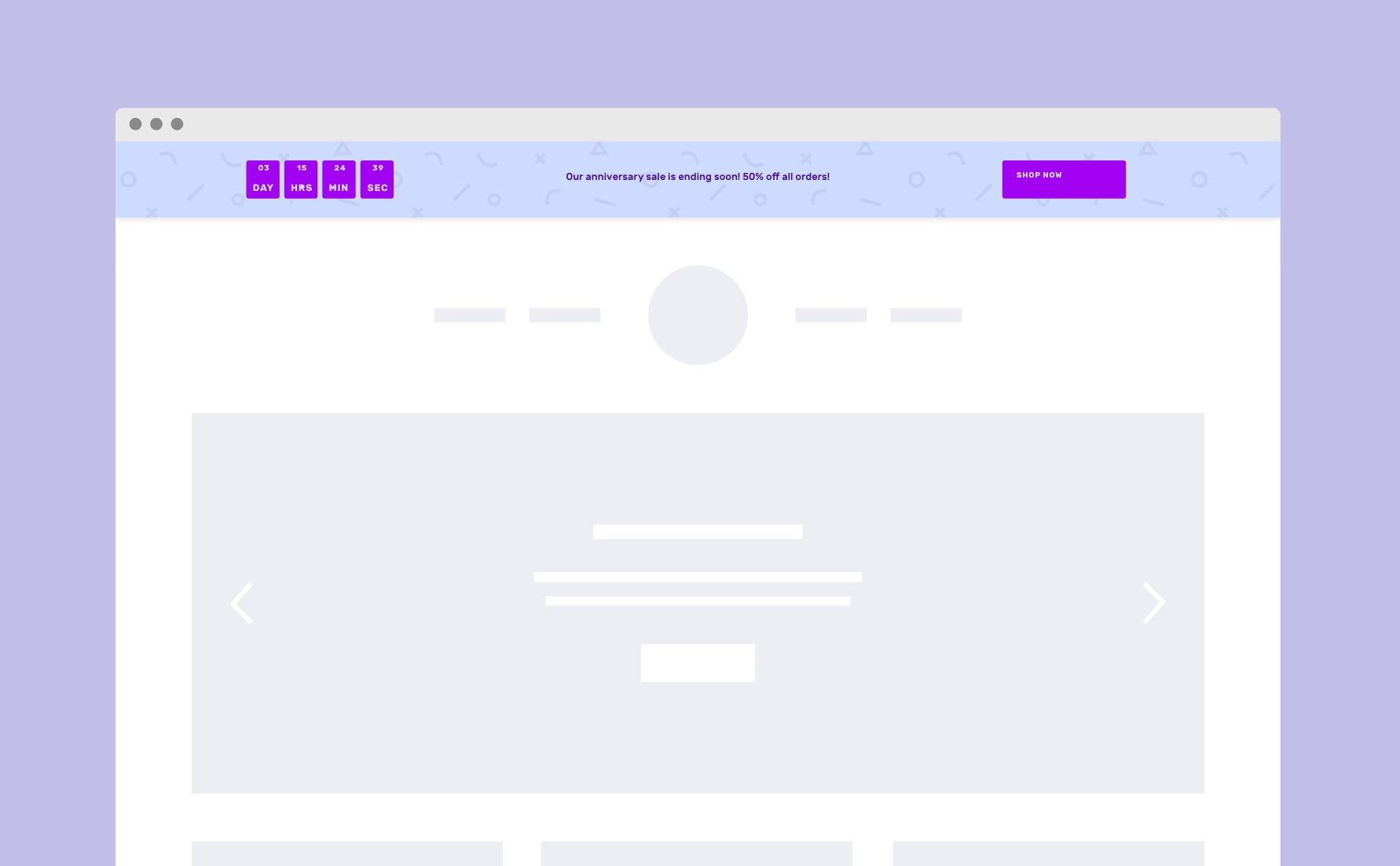 Countdown Sales Timer: Real-time urgency for your Shopify store
Urgency. Scarcity. Motivation. These are all huge buzzwords when it comes to maximizing online sales, and for good reason. The name of the game in ecommerce is converting visitors into customers, and nothing gets shoppers to act quickly like knowing the clock is ticking.
That's the idea behind our latest creation: Countdown Sales Timer.
This little Shopify app packs a big-time conversion punch, letting you promote flash sales and other timed promotions with a sleek countdown timer bar at the top of your store. The banner ticks down in real-time, letting visitors know they need to act fast if they want to get in on the action.
The most obvious use for Countdown Sales Timer is counting down timed offers and promotions (holiday sale, anyone?) but there are other ways you can use it as well. If you want to let customers know about a sale ahead of time, for example, you can use a timer to build hype and anticipation.
And speaking of anticipation, you can use a countdown timer to let customers know about new products and collections on the horizon, with an exact time and date for when they'll become available. You might also want to use a countdown to let customers know about an important buy-before deadline, like holiday shipping.
We've designed Countdown Sales Timer to be easy to use and highly customizable, with tons of options for colours, fonts, backgrounds, button styles, and clock styles. The app comes preloaded with a suite of customizable timer themes, with infinite combinations to match the look and feel of your store.
There's no limit to how many timers you can create, which means you can create specific timers for individual product, collection, and blog pages. The app's targeting options let you choose which pages you want timers to appear on—and which pages to exclude.
There's also no limit on impressions, so you can focus on getting the most visitors to your site during a sale without having to worry about overages.
Like all the best things in life, the best way to learn more about Countdown Sales Timer is to try it yourself. It takes only a few seconds to install (with no code changes!) and not much longer than that to create your first countdown timer.
Even better, you can sign up for 7-day free trial over at the App Store. So go check it out and give your customers a reason to act now.