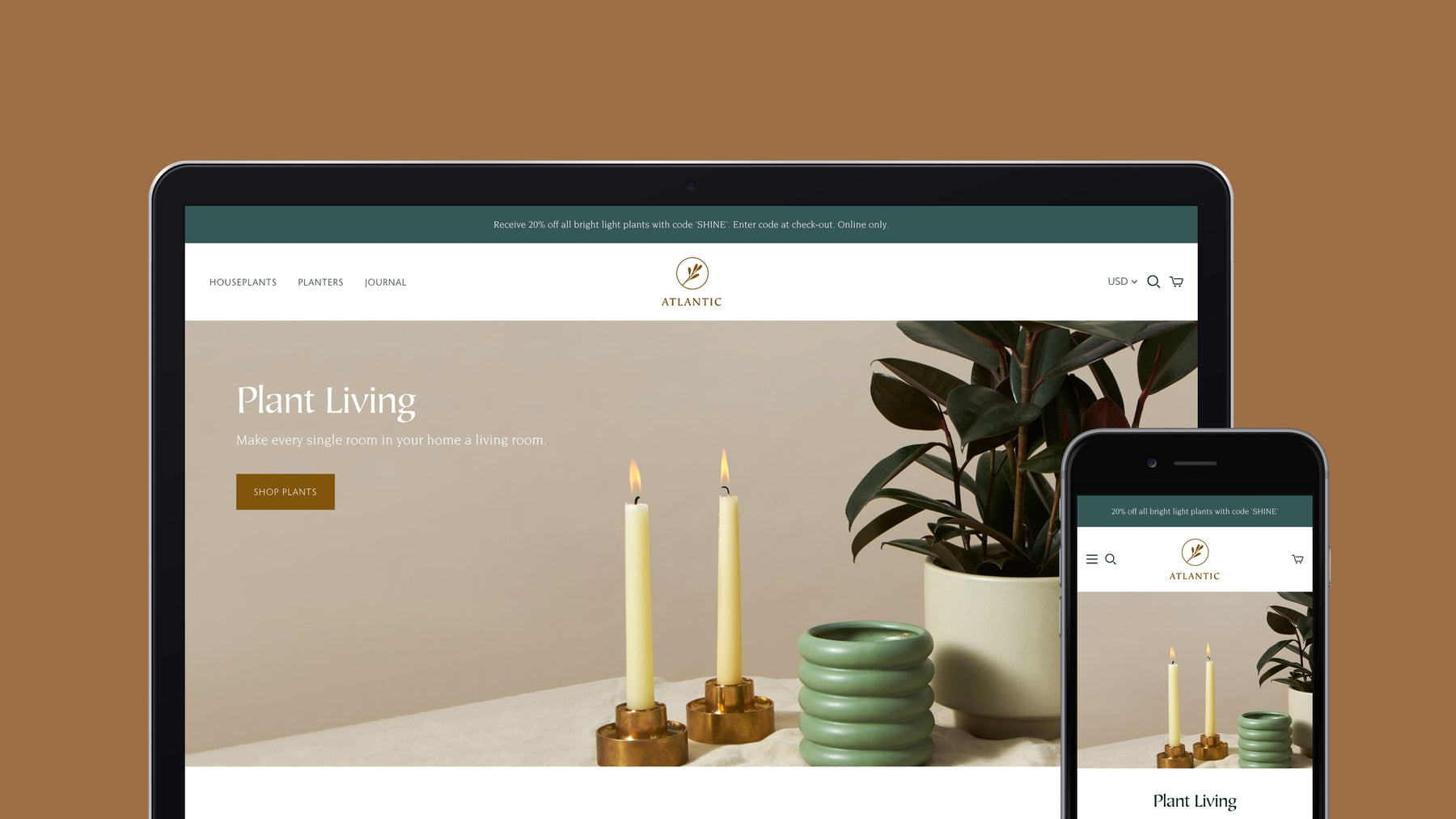 Atlantic 14.0 adds live search, sub-collections, and more
We all play favourites. Whether it's a special pair of shoes, a go-to recipe, or a child we love just a little bit more, it's in our nature to gravitate towards some things more than others.
For us, it's our Atlantic Shopify theme. Since 2013, Atlantic has helped thousands of new and established entrepreneurs build successful online stores, providing a visually striking and functionally robust foundation for catalogs of all sorts and sizes. While our family of premium Shopify themes has grown over the years, Atlantic has always been the golden child.
One of the best things about Atlantic's success has been all the feedback we've collected from merchants. Whether it's confusion around settings or a feature we hadn't previously considered, your feedback helps us improve in order to serve you (and your customers) better.
Today we're excited to pull back the curtain on a major update to Atlantic. Building on its reputation as a large-catalog cornerstone, we've added live search, new page templates, a more sophisticated cart flow, and a much-requested product zoom that looks amazing on mobile.
Scroll down to learn more, or head to the theme page to check out Atlantic's brand new demo stores, read some testimonials, and get your hands on your very own copy of Atlantic 14.0.0.
Advanced live search
Effective site search is an ecommerce must-have these days—especially on mobile and for stores with large inventories. One study found that visitors who search for products are almost twice as likely to convert and can generate as much as 14% of a store's revenue.
We've taken the enterprise-level search we built for Empire and added it to Atlantic, meaning your customers will now see fast and dynamic results as they type.
Instead of requiring shoppers to type a full query, hit "enter," and wait for results to load on a separate page, Atlantic's live search suggests products, posts, and pages as soon as the user starts typing. (Theme settings allow you to customize exactly which content types appear.)
Live search is especially great for mobile, where screen space is limited, and typing is finicky and error-prone. By offering live suggestions, you'll draw people into your store, reduce friction, and connect them with the products they're looking for—fast.
Sub-collection template
Since day one, we've positioned Atlantic as a theme that can handle large catalogs with ease. It was one of the first Shopify themes to tackle mega-menus. One of its greatest selling features has always been its tidy presentation of sprawling and complex collections.
But one thing the theme didn't support—until now—is sub-collections, or the ability to create multiple layers of product groups. This has long been a sticking point for large-catalog merchants, many of whom feel underserved by Shopify's built-in collections and tagging system.
That's why we created the sub-collection template. Unique to Atlantic, this new template lets you display sub-collections on their own as menu lists or in a product showcase (which displays the collection image and offers a "sneak peek" at the products it contains).
For example, if you run a clothing boutique, you can set up collections for men's and women's apparel, along with sub-collections for shirts, pants, and accessories. If you sell bike parts, you can break down a "wheels" collection into more specific sub-collections of tires, rims, and tubes.
This functionality is common on major ecommerce sites like Everlane, REI, and lululemon. If you're a Shopify merchant, we're pleased to say you can now achieve it with our Atlantic theme.
Conversion-focused cart flows
The path from home page to checkout can be long and filled with distractions. To keep customers from dropping off mid-session, we've added a couple new features designed to expedite the purchasing process and encourage conversions.
The first is the ability to add to cart directly from any product grid. For example, if a product is included in a featured collection on the home page, all a customer needs to do is click "Add to cart" and "Checkout." (They can do the same thing from a collection page, or anywhere a product grid is displayed.)
Together with Shopify's dynamic checkout buttons—which allow customers to skip the cart and complete their payment with PayPal, Amazon Pay, or Apple Pay—direct add-to-cart is a great way to accelerate the purchase process and increase conversions.
The second thing we did is update Atlantic's mini cart behaviour. (If you're not familiar, a mini cart is the part of the header that allows customers to quickly view and edit the contents of their cart without having to leave the current page.)
Now, when a customer adds a product to their cart, the mini cart opens automatically. This lets the customer know the product has been successfully added. More importantly, it encourages them to complete their purchase. Yet another way we're helping you increase conversions!
Full-screen image zoom
Not being able to touch and try on products is one of the biggest obstacles customers face when shopping online.
To help ease this barrier, we've added a souped-up zoom feature to Atlantic's product pages. Though most online stores allow visitors to hover over an image and home in on the details, Atlantic takes it to the next level with a full-screen image zoom.
Now, when a customer clicks a product image, it opens in a lightbox that allows them to focus on a single image without distractions. They can zoom in, zoom out, and scroll or swipe through images in a gallery view. (Does it go without saying that this looks great on mobile? It looks really great on mobile.)
Tons more good stuff
In addition to the major new features detailed above, Atlantic 14.0.0 includes a ton of visual enhancements, bug fixes, and new sections including:
More product page display options, including a SKU field and selectable boxes for product variants
Parallax options for the "Image with text" and "Slideshow" home page sections
A fresh FAQ page template that's perfect for store policies and shipping information
Mobile-friendly header and menu styling
Highly customizable collection page promo blocks
Secondary image display on hover in product grids
And tons of design and performance updates to keep your store in top form going into 2019!
How to get the new Atlantic
If you've already purchased Atlantic, you can upgrade to the new version at no extra cost. If you purchased through the Shopify Theme Store, the theme should update automatically. If you've purchased through our site or made code customizations outside the theme editor, you'll need to follow our instructions for updating your theme. You can also use the Theme Updater app.
If you don't own Atlantic but are in the market for a powerful, scalable, beautiful Shopify theme, you can learn more about Atlantic and purchase it via the Atlantic theme page.