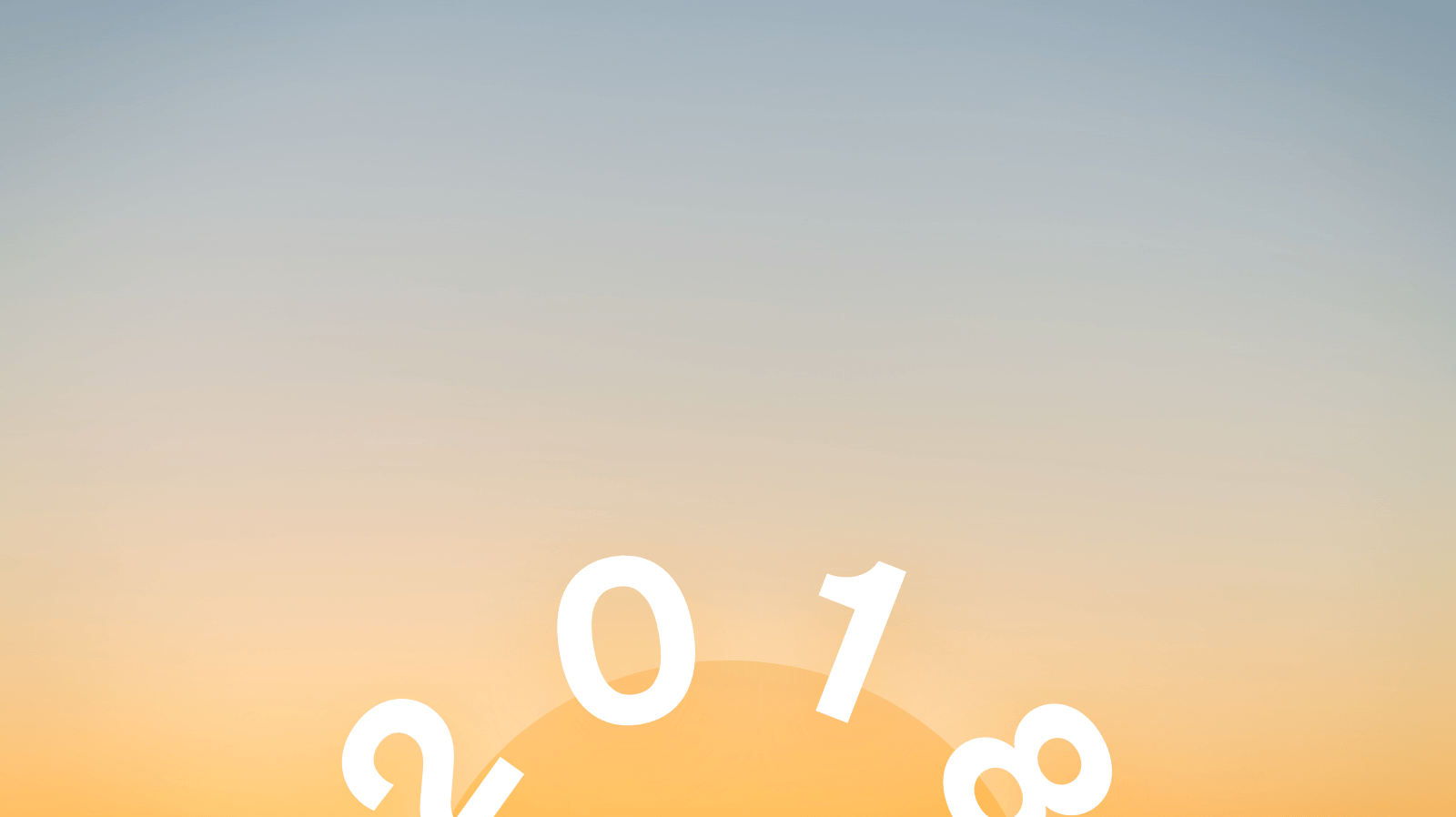 5 ecommerce resolutions to make (and not break) in 2018
New Year's resolutions are a strange thing. We make them. We break them. We promise ourselves this year will be different... only to find ourselves drinking a little too much wine, eating pizza for breakfast, and skipping the gym for at least the next two days.
Yes, it's easy to break the promises you make for yourself. But what about the promises you make for your business? As an ecommerce merchant, you have too much on the line and too much competition not to give it your best shot—and that means following through on your resolutions.
For this post, we've come up with a list of 2018 New Year's resolutions for your online store that you'll want to keep throughout the upcoming year. And don't worry, none of these will leave you deprived of cookies or that new pair of shoes.
Proofread your copy
How many times have you come across a spelling mistake and immediately lost trust in the source? To be blunt, spelling mistakes look unprofessional. If you don't care enough to make sure your copy is correct, what else are you glossing over?
Error-free writing shows your attention to detail and a knack for doing things properly. This establishes trust between you and your visitors, which can lead to higher conversions.
One typo's not going to sink your store, but the closer you can get to perfection, the better. So read it once, twice, or maybe five times to make sure everything is just right. Because no one wants to buy a t-shirt made of "100% organic coffon."
Do more with your images
When was the last time you bought something from a text-heavy website? Probably never.
No one wants to slog through paragraph after paragraph when all they're looking for is a biodegradable shower caddy. The cliche remains truer than ever: a picture is worth a thousand words.
In 2018, there's no better way to describe your product and what it does than by showing the thing itself. You need high-quality images that accurately depict your product and work with your brand, so consumers aren't left thinking, "What is going on here?"
A few rules of thumb: A product should fill 85% of the image. A white background is always your friend. Include more than one shot of each product, from different angles, so that the customer can feel comfortable knowing that what you're offering is what they want.
Going further, nothing is more annoying than a website that takes forever to load. So ensure that your images are optimized for online viewing. If you're looking for a good Shopify app to do this for you, our merchants have had a lot of success with Minifier.
Finally, don't forget alt tags, which are an HTML attribute that provides a text description of images, increasing accessibility for those who are visually impaired. Alt tags are often overlooked, but they can sink your SEO ranking if not done properly. Keep your alt text short and accurate to what the image contains. The shorter the text, the more likely your images are to be indexed by search engines—which will increase your organic traffic.
Adopt an SEO-focused approach
Search Engine Optimization (SEO) is key to getting found in the vast web of the internet. You want your specialty shoe store to pop up first when someone searches "shoes for Bastille Day," right? But how can you ensure that potential consumers will find you?
SEO is not a one-time thing to do and then forget about. Trends change, competition changes, and your online business will evolve with time as well. You need to be on top of your competition and serving your business and customer as best you can.
Consider the search terms customers use to find you. What keywords are relevant to your brand and products? Include these words in your titles, descriptions, content, and, of course, alt text. Also, ensure that your URL matches the content of your site. Do your filenames match, too?
One of the best things about Shopify is how easy they make it to fine-tune your SEO. On Shopify, you're able to easily edit your meta description, blog post URLs, collections, products, web pages, alt text, and title tags using built-in features.
Going beyond Shopify, take advantage of Google Search Console by adding your sitemap.xml. This will allow your online store to be indexed by Google crawlers. In general, create content that encourages others to link back to your website. Keep this content up to date, relevant, on brand, and you'll be in for an SEO-friendly 2018.
Embrace automation
There are lots of things we don't always enjoy doing: washing the dishes, waking up for that morning meeting, changing the oil in our car—the list goes on.
What do these things all have in common? They need to get done. And, if you don't complete them on time, things can go downhill fast.
When it comes to your online store, you want to spend as much time as possible focusing on your products and larger business goals. Unfortunately, as an online merchant (and especially as a solo entrepreneur), time tends to get swallowed up by more menial tasks.
That's where automation comes in handy.
Automation tools can help you free up more time to do the things you love. There's no reason to send out a bajillion emails manually when you can utilize a program that will do it for you.
There are a number of Shopify apps like Klaviyo and Kit that can automate your email marketing campaigns. (In our interview with Michael Perry, CEO and co-founder of Kit, he describes Kit as a virtual employee and espouses the importance of "letting go.")
Other automation tools can schedule sales, run ads, provide onboarding processes for your vendors and suppliers, approve purchase orders and catalog listings, handle refunds and customer complaints, post to your social media account—among other things.
Do a simple search for "automation" in the app store and stare in amazement at all the apps designed to make your life easier. Get on a few free trials, see what you like, and be happy you got your life back.
Be more social-savvy
Social media isn't just for tagging people in memes or making Boomerang videos of you and your friends cheersing glasses of bubbly. It's a critically important (and often highly visual) realm that's perfect for anyone trying to showcase and sell products.
When it comes to marketing your business and elevating your brand, social media is one of your best friends. Consider the message you want to communicate and post regularly to promote sales and products. Stay active, consistent, and show that you care about your customers' experience. This will go a long way in boosting your brand.
Of the 3 billion people using some form of social media, around 2.5 billion are connecting via mobile devices. This means you have an opportunity to bring your marketing quite literally into the lives, pockets, and hands of your customers.
But in 2018, social isn't just about marketing your brand. Consider the rise of social commerce, which is the concept of selling products directly from social media platforms. For example, over 50 million small businesses are using Facebook to connect with customers. The other major players in social commerce are Pinterest, Twitter, Tencent, and Weibo.
Social commerce is forecasted to grow by 34% in the next four years. And while it might not be something you want to jump into right off the bat, it could be something to keep in mind once you've found your bearings in ecommerce and want to brand out.
Final words
These resolutions might require more commitment and time than some of your others. But, we think that if you make and follow through with these resolutions, you can expect to see an increase in conversions and overall satisfaction with your ecommerce experience. After all, this is your passion, and we are here to help you make the most of everything you do with your business.