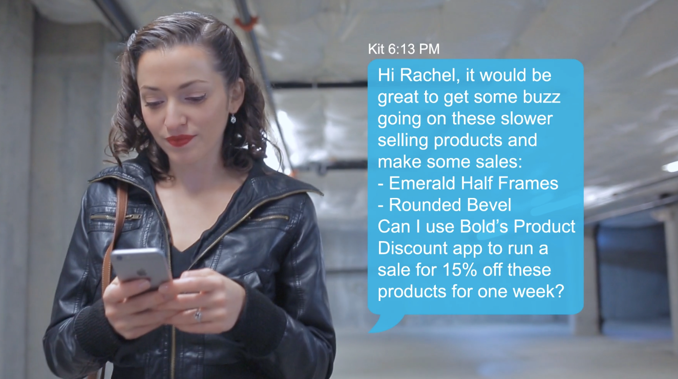 Kit CRM launches new API, ecommerce app integrations
Our friends at Kit CRM unveiled some pretty cool features today with the launch of an API that connects ecommerce apps with their marketing tool's existing functionality.
Billed as the "virtual marketing assistant," Kit uses text messages to communicate with online merchants, helping them run email marketing campaigns and deploy ads on Facebook and Instagram. With the new API, merchants who use Kit will receive text messages asking if they'd like to use a range of integrated ecommerce apps to market products and manage their stores, including tools from launch partners Bold Commerce, NewLeaf Labs, ShopPad, ShoeLace, and Yotpo.
"The goal here is to create the ultimate employee that goes beyond marketing," Michael Perry, Kit's founder and CEO, told VentureBeat in an article published today. "And if our focus is on building that virtual person, we need others to help us add relevant skill sets."
Kit's current app roster includes tools to help merchants create smarter sales and discounts, retarget website visitors, send abandoned cart emails, manage SEO and web traffic, and post 5-star product reviews to their social media profiles.
When we chatted with Michael last November, he shared his vision for Kit and talked a lot about the need for online merchants to "let go" of trying to do everything themselves, and to focus on the things they're really good at.
"Kit gives business owners the person they need but can't afford," he said. "It isn't our mission to replace people. It's our belief that business owners need help. They need employees. They need a team. We will give every business owner a fighting chance to succeed. And that means getting those marketing challenges—the effort that goes into that—off their plate."
The launch of Kit's API is a big step in serving the needs of merchants on Shopify, Bigcommerce, and other platforms. We'll be very interested to see what kinds of new integrations are added down the line.