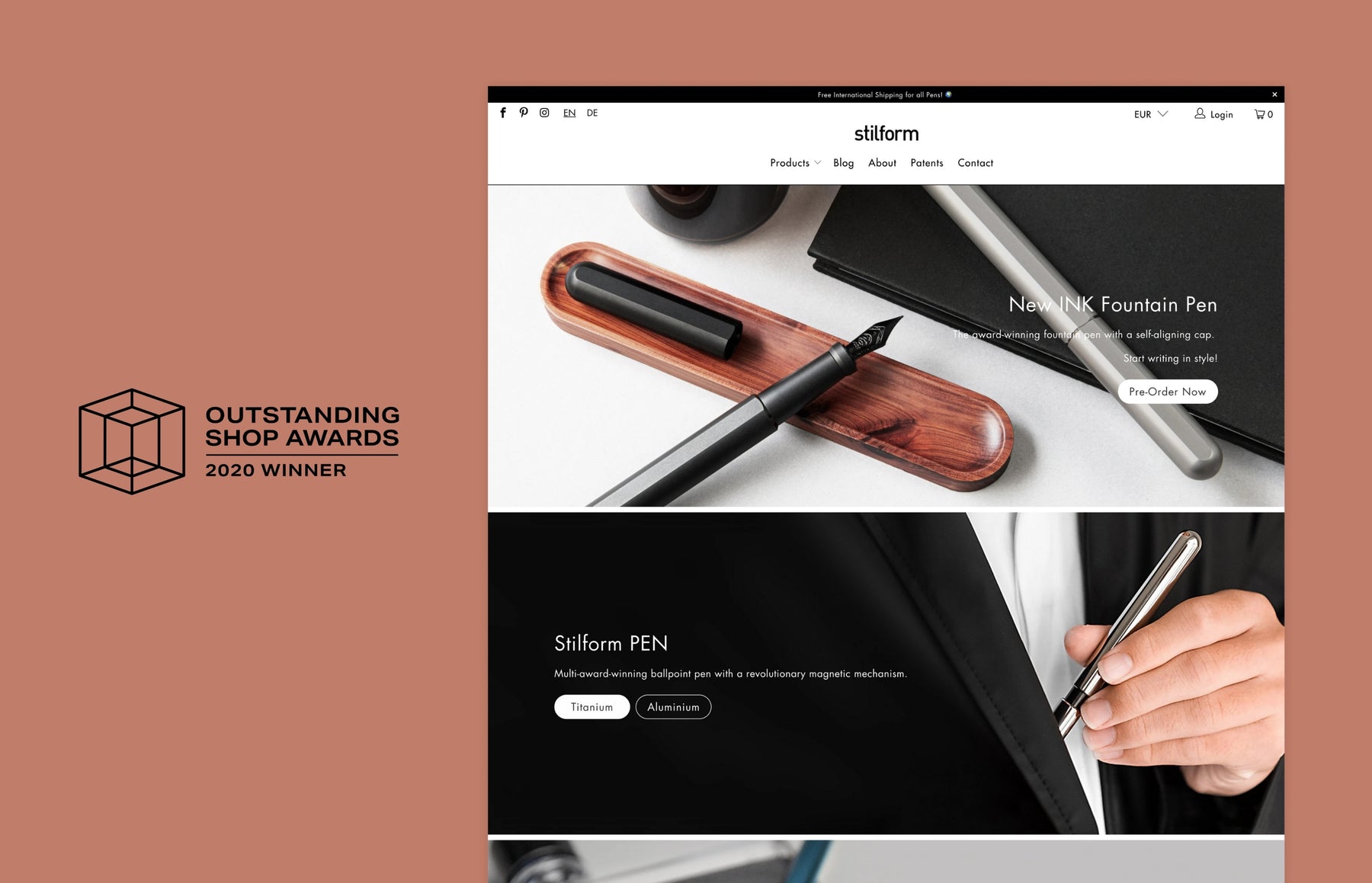 stilform: Winner of the Outstanding Shop Award for best home and decor store
Successfully reinventing a product that everyone already knows is a huge challenge, but that's exactly what stilform did with the pen. The German company breathed new life into a stale industry and created a modern, sleek, and design-focused pen with a matching visual brand that their customers love. 
Luxury price points, high-quality photography, and intentional design in every aspect of the business have placed stilform in a whole new category of stationary brands, and as one of our Outstanding Shop Award winners. 
Design with a purpose
Stilform's best-selling INK fountain pen has a minimalist design that cleverly houses features such as an anti-roll surface, magnetic cap alignment, scratch-resistant materials, customizable nibs, and more. 
"We've been recognized with the most prestigious design awards like Red Dot, the IF Design Award, and the German Design Award," says stilform CEO Christoph Bohrer.
A customizable theme makes all the difference
The purposeful and clean design of their products is mirrored in their Shopify store, giving their customers a seamless shopping experience, start to finish. To achieve this, stilform has built their store using Out of the Sandbox's Turbo theme.
"It's probably the best theme on the market," says Bohrer.
Bohrer cites the theme's customizability as one of it's best features and a key element in their online store, which hosts around 40,000 monthly visitors.
"We are most proud of the design and apps, which are all customized with CSS," says Bohrer. "We've tried to develop a unique and minimalistic design with our store with our 1px black outline design. We had that design for years and a few months ago Instagram implemented a similar design!"
If your product is good enough...
Stilform holds the record for the most successful fountain pen in crowdfunding history. 
"We are currently the fastest growing pen startup in the world and also the most successful one on Kickstarter," says Bohrer. "We have raised 1.5M during the years with our pens."
His advice to fellow entrepreneurs? If your product is good enough, your customers will find you. 
"Just do it," says Bohrer. "If your product is great, you will find customers with social media marketing."
See all the Outstanding Shop Awards winners right here!