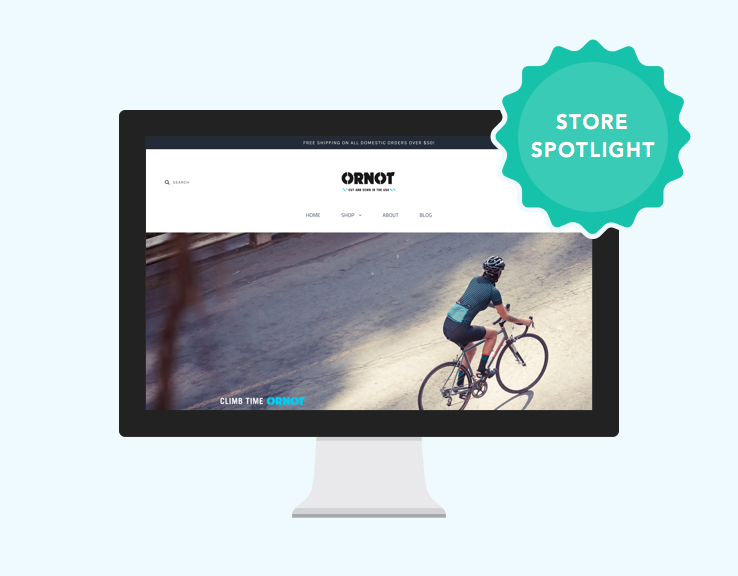 Store spotlight: Ornot
Two years ago, Matt Quann was working as a graphic designer in San Francisco when he decided he needed a side project. He wanted it to be something that would get him out of the office, away from the computer, something that would let him shoot photos and videos and combine one of his long-time hobbies—bike racing—with his passion and work.
Quann, who had "some experience" designing cycling clothing for teams he raced on, didn't stop at making a few items and taking a few photos. "I wanted to lay the groundwork in case it really did work," he says. "So I researched ecommerce and vendors and all the business stuff. Once I did all that, I launched the company and it just kind of took off."
Today, Ornot is Quann's full-time job. The company, which sells cycling clothing online and wholesales to bike shops around the world, is based in San Francisco. Quann designs all of the clothing in Adobe Illustrator and works with manufacturers in California and North Carolina. His team ranges from a few people to "extra help when we need it."
"What's really cool right now is anyone can start an online store," Quann says. "It's so easy. The price of entry is so low. I was able to do it. I started it all on my own. Being a graphic designer, I was able to do all of the design work and identity and marketing… It's pretty amazing."
After originally launching on Squarespace, Quann moved his store to Shopify to take advantage of its better multi-channel selling support, inventory management, and backend plugins. He's happy with Shopify, though he misses Squarespace's easy customization options.
Australia was one of the first markets where Ornot took off. Today, Australians continue to be a major part of the brand's business. "They like to combine their passion for cycling with their passion for design and random clothing," Quann says. "Some of the stuff they wear is way out there. They love it. It's crazy." Because of the opposite seasons in the Southern Hemisphere, Ornot—which does most of its sales in spring and summer—is always in its high season.
As a new store, Quann says one of the biggest challenges was fulfillment (the process of receiving, packaging and shipping orders). He now gets help from a variety of third-party sources, with all orders flowing through Shopify to Stitch Labs, an inventory management system, then through ShipStation's shipping fulfillment software, and finally through a 3PL (third-party logistics system) that handles all of Ornot's shipping.
"There's a bit of a process to get the orders through," Quann says. "But for the most part it's pretty smooth."
Like most online retailers, Quann is doing a few things to gear up for the holidays—making sure the store has enough inventory, launching a few new winter products, planning to run some kind of targeted promotion—but he says the holidays aren't a major part of Ornot's business.
"We generally try to keep the discount codes and sales to a minimum," he says. "Otherwise people learn to expect them. Also, because everything is made here in the U.S., our margins are a lot smaller than if we were making our clothing in China. So there's no room for us to discount our clothing all the time like some other companies."
As for trying to compete with other brands, Quann doesn't get too hung up on the idea. He points to Ornot's name as a reflection of this mindset: "The personality of the company is very laid back. You could buy our stuff—or not. You could go for a ride today—or not. At the end of the day you're not going to force someone to buy something."
Asked if he has any advice for online business owners, Quann says, "Just jump in with both feet—and do a lot of research." He also mentions the importance of social media, equating it to free advertising: engaging users, telling his brand's story through images and video. "Our brand is about being fun so it's easy to expand on that within social media."
"I guess it's ironic that I started the business to get away from the computer, to get outside and shoot photos," he says, laughing. "And now I'm by myself at the computer, again, often. But I get out more and ride my bike, do photoshoots. It's a lot of fun."
Check out Ornot at www.ornotbike.com.
Ornot uses Pixel Union's Pacific theme.