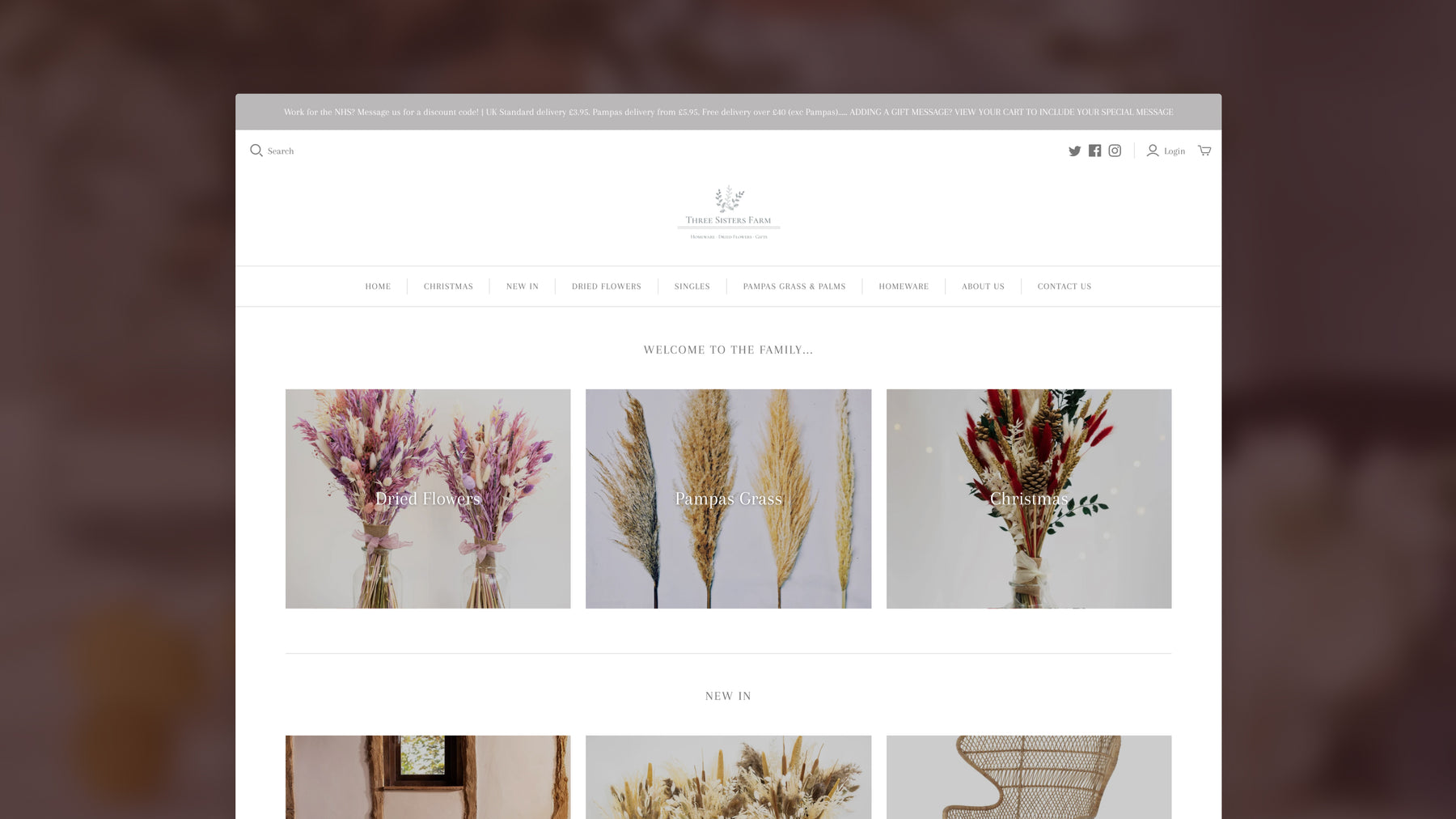 Three Sisters Farm: Finding ecommerce success during a pandemic
After being made redundant during the COVID-19 pandemic, Philippa Main decided to use the opportunity to try something completely different with her career. So, she started an online store with her sister, Jessica. 
Each with a flair for interior design, but with vastly different styles, the UK-based Main sisters created Three Sisters Farm, a new Shopify store featuring homewares and artful dried flowers that suit any space. 
Finding their niche
The Main sisters have always been passionate about fashion and home styling, so it made sense for them to create an online store based on what they already knew. After researching what their potential competition and the homewares market already offered, they found there was an opportunity for them to shine. 
"We saw a gap in the market for a sustainable option to fresh flowers and here we are," says Philippa. "We sell dried flowers, pampas grass, and homewares."
Giving customers what they want
Since the Shopify store's launch in July, Three Sisters Farm has seen steady growth as Philippa and Jessica continue to add products to their inventory. 
"We had thirty thousand visitors last month, which is incredible for our fourth month of trading," says Philippa. "The Shopify app also tells us that our traffic is in the top 2% of stores that launched the same week as us!"
The Main sisters are planning on maintaining their store's growth by offering their customers more of what they like. 
"The ethos we are going with this year is: do what we do well and don't deviate from it," says Philippa. "Despite how tempting it is to offer new products."
Success powered by great design
Philippa feels most proud of the look and feel of Three Sisters Farm. To help create it, the sisters chose to use Pixel Union's Atlantic Shopify theme. 
"We chose Atlantic due to its crisp clean look and functionality for our business," she says. "Companies that also used the theme had a similar look that we wanted. The reviews also swayed us when comparing a similar theme with others."
Jumping into the world of ecommerce
If there is anything that the Main sisters would recommend to those thinking about starting a new ecommerce business, it's to just give it a try. 
"The pandemic has taught us that life is too short so go for it," says Philippa. 
If you have an inspiring story about creating ecommerce success during the COVID-19 pandemic, we'd love to hear it. 
Reach out to us here
.