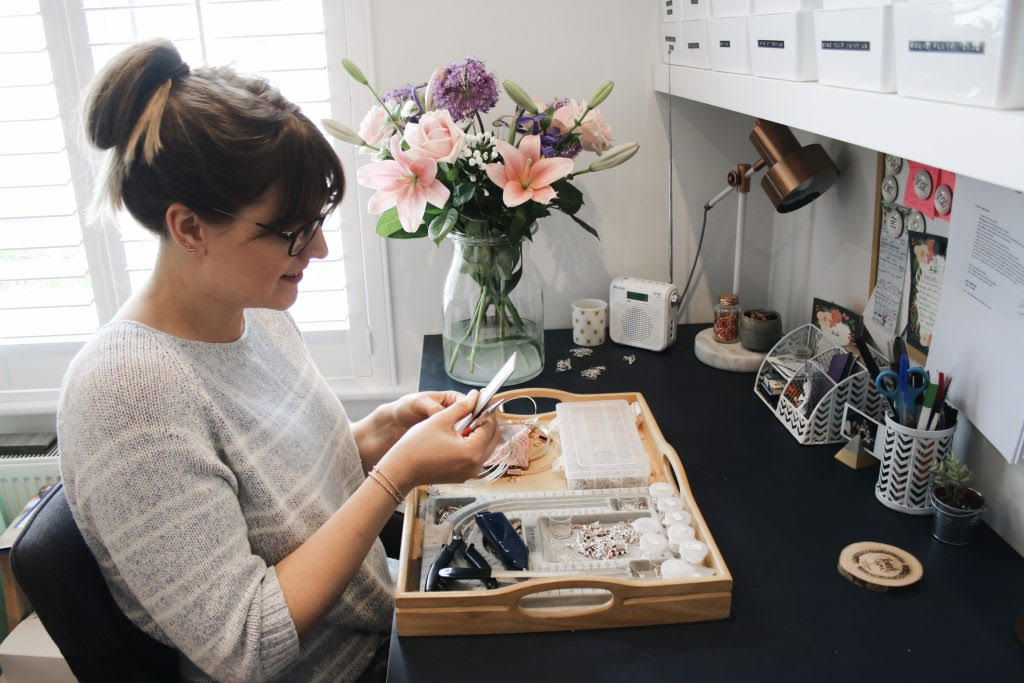 Merchant Spotlight: Potter and Mooch
Claire Harsant has been running her business, Potter and Mooch, from her home in England since 2014.
The business developed organically. In December 2013, Claire got engaged and started planning for her wedding. By the summer of 2014, she'd picked her dress and it had quite a high neckline, so she knew she wouldn't be able to wear a necklace. She shifted her focus to earrings. After searching online and in shops, and not finding anything suitable, she decided to make her own.
Potter and Mooch quickly appeared at a small charity event. Having done Surface Design for Textiles at university, Claire gathered anything that she'd created during her degree that she could sell. The event was a huge success and she decided then and there that she wanted to take Potter and Mooch to the next level, and get her products online!
Ear wings from Potter and Mooch
After about 3 years online, Claire was looking for a way to bring Potter and Mooch's sales to the next level. Ultimate Special Offers was the first sales app she tried and she found it worked perfectly for the store.
"I found it so easy to install, set up and frequently dip in and update the offers," Claire says.
Prior to using Ultimate Special Offers, Potter and Mooch had to make all their own sales and promotions manually. Without automation and popups with tasty offers, Claire would write offers on the homepage banner but says many people would miss it.
Claire leans into Ultimate Special Offers' Post-Purchase Upsell and Cross-sell offer types. She's found that they've helped hugely to increase the business' average order values.
"Our jewellery is all around the £25 mark but our average order value is £33 thanks to USO. It looks professional on the site too, and is super easy for me to set up an offer."
From September to October 2021, Potter and Mooch has converted 10.48% on their Post-Purchase Upsell offer. In the same time frame, their Cross-sell offer has converted 88.89% of orders.
Potter and Mooch has garnered a loyal customer base and Claire chalks that up to great customer support. Besides asking for feedback, she offers a very personal service, taking many orders over the phone and meeting customers face to face at events.
Claire says the most important advice she would give to herself when she was starting out, would be to go for it and not hold back. Design, make, and sell what you love and your love for it will show through.
Others shouldn't shy away from starting a business either. The CEO says that people love supporting small businesses nowadays so there's never been a better time to start up!
"I would just really encourage people to think outside the box or to think about what products are out there and what they can improve on," Claire says. "Find your niche and a gap in the market to sell to people. There are so many different platforms for it too to get yourself seen."
Having a unique product really helps. When Claire first designed Potter and Mooch's earrings, there were not many similar items on the market. They are different from traditional earrings and so they have a unique selling point. Claire also made a point to keep them affordable at £24 a pair to stand out from the market.
Over the years, the Potter and Mooch team has grown and all their jewellery makers are self-employed and paid per pair of earrings they make.
"That is definitely my favourite part – others benefiting from it doing well," Claire says. "And I do love working for myself as well."
Want to be a featured merchant?  Reach out to us at feedback@pixelunion.net.  We'd love to hear from you!