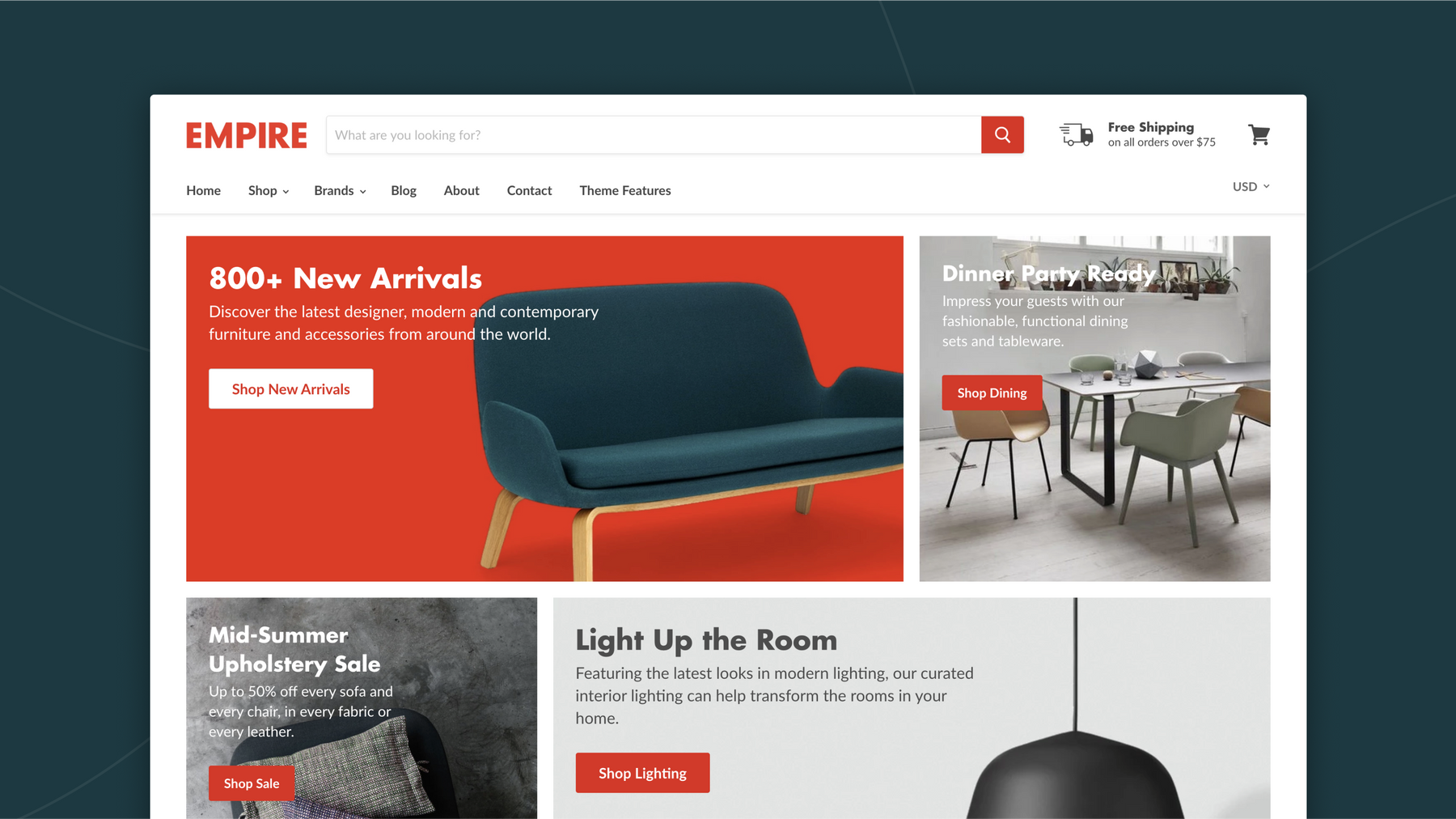 Empire V5 adds product zoom, faster nav, contextual search and conversion-boosting features for mobile
With the holiday season quickly approaching, we know merchants need their stores operating at peak capacity. And while this is certainly true for merchants of all sizes, it's particularly important for wholesale merchants and those with large-catalogs. With that in mind, we could not be more excited to officially announce the release of Empire V5, a robust update for our best-selling theme. An update, however, is only as exciting as its features, and suffice to say, Empire V5 comes loaded with new features that are sure to boost sales this holiday season and keep customers coming back in the new year.
Swatch support on product pages, cards & collection filters
With custom swatches, merchants can easily showcase unique product variations to customers such as color or available pattern options. In addition to showing at the product level (Figure 1), color swatches are also displayed on collection pages (Figure 1.1), thus providing your customers with an increased level of transparency and selection options without having to visit each individual product page. 
Figure 1
Figure 1.1
Added zoom options
With added zoom options, customers can simply hover over the image to zoom in, which can be placed either over the main image or outside of it, depending on merchant preferences (Figure 1.2). Customers will also be able to click the main image to open it in a full-screen gallery view. Thumbnails are also available in the gallery view for faster switching. With Empire V5, zoom options aren't limited to desktop, when on mobile customers can simply tap the main image to view the fullscreen gallery. Zoom options are of particular value to merchants whose products have multiple variations, such as color, pattern and feature add-ons.
Figure 1.2
Featured collection display options
Customize how you show featured collections on your homepage and how many items are shown (Figure 1.3). Choose the number of products from the featured collection to show, ranging from 5-25 products, allowing you to showcase the products your customers are most interested in! Beyond the number of products shown, with Empire V5 you can also choose to add a call-to-action button that appears at the top of the featured section to encourage your visitors to take action immediately.
The customization doesn't end there, with Empire V5 merchants can now choose to display feature collections in either a slideshow (provided you have enough products to form a slideshow) or grid format, allowing for greater design flexibility to showcase new products.
Figure 1.3
Contextual search
With Empire V5, your customers can now filter search results using product types or tags. This allows your customers to easily find what they're looking for, without having to manually navigate through collection pages. When on a collection page, contextual search defaults to the current collection (Figure 1.4). It's yet just another way that Empire V5 improves your store UX and ensures your customers have a seamless shopping experience.
Figure 1.4
Figure 1.5
Display add to cart & quick shop buttons on mobile
Simple, but effective. Merchants can now show add to cart and quick shop buttons on mobile pages, allowing for a quicker checkout process across devices (Figure 1.6). If adding to a cart, customers will be able to select options related to product variations (size, color, model, etc) prior to checkout.
 Figure 1.6
How to get Empire V5
If you've already purchased Empire, you can upgrade to the new version at no extra cost. If you've made code customizations outside the theme editor, you'll need to follow our instructions for updating your theme. We recommend using the Theme Updater App, as it's the simplest way to ensure that your current store settings and layout remain the same.
If you don't own Empire but are in the market for a powerful wholesale Shopify theme, you can learn more about the latest version and purchase it via our theme store or in the Shopify marketplace.