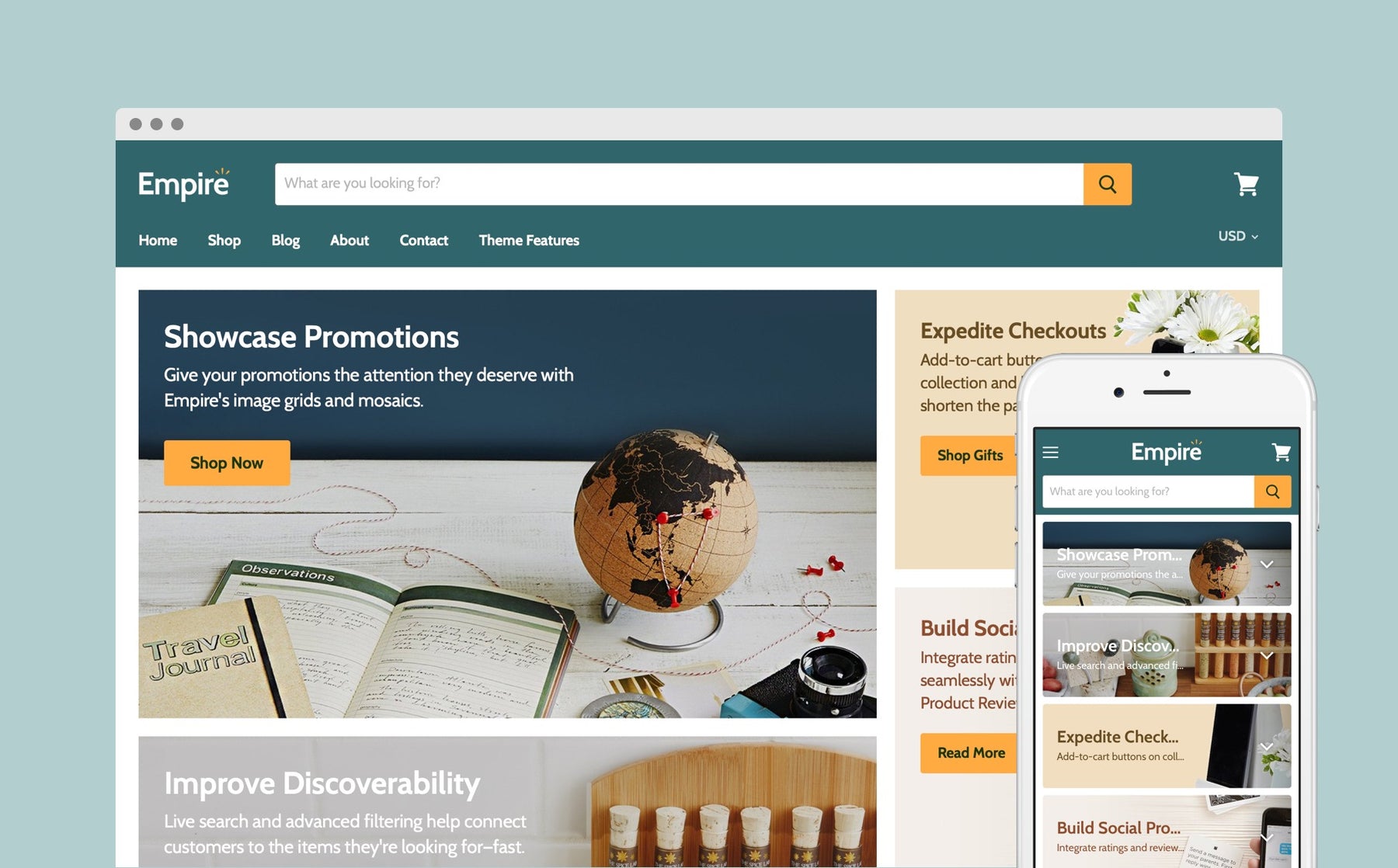 World, meet Empire: The first true enterprise-level Shopify theme
We have nothing but love for Shopify. It's affordable and easy to use, it comes with amazing technical support, and, oh yeah, it has some pretty darn nice-looking themes.
But not every ecommerce platform is perfect for every merchant, and lately we've noticed a gap in the Shopify marketplace: high-volume and large inventory sellers aren't well-represented.
We wanted to change that.
And so we set out to build the ultimate theme for enterprise-level merchants—current and aspiring. A theme that delivers a powerful and intuitive search, emphasizes sales and promotions, integrates trust-building product ratings and reviews, and expedites the checkout process.
Today we're excited to announce that after hundreds of hours of design, development and testing, it's finally here: EMPIRE, our biggest Shopify theme yet.
From live search to advanced filtering to quick add-to-cart, Empire is packed with conversion-focused features ideal not just for high-volume and large-inventory sellers, but any merchant looking to grow their business and stay ahead of the competition. Here are some of the features we're most excited about.
Live search
Effective site search is make-or-break in ecommerce these days—especially on mobile, and especially for stores with large inventories.
Empire takes search seriously, placing the search box front and centre at the top of the page, instead of concealing it behind an icon. (The Nielsen Norman Group has found that while using an icon takes up less space and is gradually becoming more recognizable, it ultimately "makes it much harder to locate the search.")
Empire features a "live" search, meaning it generates fast and dynamic results as your customers type. As soon as a user enters a word that appears in your catalog, the live search automatically begins to suggest products that match.
You can also display images here, adding visual appeal and enhancing product recognition. Optional "Pages & Posts" results provide better visibility for merchandising content.
Product filtering
While a powerful search and well-organized collections go a long way in helping customers find what they're looking for, it's filters that allow them to narrow thousands of products down to the few that match their exact needs.
Empire's collection pages allow Shopify merchants to choose between standard and advanced filtering—the latter allowing them to sort product tags into groups or categories.
Examples of these groups include site-wide attributes like price, size, brand and colour, as well as what Smashing Magazine calls "category-specific attributes."
For example, if your store sells photography equipment, you might include filters like megapixels, zoom level and lens mount. If you sell sleeping bags, weight, material and temperature rating might be more useful.
Not only do filters narrow appropriate product options and accelerate the path to purchase, they also educate customers about why a product is important.
In this Amazon search for Fitbit, you can see that features like "water resistant," "heart rate monitor," and "warranty length" are used both as filters and as subtle reminders of things customers should be looking for.
Highlighted discounts
Who doesn't love a good deal? Sales promotions are a tried and true way of building urgency, engaging customers, and ramping up conversions. But it's not always easy to convey just how earth-shakingly awesome your sales and discounts are.
That's where Empire shines, offering merchants numerous options for showing off their sales and promotions.
For starters, merchants can choose to display prices below the product title (the standard in most ecommerce themes) or emphasize them by showing an enlarged price above.
Merchants can also display sale badges, which act as virtual "sale stickers" on products that have been marked down. Empire includes three different sale badge styles, allowing merchants to display a percentage off, a dollar amount, or a simple, classic "sale" badge.
We recommend A/B testing which approach is more effective with your customers.
Customizable promotion blocks
Sales badges and price-first display techniques aren't the only way to make your promotions stand out. Empire comes with specially-styled promotion blocks merchants can use to merchandise featured products, collaborations, discounts, etc.
Shopify merchants have two options when it comes to highlighting their promotions on the home page: customizable mosaic and grid sections. The mosaic section allows you to display up to five promotion blocks in a collage-like "mosaic" arrangement, while the grid can contain as many as 20 in either half- or full-width blocks.
Both options allow you to customize the height of your blocks, as well as add a heading, text, link, and call to action. If you want to get real fancy, you could design your blocks with embedded text in an image editing program like PhotoShop or Canva and then upload them to the theme.
Integrated product ratings
The impact of customer ratings and reviews on ecommerce conversions is well-established. (At the risk of repeating ourselves, Internet Retailer says they can boost revenue per visit by as much as 62%.)
But integrating product ratings to your Shopify store isn't easy. Sure, you can install one of the many reviews apps, but like most apps, getting it to blend in and not create a weird and disjointed customer experience is something of a lost cause.
The good news is Empire is the first theme to offer seamless integration with Shopify's free Product Reviews app.
The entire review form is styled to match your theme, providing a smooth UX and an attractive showcase of SEO- and social proof-building feedback. When enabled, ratings are displayed on collection and product pages, as well as featured collections on the home page.
Quick add-to-cart
Online shoppers are a notoriously impatient bunch. And while it's easy to see this as yet another hurdle for your store to overcome (pages need to load in two seconds or less, navigation needs to be flawless), you can also use it to your advantage.
Take the add-to-cart process. Typically, the journey from home page to checkout involves no fewer than five clicks: the customer has to locate the collection they're looking for (which in itself can involve some trial and error), find the product within it, add it to their cart, review the cart, and finally, check out.
Empire reduces the clicks to as few as two. If the product is featured on the homepage (as part of a featured collection, for example) all the customer needs to do is click "Add-to-Cart" and "Checkout." Easy-peasy.
And, with Shopify introducing Shopify Pay—an option that saves customer payment details, reducing the number of checkout fields from 16 to two—the "see it, want it, buy it" cycle is about to become a whole lot more efficient.
–
We're super excited about Empire and can't wait to see how merchants use it to build their businesses.
Now go check it out and let us know what you think!