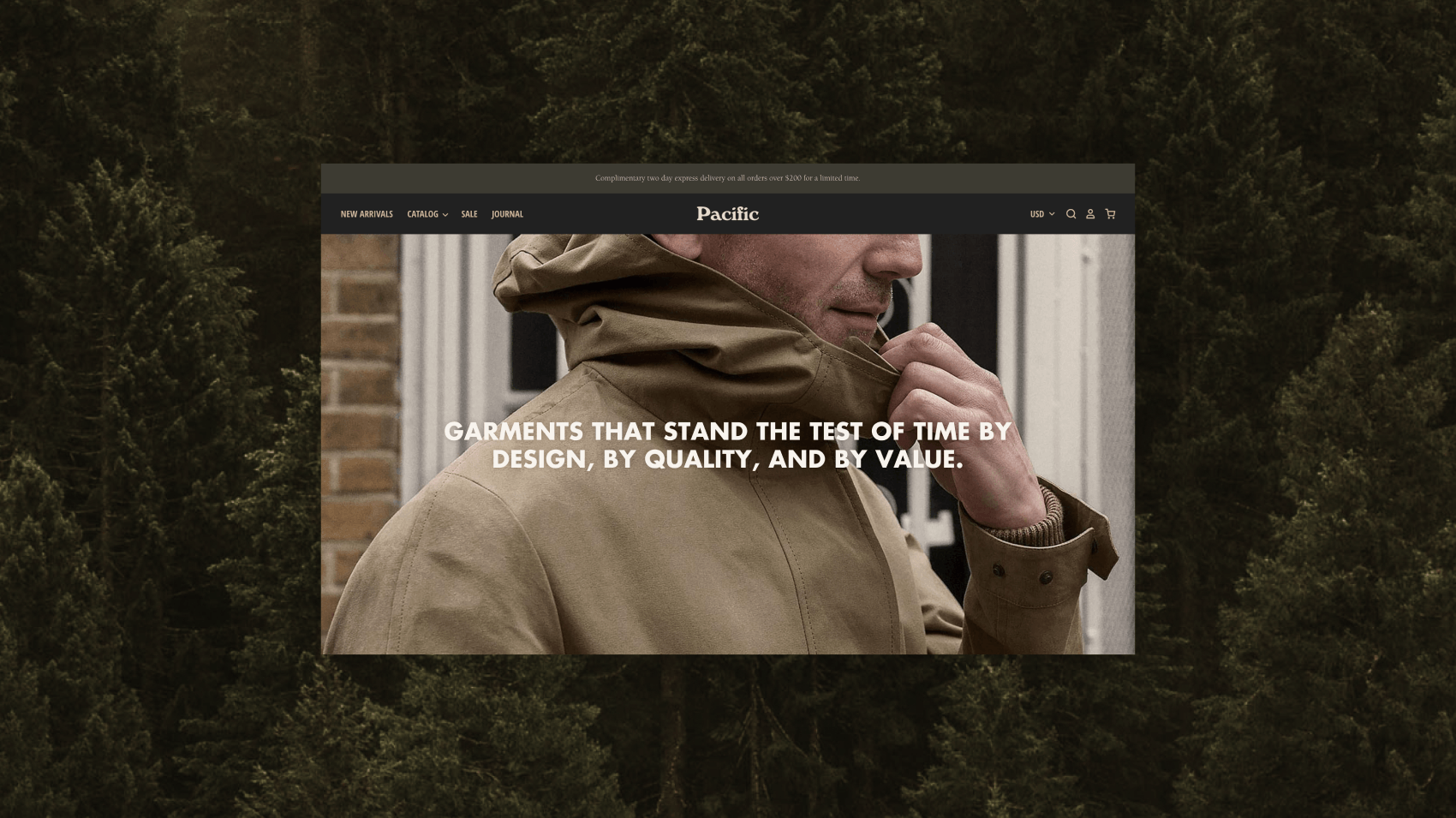 Pacific: The perfect Shopify theme to help you grow
As a merchant with a larger product inventory, you need a theme that works just as hard as you do to help your customers convert.  With expansive product lists, inventory piled to the roof, and increasing site traffic, you need an e-commerce solution that's well...actually a solution. At Pixel Union, our mission is to help merchants sell more, so we are proud to have a tried-and-true Shopify theme in our arsenal that helps large merchants do exactly that. It's called Pacific.
Chances are if you're reading this, you've already built a moderately sized business that's either online or brick-and-mortar. (If you're a smaller business, not to worry. Our Reach and Launch themes are perfect for boutique and growing Shopify stores.)
In this post, we'll unpack Pacific's exciting features and how they can help you reach your business goals. We also recommend checking out Pacific's Bold, Warm, Bright and Cool demos to see it in action!
Create the ultimate customer-product matchmaking experience with multi-column menus
Pacific allows merchants to easily showcase expansive product lists in a format that's attractive and easy for customers to navigate. In addition to a robust sidebar menu, merchants can also showcase products using the multi-column menu. This has made it easier than ever for customers to find the product they're looking for, all within seconds of visiting your store. Talk about user experience!
Share your story with ease using Youtube or Vimeo
Recent data shows that utilizing video can increase revenue by a staggering 49% when compared to traditional media. Kind of seems like a no-brainer, no? We thought so, so we added a Youtube and Vimeo integration to Pacific to make it incredibly simple for merchants to share their story and connect with their customers.
Not quite ready to promote a video? No sweat, you can also showcase products on your homepage with high-resolution images in a visually appealing slideshow.
Regardless of whether you choose to utilize photos or video, Pacific allows merchants to easily showcase their brand and products to their customers, making your store's  branding simple yet highly effective. Just how we like it.
Boost conversions with site-wide promotion tiles
With Pacific you can highlight sales, promotions, discounts, and featured products site-wide all from one tab in your Shopify admin. While your online store might seem vastly different than a brick-and-mortar shop, your online customers still behave similarly to how they might in a physical store.
For instance, your customers don't typically come into your store and simply stay in one place. Instead, they move around and explore just as they would in a physical store. Thus, it's important that, regardless of where they choose to wander, they're able to stay in the know and quickly take action on any relevant offers, promos, or product features that might be relevant to them.
Simply set up your promotion with one click in your Shopify admin and watch your conversions sky rocket!
Improve homepage messaging with custom modules
Gone are the days of restrictive templates and frameworks. Pacific allows you to create custom homepage sections such as promotional blocks, FAQs, and blog posts with ease. All the features you need with the freedom to make it your own.
Create a seamless shopping experience with multiple product page layouts
Large inventories require advanced page layouts to match. Pacific provides merchants with custom page layouts that best suit their inventory, thus creating a more enjoyable shopping experience for each and every customer.
Boost conversions with Ultimate Special Offers
Pacific is laden with awesome features but as with all themes, you'll need some apps to take your ecommerce business to the next level. Sure, you could rely on Shopify's native discounts feature but we often find merchants are left looking for more.
Enter Ultimate Special Offers . Ultimate Special Offers is Shopify's only all-in-one sales solution, allowing you to run eight very different types of sales—that's every type of promotion you'll ever need. You can even create special offers for signed-in and tagged customers, so they  will only see the deal you want them to see.
Looking for more tips on how to use Ultimate Special Offers? Here you go!
Ultimate Special Offers has a 10-day free trial so be sure to start running your first promotion within 10 days of downloading the app so you can experience its full potential before switching to a paid plan.
Share your feedback
Are you a fan of Pacific? Are there features you'd like to see in future versions of this theme? We'd love to hear what you think! Please send any and all feedback to feedback@pixelunion.net.