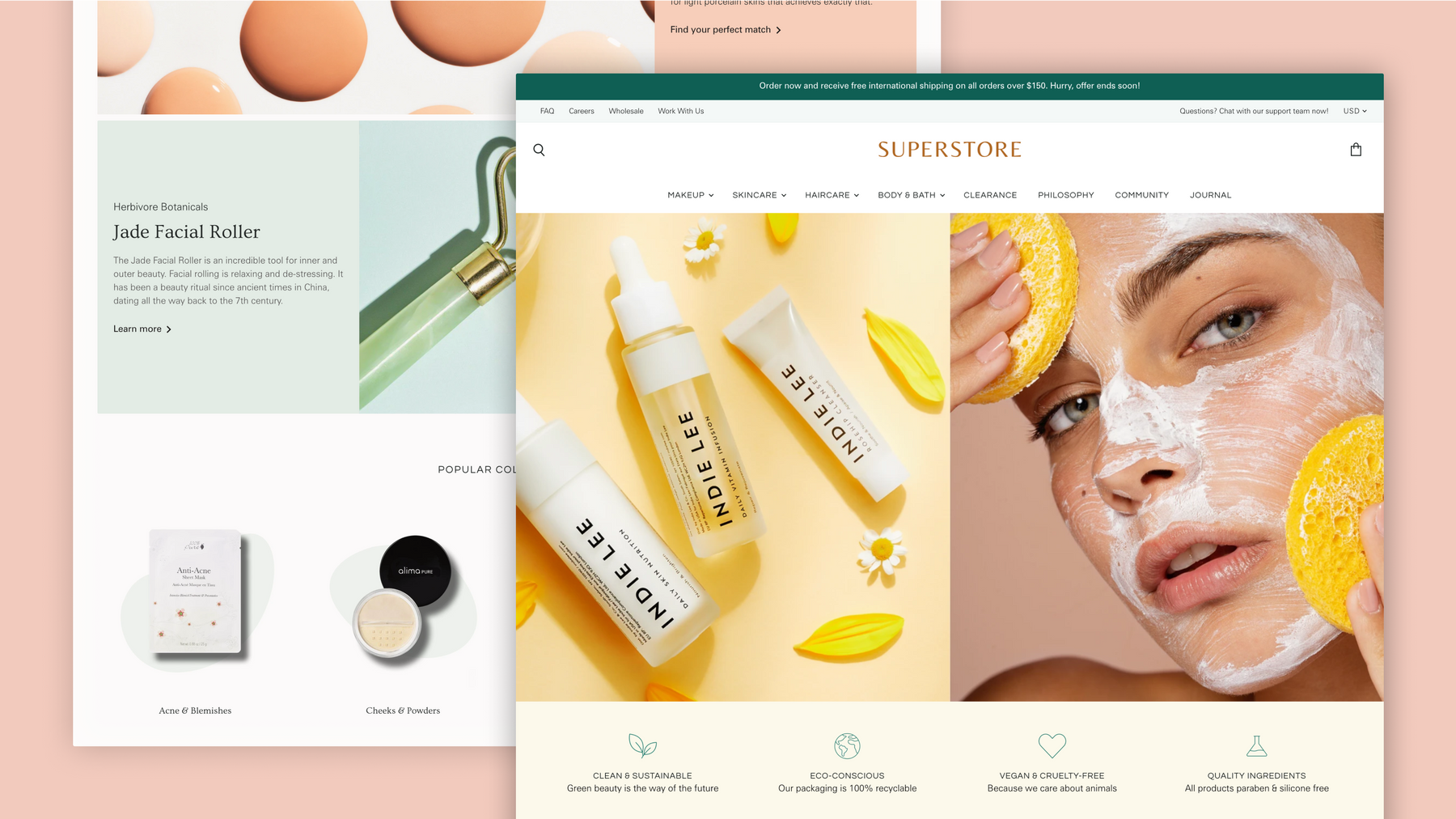 Superstore V3.0 adds product media and cross-border support in a stunning new demo
With an influx of brick-and-mortar businesses transitioning to e-commerce due to social distancing measures we understand that merchants are looking for innovative ways to support their business online. A large part of setting yourself up for success is starting with a powerful Shopify theme for your store. With that, we could not be more excited to announce the launch of Superstore V3.0. In this post, we'll discuss newly added features, and how they can help give your customers the ultimate shopping experience from the safety and comfort of home.
Product Media update
When creating our new demo, Superstore beauty, we wanted to feature our theme in a way that we had never done before. By utilizing the latest product media update from Shopify, we were able to place an emphasis on product imagery and video, allowing us to showcase inventory in a whole new light as captured in the image below.
Similarly, we also found the increased video support extremely useful for giving additional context to products by creating how-to videos and product demonstrations to help customers formulate a buying decision.
Here's another formatting option, made possible by the update.
Merchants aren't limited to video, however, you can also make use of 3D models and augmented reality, allowing your customers to simulate an in-store experience without having to leave their home.
Go international with cross-border support
In addition to product media, we've also updated Superstore to support cross-border functionality, allowing merchants to have more control over local currency and payment options.
Customers can select their currency with the theme's new currency selector. This replaces the currency converter and works with Shopify Payments to provide support for multi-currency. For instructions on how to set up, please refer to the following support article: https://support.pixelunion.net/hc/en-us/articles/360045778973
It's just one of many ways we're working with Shopify to make shopping easier for customers, regardless of where they might be located.
How to get Superstore V3.0
If you've already purchased Superstore, you can upgrade to the new version at no extra cost. If you've made code customizations outside the theme editor, you'll need to follow our instructions for updating your theme. We recommend using the Theme Updater App, as it's the simplest way to ensure that your current store settings and layout remain the same.
If you don't own Superstore but are in the market for a highly versatile, sales-oriented Shopify theme, you can learn more about the latest version and purchase it via our theme store.