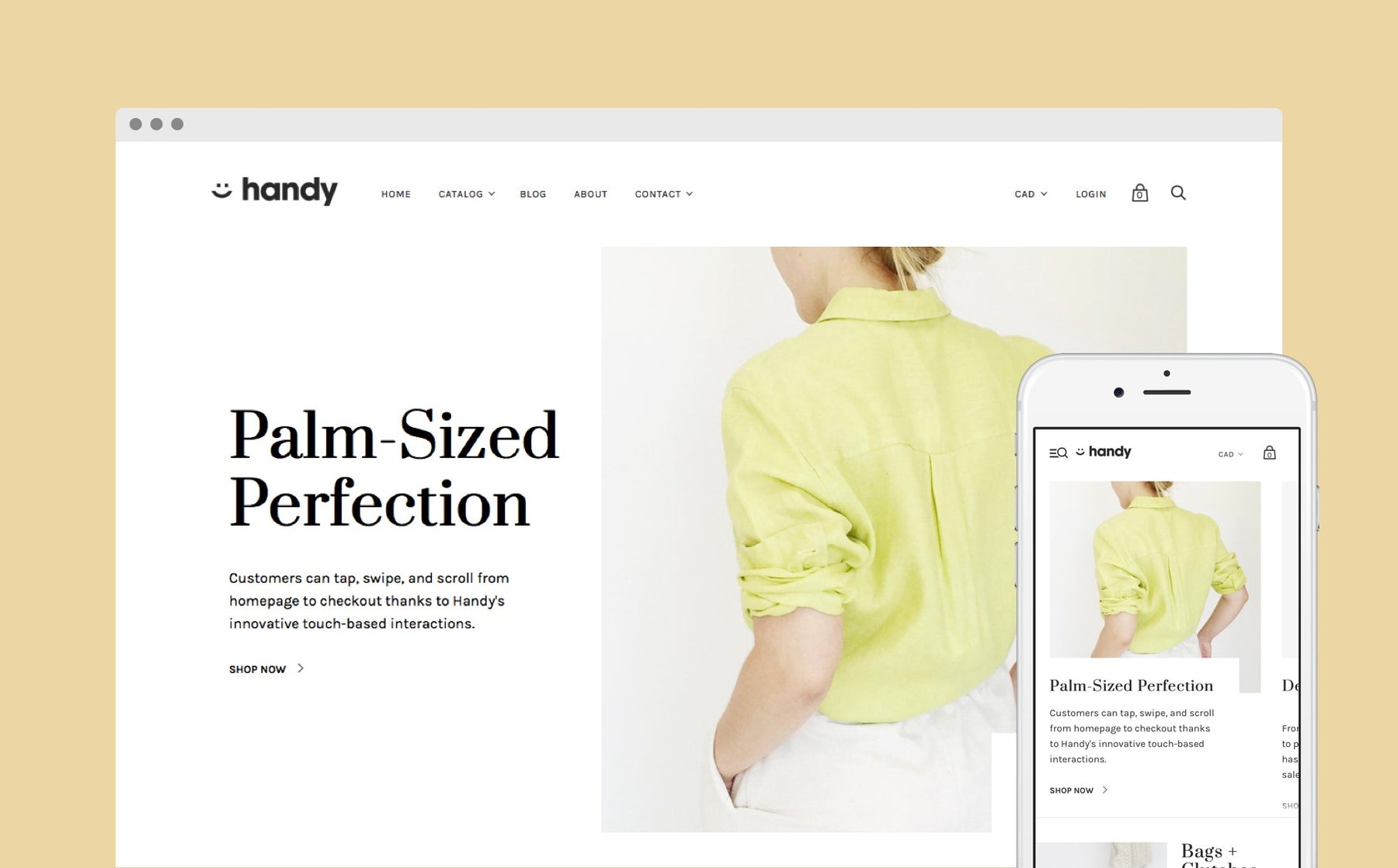 Introducing Handy, a powerful, mobile-first Shopify theme
Did you know that more shoppers today are buying from mobile devices than desktop computers? How about that mobile is the fastest-growing sales channel in history? Or that by the end of 2017, it will be the largest sales channel, period?
You might not know it from looking at most online stores on mobile. Cramped layouts, tiny images, a never-ending scroll of superfluous information—this what mobile shoppers deal with every time they want to make a simple purchase.
That's why we built Handy, a powerful, mobile-first Shopify theme designed to engage and convert shoppers whether their screens are the size of a pillow or a pop tart.
From touch-based interactions to horizontal scrolling to product options that are always within thumb's reach, Handy offers customers an app-like experience without the expense or hassle of actually being an app. Pretty cool, right?
Handy's standout features start on the homepage, where you can mix and match a variety of stylish elements (AKA Sections) to create the perfect layout for your store.
Want to get eyes on some exciting new arrivals? Put them front and centre in a horizontally-scrollable featured products section.
Have some brand-building editorial imagery you want to show off? Rather than use an automatically-rotating carousel (which can cause major issues on touch devices), Handy comes with a swipe-able, user-controlled slideshow.
Another area Handy where stands out is navigation. Not only does it feature slick mega-navigation—no small feat when you're dealing with limited screen real estate—it also includes an innovative "browse by" section, which gives mobile users quick access to the collections and products that interest them most.
Speaking of quick access, Handy features a persistent bottom bar that lets customers sort and refine on collection pages, and select options and add to cart on product pages.
And if customers want to get in touch with you? That's easy, too. Handy comes with a unique contact bar that appears as a set of stylish icons either along the bottom of the navigation drawer on mobile, or as a hover interaction over the desktop "Contact" menu. This lets customers easily call, email, get directions, or check store hours.
We're super excited about everything Handy can do—and we're even more excited to see what you can do with Handy.
To give your customers an app-like experience that's hands down the best way to shop on mobile, go check out Handy now!