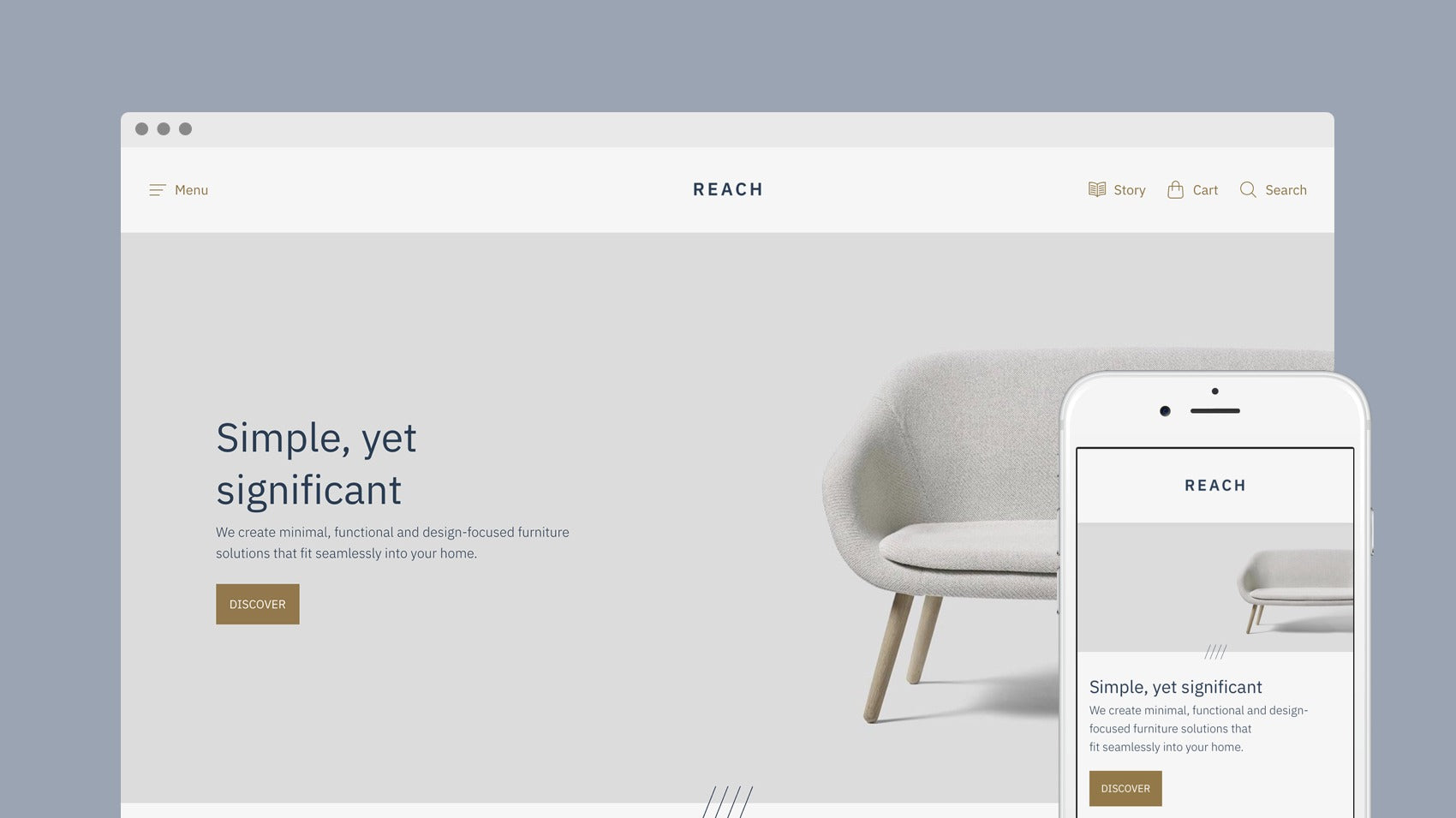 Introducing Reach, a Shopify theme for niche markets
Ecommerce is quickly becoming an integral part of today's world. Every day, more and more shoppers are heading online to find the products they need. And as more people shop online, more and more entrepreneurs are diving into the heady world of ecommerce, launching their own online stores.
For online merchants selling in niche or emerging markets, breaking into the public consciousness can be difficult. Making things even harder, a poorly designed online store can destroy any chance at success, even if the products are amazing.
That's where our new Shopify theme, Reach, comes in. We wanted to create a template to help niche sellers succeed. Our tenth premium Shopify theme, Reach is specially built to help you help you connect with more customers, tell a compelling product story, and reach more customers wherever they are.
In this post, we'll show you some of Reach's brightest features. To see it in action, go ahead and check out Reach's live demos: Solid, Plush, and Natural.
No need to put the phone away
Over 60% of smartphone users shop from their phone. We knew our tenth Shopify theme needed to be mobile-friendly. So, we went a step further and made it mobile-first. It's playful, easy to swipe through, and a pleasure to browse.
With Reach, your online store is just as navigable and shoppable during someone's commute, coffee break, or computerless weekend at the in-laws as it is from their desktop. We made it easy for customers to find you wherever they are.
Tell your brand story
Reach is a premium Shopify template for unique brands with a story to share. With Reach, we wanted to recreate the feeling of going into your local shop and knowing the narrative of the products and the owner. Your stories will lead to conversations that help to form a community of customers.
Reach has a unique "Story" section that gives you a dedicated space to share the stories that are most important to you. Here, you can create and promote your brand, product lifestyle, and values, while building trust with your customers.
Go on, embellish a little
Reach is built to give your store a cohesive and customized feel. We've included customizable visual embellishments that show off your attention to detail while adding flair and personality. With specialized patterns and designs, you can accent or emphasize product photos, descriptions, testimonials, and more.
Reach is our first Shopify template to give photos and description sections edge style options. And that's not all! We've also included animations to make browsing fun and intuitive. Animations encourage customers to explore menus and swipe through product images, descriptions, and homepage cards.
Let everyone know how great you are
When it comes to shopping online, customer testimonials and reviews can make or break a sale. Reach makes it ridiculously easy to build social proof and increase conversions thanks to its uniquely-styled testimonial section built into your home and product pages.
Reach's homepage supports up to three featured testimonials. These testimonials are carefully curated by you, so you can showcase what your customers love about your products. We've also included social icons to help you let everyone know where your rave reviews are coming from.
Share, share, everywhere
When it comes to ecommerce, social media is your friend! It's an avenue for conversations, community building, brand creation, and endless marketing opportunities. Unlike more analog forms of communication, social media can connect you to your customers whenever they are.
Reach supports social icons for Twitter, Facebook, Google+, Pinterest, Instagram, Tumblr, Youtube, and Vimeo. This makes it easier for customers to easily navigate to your social media accounts.
Throughout the theme, Reach has social sharing buttons that allow for super easy sharing of your products, store, or story. Additionally, the story page features a full-width "share" module to encourage seamless sharing.
With these features, customers can conveniently share their fave blog posts or perhaps a recently purchased product with all of their friends.
Expedited checkout
Everyone likes a closer, so we've built the perfect one! Reach makes purchasing a breeze. We've created a conversion-focused user experience with the help of two great "add to cart" features.
First, Reach has a persistent "add to cart" button, so customers can shop your products no matter where they are on your site. Second, we've included a success pop-up that lets customers know they've added a product to their cart. To top it off, we've iced the cake with playful and customizable colours, shapes, and animations that are also found throughout the theme.
There's still more!
We could go on and on about this amazing Shopify theme, but the best way for you to get acquainted is to
see Reach in action
. Check out the three demo shops, take a closer look on your mobile device, and let us know what you think!