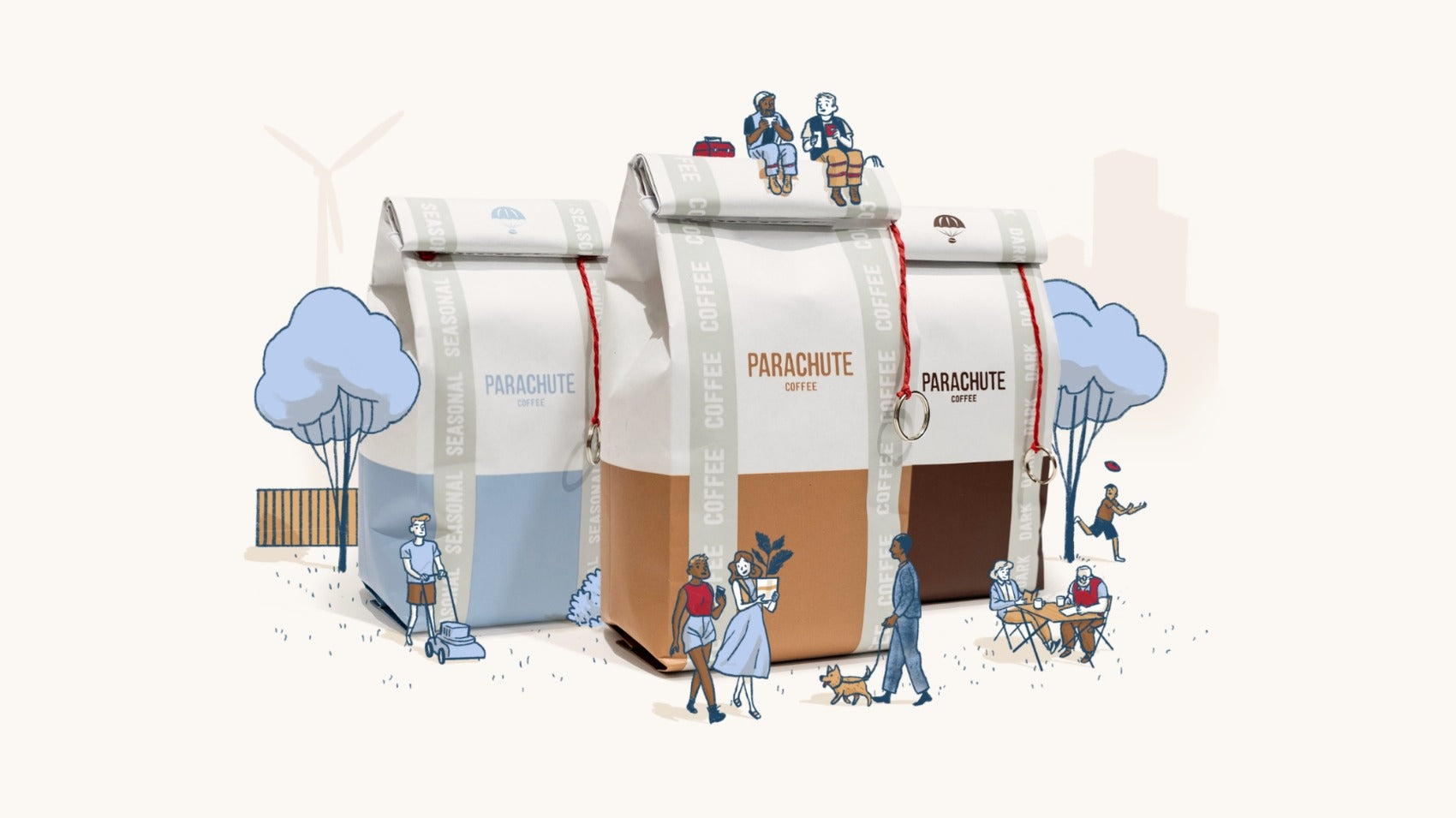 Brewing up a rebranded subscription experience on Shopify
Switching ecommerce platforms can seem like a formidable task. Is moving to Shopify worth sacrificing all the work you've put into building a functional Magento or WooCommerce store? We think so. That's why we were so excited when Parachute Coffee asked us to help them make that very move.
Parachute Coffee is a Toronto-based subscription coffee service. They're making their mark in the bean business by sending high-quality, freshly-roasted coffee beans to customers all over the world. Their goal is to provide not only the best coffee, but the best coffee ritual.
Moving to Shopify helped Parachute Coffee tell a more compelling story.
Although their product is top-notch, owners Jake, Michael, and Yehia wanted a more engaging, branded experience for their online store. The combination of WordPress and WooCommerce wasn't giving them the foundation needed to support their vision. It also wasn't letting them tell their story in a compelling way.
The first choice the Parachute Coffee team made was to move to Shopify for its scalability and ease of use. The next step was finding a world-class design agency with Canadian roots. That's where our Agency came in.
"Pixel Union fit the bill perfectly," says Michael Potters, the company's CEO. "They understood the app ecosystem better than any other agency we interviewed."
Integrated app solutions
We began by researching technology solutions to integrate Parachute Coffee's subscription service with a rewards program. The rewards program would also have to be integrated with a customer review app, so finding the right solutions was important.
After plenty of research, we found industry leaders in all three niches who could provide the high-quality solutions we were looking for. We chose ReCharge for the subscription component, Smile.io for the rewards program, and Judge.me for customer reviews.
With over 10,000 clients on Shopify, ReCharge is the platform's most trusted subscription service. Its extensive list of out-of-the-box integrations, combined with the ability to tailor its functionality to fit specific stores' needs, made it a natural choice—and it turned out to be the right one.
The rebranded and redesigned Parachute Coffee home page.
"The team at Pixel Union did an awesome job on the UI for the subscription signup," says Chase Alderton from ReCharge. "What they built for Parachute Coffee is elegant and powerful. It's impressive to continuously see an agency think outside the box and use ReCharge in a way that not only maximizes the app's subscription functionality, but works with other solutions to provide a seamless, optimized customer experience."
The new ordering process is seamless and perfectly branded.
We chose Smile.io due to its smooth integration with ReCharge, as well as the vast expertise of the team behind the product. Smile also works well with Judge.me, which let us connect Parachute Coffee's customer reviews with rewards.
The store's customers can now earn rewards by leaving reviews, spending money, and referring friends. They can then use those rewards to order more coffee.
"There are always adjustments to be made once the product is 'in the wild,' but the apps mentioned are very powerful," Michael says. "And their support teams have been working with our development team to execute quickly and effectively."
The review section powered by Judge.me integrates with Smile.io rewards allowing customers to earn credit to put toward future purchases.
Meeting of design minds
The design process was a true collaboration, with Parachute Coffee's creative team heavily involved. Not only were they building a new online store, they were also rebranding at the same time.
From the home page to the rewards dashboard, it was important for each section of the new store to cohesively embrace the new branding. The fun illustrations seen throughout the site were created by artist Drew Shannon. Our lead designer on the project, Kaytee, worked with Jake and Drew to customize every aspect of the store to fit Parachute Coffee's artistic vision.
"Pixel Union's exceptional eye for design and excessive search for answers relieved a lot of stress," says Jake Van Buskirk, Parachute Coffee's CCO. "That extra-mile they went will continue to give us the competitive advantage in our market."
Time to count the beans
The final result is an online store that provides coffee lovers with an effortless and rewarding coffee subscription experience. The reaction from both Parachute Coffee's team and their customers has been nothing but positive.
Internally, the company's team finds the store easy to edit and update. Externally, customers have been raving about the new store—and the numbers back that up.
–
Want to work together?
Our Agency team works with some of the most exciting brands on Shopify. Whether you're moving your store to Shopify, making the jump from Shopify to Shopify Plus, or just want more info about custom projects, we'd love to chat about growing your business on the world's most scalable ecommerce platform.