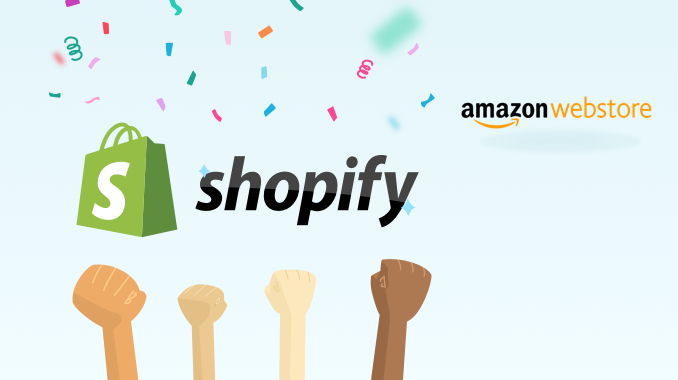 Say goodbye to Amazon Webstore, say hello to Shopify
As its name implies, Amazon is big. $247 billion big, according to its latest valuation. Jeff Bezos, founder of the world's largest online retailer, has hit it out of the park a bunch of times since opening "Earth's Biggest Bookstore" in 1994 (Amazon Web Services, Prime and Kindle come to mind), but nobody bats a thousand. And earlier this year, the company added another strikeout to its resume: Amazon Webstore.
Amazon hasn't revealed why it's shuttering Webstore, but it seems pretty obvious: other companies are offering the same services, except better and for less money. Shopify—that little Canadian startup that cut its teeth selling snowboards—now powers 175,000 businesses and has helped sell over $10 billion worth of products. Compared to its pricier, soon-to-be-defunct competitor, Shopify's interface is simpler, its functionality is more powerful, its support team is more responsive — and on and on.
Now that the shock of Webstore's shutdown has subsided, a lot of users are exploring alternatives like Shopify and realizing that the switch might actually benefit their store. Even Amazon has endorsed Shopify as its preferred migration partner. If you're still testing the waters or just want to know how the platforms differ, we've got five reasons why switching to Shopify could be the best thing that happened to your online store.
#1 - No more sleeping with the enemy
One of the main reasons why Amazon failed is because it was more interested in building its own brand than helping small to mid-sized businesses (SMBs) establish theirs. While Webstore users could make certain decisions about their store's look and layout, Amazon's omnipresent branding left many users feeling like they were in bed with the competition. That's not to mention the embedded links in Webstore themes that let customers comparison-shop and leave the store they were visiting to go buy directly from Amazon.
With Shopify, you have complete control over the look and feel of your store. Customers feel like they're buying from you, not some faceless ecommerce giant. Shopify even tells you how to remove the "Powered by Shopify" message from your site's footer—a refreshing change from the Amazon Prime buttons that come hardwired into Webstores.
#2 - All the features, none of the hassle
Amazon Webstore is clunky. Users have described its interface as "difficult and cumbersome," with Amazon failing to provide its customers with the up-to-date functionality you'd expect from an ecommerce platform in 2015. By contrast, when it comes to simplicity, flexibility and bleeding-edge functionality, Shopify has distinguished itself as the "WordPress of ecommerce platforms."
To make things even easier, Shopify set up a dedicated migration page for Webstore merchants that guides their move to Shopify with no interruption to their business. They also provide integrations with Amazon services like Fulfilment by Amazon and Pay with Amazon. Even sweeter? The 30-day trial Shopify is offering to former Webstores.
#3 - Support when you need it
Whereas Amazon Webstore support was only available between 7:00 a.m. and 8:00 p.m. CT, Shopify's support team is available around the clock by email, live chat and phone. By all accounts, their support specialists are fast, friendly and super-effective at resolving customer issues. Just look at this bar graph!
Going beyond one-on-one interactions, Shopify offers a wealth of resources to customers, including forums, tutorials, documentation and FAQs. If you want to learn more about digital retailing, Shopify's ecommerce university will teach you the ins and outs of running a store with helpful ebooks, videos and tips from experienced sellers. That's a far cry from Amazon's bare-bones Webstore support page.
#4 - Pricing that suits your needs and budget
Amazon Webstore charges $79 per month for its service, plus transaction fees ranging from 2.1 to 2.9 percent, regardless of the size of your inventory or how many features you use. One reviewer gave that pricing structure a C-, which sounds about right.
Shopify, on the other hand, offers a variety of subscription plans at different price points depending on which features you need and how much you want to pay. The $29 option gets your online store off the ground, while the $179 Unlimited Plan gets you everything, including abandoned cart recovery and real-time carrier shipping.
Shopify also doesn't charge any transaction fees, as long as you use the Shopify Payments system. If you'd rather use one of the other 70-plus supported international payment gateways, Shopify still only charges 1 percent per transaction—big savings for store owners accustomed to paying more than double that to Amazon.
#5 - A fully-hosted platform that can handle big business
Amazon Webstore's good intention was to give SMBs a platform they could use to create and run their own online shop. Shopify had that same goal for the first few years of its existence—but as many of its clients scaled up and became full-fledged enterprises, Shopify grew right along with them, launching Shopify Plus in February 2014.
Some of the world's biggest retail brands now use Shopify Plus, including Patagonia, Herschel, and—proud owners of a Pixel Union theme—Tesla. Shopify Plus merchants enjoy the peace of mind that comes with hosting their business on a multi-tenant platform able to handle their enterprise-grade selling capabilities. They also enjoy access to a dedicated and renowned team of account managers, technical designers, support specialists, and more.
So there you have it: the shutdown of Webstore isn't a crisis or even a hindrance. It's an opportunity to grow and improve your store on one of the web's most exciting and innovative platforms. And as for Amazon, don't worry about them—they've got plenty of other drones to fly.