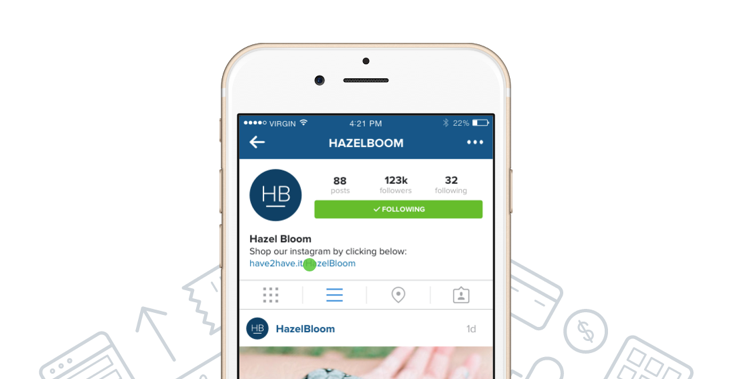 Soldsie's Alan Fong talks Instagram marketing, social commerce
If you've ever tried to market your store on Instagram, you've probably noticed that the only clickable link is the single line of text in your profile bio. This is fine for driving traffic to your homepage, but the lack of clickable caption and comment links makes it extremely hard to send followers to your product and collection pages.
Enter Have2Have.It, a service that drives traffic to specific pages using the link in your bio. It works by creating a shoppable brand page, hosted by Have2Have.It, that mirrors your Instagram feed and sends followers to pages on your website. It also lets you capture followers' email addresses with a newsletter opt-in feature on the Have2Have.It page.
Have2Have.It was created by Soldsie, a small company based in San Francisco. After being tested on several enterprise clients in 2014, the subscription-based service launched publicly in June of this year. Today it's used by merchants and publications like The Frye Company, Emerica, Lulu Frost, Nylon Magazine, TechCrunch and The New York Times.
We chatted with Alan Fong, Senior Account Manager at Soldsie, about the differences and benefits of Instagram marketing over other social platforms, the future of ecommerce, and some of the things online merchants can do to get their business over the hump.
What made you build a tool like this for Instagram?
We recognized a big opportunity for brands on Instagram to really drive ecommerce. The way brands used to approach Instagram was by using it as a window into advertising. It was really difficult to drive conversions and get people who discover a product on Instagram to buy it on a website because there's that limitation of having a singular clickable link.
In approaching that problem, we developed Have2Have.It. It's a way for brands to drive traffic from Instagram to the content or products on their website by creating a mirrored, clickable version of Instagram through the clickable link using Have2Have.It.
What makes Instagram a good marketing channel for online merchants?
Everyone sees every single post. There's no limitation or current algorithm the way Instagram works, as opposed to a platform like Facebook. With Facebook, even if you like a fan page for a brand, there's a very good chance you're not going to see it in your newsfeed. Only two percent of users see a post organically from a Facebook fan page for a business.
What else makes Instagram so valuable for merchants? It's so visual, for one thing...
Absolutely. People are so driven and so compelled by images, and that's what Instagram is all about—high-quality images. As a platform itself, it's rapidly growing. It's surpassed Twitter in active users. Last December, I think Instagram had over 300 million active users a month. Now they're over 400 million.
Have Instagram's new ads affected your product strategy?
They haven't. We're sort of exploring what we can do with ads and if there's any potential partnership there, given our relationship with Instagram. But at this point it hasn't really affected anything, just because it's such a new part of the game.
Do you anticipate it changing things?
It's possible. Look at Facebook. In 2013, the platform was in its heyday for businesses—brands could post anything, everyone saw everything—and then Facebook started introducing algorithms that changed their reach. Instagram may take that same route. It may not be within the next 12 months, but it could happen in the next two years, for example.
Facebook recently added a buy button. Do you see something like that coming to Instagram, or are you preparing for something like that coming to Instagram?
100%. We foresee all the social platforms introducing buy buttons. Pinterest has started supporting buyable pins on Shopify and a number of other platforms. Twitter's buy button is live on Bigcommerce and Shopify. Facebook has been testing their button. With Instagram, it's inevitable. As far as how we'll change our product strategy, whether we build some sort of integration into that buy button—it's a possibility.
From what we know, the buy buttons have not been super successful for a lot of the social platforms during testing. I think from a high level that they're here to stay. They're gonna make it work eventually. But in their testing and infancy, the buy buttons haven't done well for social platforms.
That's interesting and in some ways not a big surprise, because it is sort of a strange new development for some users, I think.
Definitely. Again, look at Facebook—they were supposed to officially "launch" their buy button in March or something, but have you heard of any big press release or anything? It's been a soft launch because I think the testing has not done well.
Does Have2Have.It have any competitors? Companies doing something similar or different, or even strategies people have found to use that Instagram link space?
Some of the direct competitors are Like2Buy, which is Curalate's product. There's also LIKEtoKNOW.it, and some others that have popped up in the market. The primary difference between Like2Buy and us is they have that same clickable feed, but they have another component that requires followers to opt in. And not everyone wants to opt in. Some just want to passively shop by clicking the link and going directly through. They're also more expensive and don't offer a free version, Shopify integration or Shopify app—all things we offer.
LIKEtoKNOW.it, on the other hand, started off in the market—they're rewardStyle's product, creating a product for influencers and not for brands. I know that they're trying to migrate into that whole brand space, but their product is different in the sense that people need to "like" something—so they have that same component as Like2Buy, where followers need to opt in to be able to participate.
Is it nerve-wracking as a business to rely on that link space? What would happen if that link was disabled all of a sudden?
There's definitely platform risk. Any time you're building a solution for any of the platforms, there's platform risk. Have2Have.it is technically our secondary product—our first is Soldie's comment-selling product—so we still have that cranking away and driving tons of transactions.
We also support embedding, so there's still a place for Have2Have.It if Instagram becomes clickable. That clickable feed makes for a great lookbook on your website.
Do you see a future where merchants can replace webstores with social media profiles and other marketplaces?
It's a possibility, but I don't think it's realistic. Personally, and also as a company, we sort of see social media as part of the ecosystem of commerce. You've got S-commerce, which is your social commerce, and there's still that clientele that wants a traditional website. It's all part of the ecosystem. I don't think a company would want to move solely in one direction.
How do you see that ecosystem changing? This year, next year—what phase are we in, and where do you see it heading?
I think we're still early on. Back to that buy button example, regardless of the current-day performance, I truly think that commerce in general is going to be more integrated. So even with the buy button, customers are purchasing on the social platform but it's placing the actual order through the ecommerce platform. I see that developing more over the next eighteen months.
You have an interesting perspective. Since we learned about Have2Have.It, the Instagram ads have come out and obviously a lot people, Instagram included, are trying to turn it into a marketplace—and you're kind of at the forefront of that.
Definitely. And Instagram, in their push for developers to create better applications that fall into certain buckets, is requiring new applications to be launched in their sandbox and be approved through their process. Prior applications have been sort of grandfathered in, but as of November 16th it's become a lot harder for new developers to jump into Instagram's app market.
On a more general scale, does anything come to mind when you think of challenges online merchants face, or opportunities that they're missing out on?
Absolutely. One of the biggest things I've been thinking about lately, with Facebook, Instagram, platforms across the board, is building a following in general—because if you don't have that social following, you can't sell to them, right? If you only have five followers, it's hard to build that business. So the opportunity there is accepting the fact that you need to pay in order to grow your online presence. That includes buying ads on Facebook, purchasing pins on Pinterest, and looking into ads on Twitter and Instagram as well.
What do you think is stopping business owners from doing that? Is it the willingness to pay? Is it being overwhelmed with running a small business?
I think it's all of those things. To focus it down, I think that there are three different things. One is the willingness to pay, because it's that great unknown: "What am I paying for, and what am I going to get?" There's also the matter of time. With smaller merchants, it's like, "Okay, I'm running a store, an online store, a Facebook page, an Instagram page—now I need to manage ads?" And then I think the third thing is that people don't necessarily know how to run ads properly. There's that whole bucket of merchants that have tried running ads but not really seen success, because they don't know how to run them properly. So I truly believe in investing money into ad placement—doing it effectively and the correct way.
Learn more and start a free 30-day trial at Have2Have.It