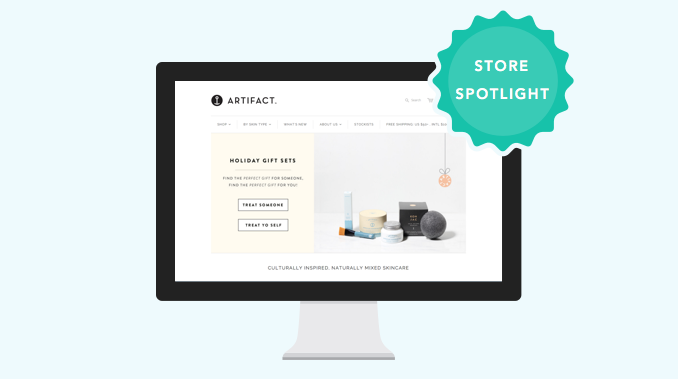 Store spotlight: Artifact Skin Co.
If you've been to an Anthropologie store lately, you may have seen some beautifully packaged, naturally made skincare products emblazoned with a circular anchor logo. That's the mark of Narae Kim and Elie Nehme, the Toronto-based founders of Artifact Skin Co., an online store launched on Shopify in 2014 whose products are now in stores all over the world.
Narae and Elie met while studying design and architecture at Ottawa's Carleton University. Narae worked as a cosmetician at the time, experimenting at home by making her own facial masques and skincare products. She and Elie noticed a lack of brands focused on masques alone, which gave them the idea of founding their own line of products.
They started with a skincare blog in order to build up an audience, sharing recipes and showing readers how to take care of their skin. "We knew it would be hard to drive to our online store," Elie says. "As we were researching and trying to get an idea of what products we would sell, the blog gave us something to work on—to work with—from the beginning."
After running the blog for 18 months, they launched their online store on Shopify. Elie, who is originally from Ottawa, says the decision to run Artifact on the Ottawa-based ecommerce platform was a "no-brainer," thanks to its ease of use, friendly interface, and choice of themes—not to mention the fact that it's Canadian.
These days, running the business poses an ever-changing array of tasks and challenges. "No day is the same," Elie says, though he's able to describe something resembling a routine. In the mornings, he and Narae respond to emails, post on social media, and create a to-do list that keeps them busy into the evenings. Since launching the store, they've handled all fulfillment themselves, getting orders packaged and shipped out by 4 p.m. With the business growing, Elie says that a third-party fulfillment centre is on their radar for this year.
Actual production happens "at least once or twice a week," Elie says. He and Narae produce everything in small batches based on orders coming in from retailers, always keeping an inventory on hand to take care of direct sales through their online store.
"The good thing about that is we can control how much we produce," Elie says. "That lets us keep our inventory at low numbers, which helps us save money, as opposed to producing a higher quantity and having to get rid of the excess."
Artifact's products are sold by stockists all over the world, thanks mainly to exposure gained from the brand's social marketing efforts. The first store to carry their products was The Conran Shop, a European retailer with locations in London and Paris. Like most of the stockists Artifact works with, the retailer discovered their work through social media.
Today, Artifact's biggest client is Anthropologie, which operates over 200 stores. The retailer reached out to Elie and Narae over Instagram in 2015, initially requesting a much larger order than they could handle. After scaling back their original request, Anthropologie has been steadily increasing their order, which Elie says has been "huge" for the business.
Early on, one of Elie and Narae's biggest challenges was sourcing the right packaging manufacturer. "The packaging and overall look and design was very important to us," Elie says. "With our design background and attention to detail, getting that right was a huge challenge." After a bad experience with a manufacturer in China, they found a company in the U.S. who they've been happy with, and the "response from customers has been great."
When it comes to advice for other online merchants, Elie points to product imagery as an area where stores can do themselves a lot of favours. "The driving force for us has been photographs," he says. "Starting with our blog, we made sure the images were interesting, and that brought a lot of traffic from Pinterest and Instagram. We still haven't paid for any advertising. It's all come purely through social media."
He also urges new sellers to "find out which social media avenue works best for you." That means not trying to master every social media platform, but focusing on the ones that best suit your business. "In the beginning, we tried to master each one," he says. "But over time, you sort of figure out what you're good at, which avenue is really best for you."
On the heels of a busy holiday season, and with Artifact's business continuing to grow, Elie recognizes the need for the team to expand beyond himself and Narae.
"We're sort of reaching that point where you can only do so much, and you begin to slow down because you're only two people," he says. "That's definitely something we'll look at this year."
Check out Artifact at www.artifactskinco.com
Artifact uses Pixel Union's Atlantic theme.