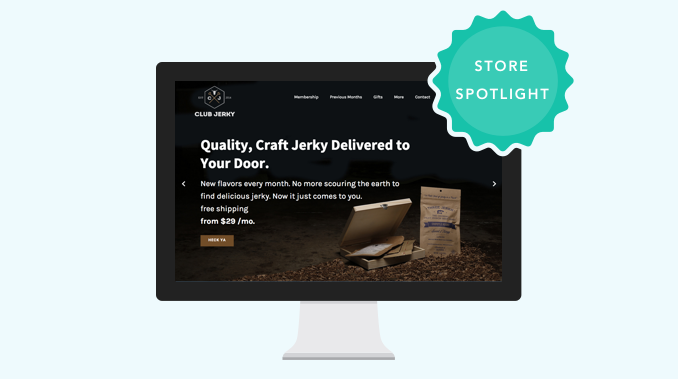 Store spotlight: Club Jerky
"Do something that you love. Make sure it solves a problem people are having, and once you've found an idea you feel passionate about, don't spend forever making preparations—just do it."
This is Ryan Rundle's advice for anyone thinking about starting a business. Ryan, an Orange County-based "entrepreneur at heart" who worked as a financial advisor at Merrill Lynch and in Silicon Valley's tech industry, took his own advice when he founded Club Jerky in 2014.
"I was like, 'I'm going to do something where I don't need a ton of capital, I don't need to raise money, I don't need to quit my job,'" he says. "This was something that was always brewing in my head. I felt like there was a need—that people would pay to be able to discover new jerkies every month—and so I decided to just start it."
Club Jerky is exactly what it sounds like—a subscription-based ecommerce business that delivers curated jerky selections to club members' doors. Ryan, a self-styled jerky lover since childhood, works with suppliers all over the U.S., many of them eager to get their products featured in the club. Ryan communicates with them regularly, negotiating prices that fit within the club's margins, and giving feedback to suppliers whose jerky didn't make the cut.
"I don't think Club Jerky could have been possible five years ago," Ryan says. "A lot of our suppliers only started in the last two or three years, so we're fortunate in that we have a lot to choose from. We get sent a lot of jerky. What we look for is quality—stuff that's hand-cut, unique flavours, unique types of jerky—stuff that connoisseurs would really enjoy. There's quite a few jerkies that we have to turn away."
Quick to point out his lack of technical knowledge, Ryan says he chose Shopify for its intuitiveness and ease of use. He was especially drawn to the Shopify theme store and app marketplace, which gave him everything he needed to launch his business.
"I think for a lot of people the idea of starting an ecommerce store can be daunting. You're like, 'Do I have to design something? How do I make sure my site looks good? How do I convert customers? How do I accept credit cards?' And the simple answer is that you don't have to learn anything exceptional, because Shopify either has tools or products that make it incredibly easy to do it yourself, or they simply do it for you."
To power the subscription part of the business, Ryan tried a few different apps before settling on ReCharge. He likes that it offers customers the ability to prepay for three and six-month subscriptions (a good option for gifts and holiday promotions), and that its checkout process mimics a regular Shopify checkout experience. He uses a number of other apps, including Shippo, a free app that helps him create shipping labels, and Notify, a conversion-focused app that alerts shoppers of other customers' orders in near-real-time.
(Read our Q&A with the founder of ReCharge)
For subscribers who haven't had their fill of a monthly selection, previous months are available for direct purchase through the club's online store. Subscriptions, however, account for around 85 percent of the company's sales—a number that Ryan says he expects to grow, and which makes managing his margins an ongoing challenge.
"With this kind of subscription business, it's not like Stitchfix or even Dollar Shave Club, where you know what your costs are going to be every month. Because I have a fixed price, and I have varying supplier costs, it's tough for me to know what my margins are. They fluctuate from month to month, and I have to make sure they're in the right area."
Another challenge Ryan faces is getting strong feedback from customers. He says, "It's very easy to start a business and not know why people are cancelling or not subscribing in the first place. Is it price? Is it quality? Is it presentation? Is it service? As a business, you want to find answers to those questions and iterate as soon as possible."
Like a lot of business owners, Ryan has found it difficult to let go of certain responsibilities. Club Jerky is officially a team of five people, though Ryan says he has at least 20 "unofficial" partners, not including suppliers. This year, he plans to outsource fulfillment—an especially unnerving prospect for a business whose reputation is built on curation.
"With in-house fulfilment, you have control over what goes into every box," Ryan says. "When you start working with partners, it's important find someone who feels the way you do about your business. That's hard to do, because as a business owner, you put the same passion into every order. For me it's been a challenge letting go and trusting the people I work with. Not because they're not great, but because I'm a perfectionist."
As for his earlier advice to other first-time merchants to "just do it," Ryan understands the reservations and trepidation that come with starting a business. However, he says, the iterations and improvements he's made since launching the club wouldn't have been possible without the feedback he gets from customers, and without the ability to study his analytics to see where customers are bouncing and converting.
"Most entrepreneurs don't have an excuse anymore," he says. "Because there are platforms like Shopify, theme companies like Pixel Union, and all the other tools out there for you to start your subscription business. So just start it."
Check out Club Jerky at www.clubjerky.com
Club Jerky uses Pixel Union's Startup theme