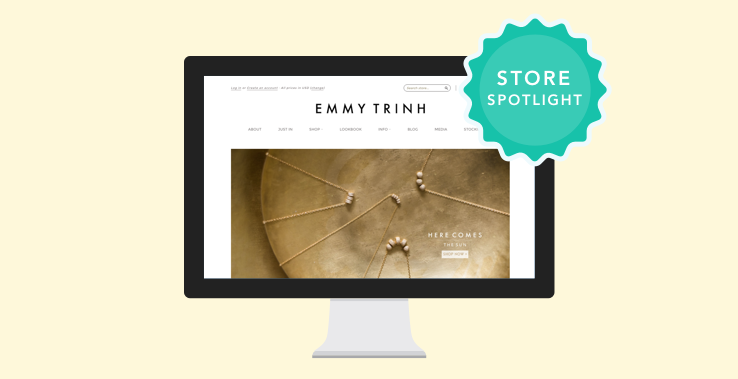 Store spotlight: Emmy Trinh Jewelry
Nearly three years ago, Emmy Trinh was vacationing in New York when she came across a blue agate that would become a cornerstone in her career. She had recently left her corporate job to care for her mother, and while that kept her busy, she lacked a "creative outlet." When she saw the agate geode—a slice of sparkling raw crystals with the edges plated in gold—something clicked.
Emmy bought it, along with a chain and some tools recommended by the store owner, and went home to Vancouver to make her first necklace. The result was exactly the type of statement piece she'd envisioned.
"I was so in love with it," she says. "I started wearing it and people noticed immediately. Friends were asking me about it, strangers were asking about it. Even at the airport, people stopped me to ask about it."
All that interest in her first creation started her thinking that she might be able to turn her long-time love of jewelry and design into a viable business. She signed up for some metal-smithing and wax carving classes at a local college, where she learned to cast pendants and rings and "just hone in on the skill of making jewelry." She also spent hours at her computer, researching the industry and assessing the competition—which, as she found out, was stiff.
"It seems like over the last five years or so, everyone has started making jewelry," Emmy says. "There are so many different designers and brands out there. It's daunting. I thought, 'Do I really want to jump into this?'"
Her answer was "yes," but she didn't jump right away. With a degree in business administration and a background in sales, Emmy understood the importance of developing a unique selling proposition, and she devoted months to it. "I wanted to come across as someone who was serious about my business" she says. "I spent a lot of time on my branding so the store would understand what my jewelry line represents and who it's for."
By the time she launched Emmy Trinh Jewelry (ETJ)'s online store in October 2014, she knew exactly what her brand represented (the power of jewelry to elevate any outfit) and who it was for (busy moms and career women who desire simplicity and elegance). But she quickly realized there was more to running a store than writing an About page, posting some products, and hoping they sell. "You really need to be out there representing yourself, networking with other entrepreneurs and style influencers, and trying to grow awareness for your brand."
One of the first challenges Emmy came up against was finding and sourcing the materials to make her jewelry. Because she didn't have the volume to place custom wholesale orders, she says she had to work with what she could get. "I would spend hours and days just trying to find a supplier. Sometimes I'd find someone that looked like they had what I wanted, but it wouldn't be right when I got the order. It got pretty expensive."
Eventually, Emmy started attending jewelry trade shows and conventions, where she was able to meet with different suppliers and see their offerings up close. "I learned that I could have the things I wanted made, and that they could be affordable," she says.
It didn't hurt, either, that her order volume was increasing. A couple of months after she launched ETJ, one of her friends hosted a holiday trunk show, where Emmy sold a number of pieces and had the opportunity to meet with potential customers. "I was able to talk to people who weren't my friends and hear some feedback and see what they were gravitating towards," she says. "It gave me the confidence to push forward."
"Forward" for Emmy meant retail, and in early 2015 she struck her first retail partnership with Oliver & Lilly's, a women's apparel boutique in Vancouver. The store carries recognizable brands such as  A.P.C., Ace & Jig, Steven Alan and Heidi Merrick, and Emmy says their selection of easy, casual clothing and West Coast vibe matched her designs perfectly.
These days, you can find Emmy's jewelry (in its distinctive black boxes embellished with sayings like "Life doesn't have to be perfect to be amazing") in more than a dozen brick-and-mortar locations as far-reaching as Colorado and New York. She estimates that currently about 70 percent of her sales comes from physical stores, with the remaining 30 percent coming from her site.
"I like having the online part of my business available so that people can see and purchase the whole collection even if they can't come into the store," she says. "But because I'm travelling quite a bit and busy with other things, it's hard to maintain an online store."
Emmy says she's been fortunate to have found a number of people she trusts to handle things like social media and photography. Outsourcing these responsibilities reduces her time spent working on the back end of her business, freeing her up to work on new designs and develop relationships with stores. "I think outsourcing is key to growing any business," she says. "There are only so many hours in the day."
Even with all the demands on her time, Emmy continues to handcraft every piece of jewelry that sports her signature ETJ tag. She's passionate about her work, which you can tell by looking at her Instagram feed or hearing her talk about jewelry.
"I think of clothes as an art canvas, and accessories and jewelry as the frame," she says. "You can have a simple wash of paint on the canvas and it can be pretty, but the frame can really change the style or the mood of the art, just like a necklace and earrings can change up your entire look."
Emmy's success so far is a great lesson for anyone thinking about starting a business: if there's something you're passionate about and you're willing to work hard for it, you're off to a good start already. The next step is stoking that passion and persistently pursuing your dreams—even (or perhaps especially) if they involve diamonds and gold.
To learn more about Emmy's business, visit emmytrinh.com or follow her on Instagram at @emmytrinhjewelry.