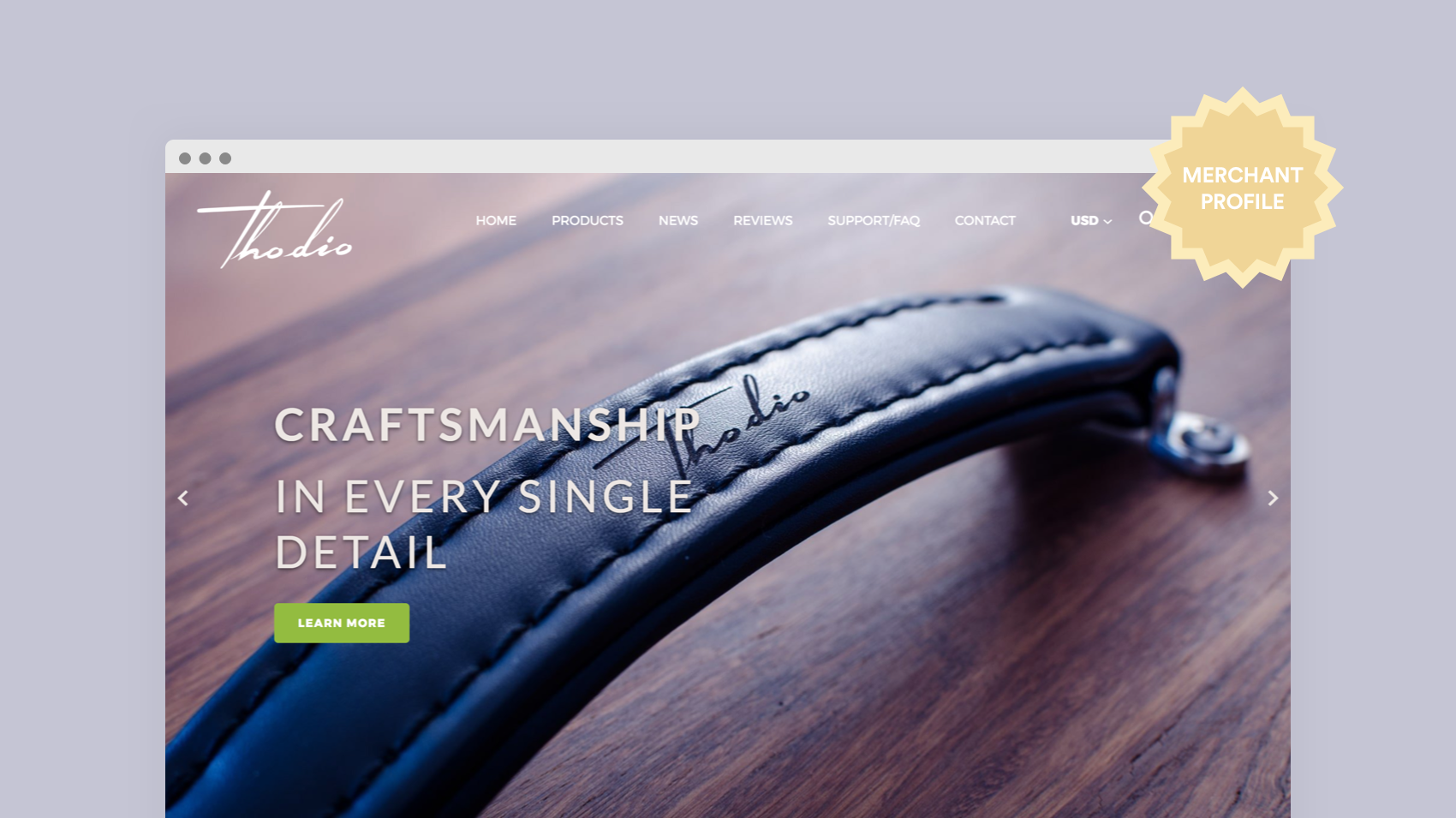 Store Spotlight: Thodio turns up the volume on its ecommerce success
Here at Pixel Union, our mission is to create beautifully designed, easy-to-use tools to help you sell more on Shopify. We want to make it possible for you to create not just an online store, but a comfortable home for your products, brand, and customers.
We also love sharing merchant stories to inspire you on your journey and remind you that you're not alone. There's a community of ecommerce entrepreneurs out there trudging through the same difficult terrain, with the same challenges and goals.
Thomas Spaans is one of those merchants. His online store, Thodio, sells durable, high-quality Bluetooth speakers that are as beautiful as they are powerful. He uses our small-catalog Startup Shopify theme to tell a compelling brand story and showcase product details.
We could go on and on about how much we love what Thomas has done with his Shopify store, but instead let's hear from the audio guru himself.
Introduce yourself and your business. When did you decide to turn your passion into an ecommerce business?
It was the beginning of summer in 2005 at the shores of a beautiful lake in the rural Dutch village of Nieuwkoop. I wanted to build a portable iPod speaker to have great quality music I could share with my friends in the outdoors.
When I completed my first iBox, I took it out to the lake a few times and my friends' reactions were overwhelming. They loved the iBox so much they all wanted one for themselves.
Not long after that, a lot of people in the rural Dutch village were the proud owners of an iBox, and many boats cruising on the lake were using Thodio. At this point I started selling iBoxes on the Dutch eBay.
Your online business seems very well-established. When did things really take off?
In 2007, things started to pick up when I was featured on a Canadian gadget website and Playboy magazine. I also held a competitive advantage because the iBox was the first portable speaker in the world featuring Bluetooth.
The press continued when Wired and Rolling Stone featured Thodio in 2011. Then, in 2016, Unbox Therapy reviewed the A-BOX on YouTube (the video has nearly 1.5 million views) and crowned it the new Bluetooth champion. This boosted sales through the roof and led to us setting up our new workshop.
What has been the greatest challenge you've faced as an ecommerce entrepreneur?
The biggest challenge for me was letting go of certain things and not doing everything myself.
How did you overcome that challenge? What did you learn from it?
My wife arranged someone to help me out. After a few months, they took over the production process and I was able to focus on other aspects of the company. The two main aspects I decided to focus on were marketing my products and sourcing materials.
How have you grown your company since its inception? Are there any specific tips or tricks you can share?
Being featured in the media was a huge help for us. Rolling Stone and Wired both reached out to us to do their reviews. With Unbox Therapy, we shipped a .50CAL A-BOX ammo can speaker with a note hoping they would write a review, and they did!
When you're pitching to the media, keep it short and clear. Make sure your product fits and adds value to the platform. If no one replies to your request, just ship a sample and hope for the best!
I would also recommend reading The 4-Hour Work Week. This book is incredibly insightful and helped me create efficiencies in both my company and my life.
What's one thing you wish you knew about ecommerce when you first started?
I wish Shopify had started earlier! The platform is effortless, reliable, and much less of a headache compared to running a WordPress website. Shopify is also much more trusted by payment providers.
Is there anything else you'd like us to know?
The only limits are in your mind.
–
Thodio uses Pixel Union's Startup Shopify theme. Thomas' store is an exceptional example of how Startup can grow with your business from a single-product store into one with a larger catalog of products.
Interested in being featured on our blog? We'd love to hear from you.