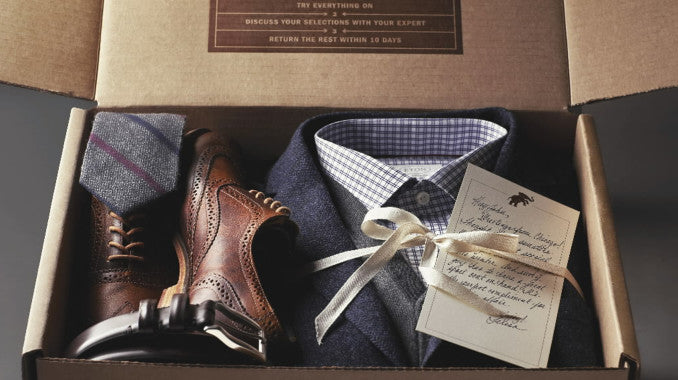 Subscription ecommerce: Three ways to do it right
Consumers love their subscriptions. And why wouldn't they? Receiving a fresh monthly shipment of high-quality, novel, and personalized products is fun, and it makes life easier. Why try on clothes at the mall—or even shop for them online—when you can have a handpicked selection delivered to your door each month?
But subscriptions aren't just good for consumers. They're a godsend for retailers, initiating a continuing stream of revenue from a core group of loyal customers. No longer does the transaction end with the ping of a cash register or swipe of a credit card. Running a subscription service ensures a lasting relationship with customers—and a steady stream of recurring revenue for your business.
So, what makes for a successful subscription ecommerce business? And why do people subscribe to multiple services each month? We've already profiled some of our fave subscription companies to inspire you. Today we're going to look at three subscription ecommerce models we've seen gaining traction lately, with an eye on how they work and how you can apply them to your business.
The element of surprise: Product discovery
One of the biggest trends in subscription ecommerce over the past few years has been curated "box-of-the-month" clubs. For a monthly fee—generally between $30-75—subscribers receive a selection of goodies sourced from a variety of brands they might not have discovered on their own. Forget "the thrill of the hunt"—it seems a lot of people are happier to let someone else do the work of sifting through new products in search of something great.
Connecting customers with The Best Thing They've Never Heard Of begins with knowing your niche and your customer. These days, all the major players are pushing hard towards a more personalized subscription experience, whether it's Stitch Fix's style profile or Graze's "like, love, trash, try" ratings system. To keep customers from unsubscribing, keep costs low and encourage feedback so you can curate more targeted, relevant boxes in the future.
It's also important to build on the anticipation, surprise and indulgence that are part and parcel of subscription boxes. As Marshal Cohen, chief industry analyst at consumer market research group NPD, explained in a Fast Company article: "[Subscription ecommerce] is about the art of giving to yourself. Millennial consumers, in particular, love the idea of self-indulgence, and subscription companies really understand this."
As the plethora of dedicated websites and YouTube channels attest, the "unboxing" experience is a powerful thing. If you're running a subscription box business, strive to create beautiful, unique, memorable packaging for your customers, and leverage their surprise and delight at receiving one of your boxes to market your business on social media.
Set it and forget it: Product automation
Another successful approach to subscription ecommerce has been the automation or replenishment model. This model generally works best for consumable products: razors, contact lenses, coffee, etc. The sell for consumers here is convenience—they don't have to remember to pick up their medium roast from the store or place an order online, it simply arrives in their mailbox one their supply starts to run low.
Companies that supply regularly-needed commodities via subscription can usually offer consumers a considerable price advantage. In the famous words of Dollar Shave Club CEO Michael Dubin: "Do you like spending 20 dollars a month on brand-name razors? 19 go to Roger Federer." By signing up customers for the long term, stripping down their product to the bare essentials, and having their CEO double as their celebrity spokesperson, DSC is able to charge far less than their competitors—and save their customers a trip to Walgreens.
Of course, for small businesses and those new to subscriptions, turning a profit on $1-a-month packages can seem unimaginable. But because subscription-based companies acquire customers for the long haul rather than a one-time purchase, they typically have a much lower retention spend and a much higher customer lifetime value. Plus, since the predictability of the subscription model means anticipating demand better, they're able to cut way down on wastage, which can be a huge expense for companies dealing in consumables.
Try before you buy: Product sampling
The third subscription model bears some resemblance to the first in that it's about discovery and curation, but instead of using or consuming the products right then and there, customers get a "trial period" to test them out before they're charged. If they don't like what you've sent them, they simply send it back. As David Bell, a Wharton marketing professor, put it: "It's more of the sample model—sort of, 'Help me curate my tastes.'"
This model is great for enticing customers who may be wary of buying items online—specifically things like shoes and clothing, where fit is a major consideration. One company that's dominated this space in recent years is Trunk Club, which every month sends its customers a 30-to-40-pound "trunk" packed with button-ups, slacks, sweaters, and socks and underwear. The customer tries everything on, tells their stylist what works and what doesn't, and only pays for the items they keep.
Again, for businesses using the product sampling model, it's all about knowing their customers. Trunk Club isn't just about creating a magical, self-replenishing closet, it's about cultivating a particular personal brand or style. Whether you're selling designer denim, wine or cosmetics, it's crucial to know the "look" your customer is after, and to use their purchasing behaviour to inform future shipments.
The bottom line
As subscription ecommerce matures, there's no doubt we'll see new models emerge and dominate. Regardless of what happens—or the approach you take—businesses that succeed will always share two key characteristics: the ability to deliver valued products at competitive prices, and the drive to personalize their service to their customer. Get that right and success is yours.