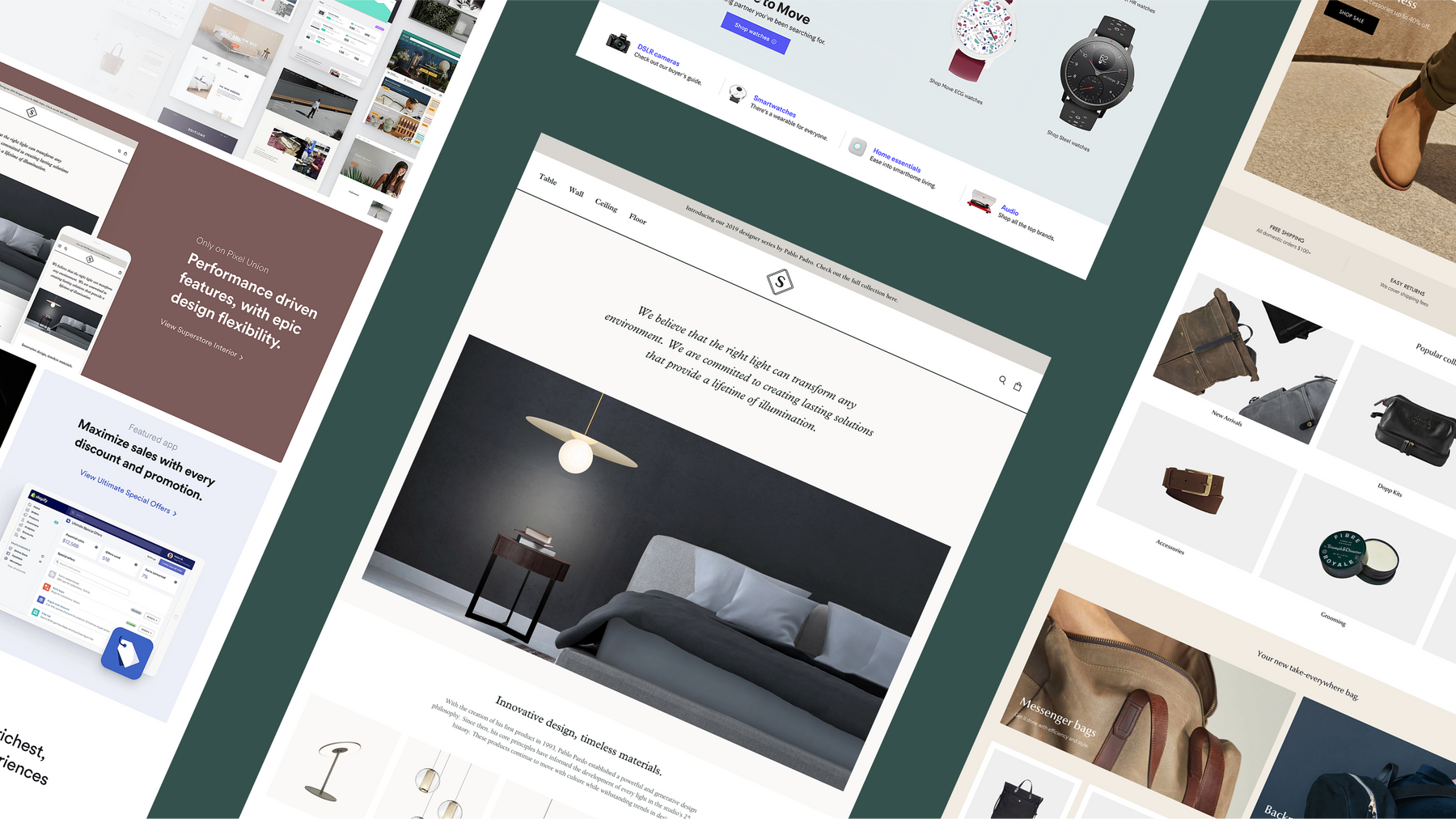 Superstore V2.1 adds color swatches, translations, and flexible design customizations
At Pixel Union, we're beyond excited to announce the official launch of Superstore V2.1. With newly added features, plus updates to the existing ones you love, Superstore V2.1 offers a seamless user experience that will have your customers coming back for more. As if theme updates aren't exciting enough, you can also save 20% on the latest version of Superstore with code SUPERSTORE20 until September 30th at 11:59 PDT!
In this blog post, we'll do a deep dive into the features that make Superstore the most versatile, large-inventory theme in the Shopify marketplace. We consider it some of our best work yet.
Color swatches
Showcasing your products in its various color options is extremely important in ecommerce. That's why we've introduced color swatches for both collection and product pages, allowing your customers to see at a glance which product variations you offer. Adding color swatches allows you to showcase different variations of products in a format that's visually engaging for your customers.
To enable and customize swatches, simply open your theme editor then go to Theme Settings > Products > Color Swatches and voila! Customize your swatches in any size shape, color, texture, or pattern using custom images. You can even choose to show swatches all the time or only on hover for a cleaner look, as shown in the image below.
It's important to note, that when adding customized color swatches, be sure to appropriately name your color variations to differentiate between similar tones. For example, if you have various shades or pattern combinations for a given product or collection, you might call variation a) "brass" and variation b) "marble and brass". This will help your customers identify which product color best matches what they're looking for.
Translations
Superstore now supports the translation of 21 languages so you can display your content in the language of your choice—without the use of apps or translation services. Not only does this feature reduce the costs associated with translation, but it also ensures your brand messaging and product descriptions will be communicated clearly to your audience regardless of language and geographical location.
To change your store language preference, simply go to Theme Actions > Edit Languages and choose from the drop-down menu.
Testimonials
Whether your store is B2B or B2C, having social proof related to your goods or services is vital to improving your conversion rate. With Superstore V2.1, merchants can now feature up to 5 testimonials on their homepage.
To do so, simply to go Theme Sections > Testimonials then add and customize accordingly. Adding testimonials will convey trust and value to new visitors by showcasing what customers already love about your products or services.
Image with text
Share your brand story, your way. With these new options, merchants can beautifully feature products, collections, blog posts and more with the highly customizable image with text section. To get started, simply add an image with text section and customize it to taste.
New appearance options
New appearance options like spacing control, rounded corners, and subheading customizations are yet another way Superstore grants you more control over the theme's overall appearance, including the finer details of the homepage. However, appearance customization isn't limited to structural elements, merchants can also choose from a variety of fonts anywhere text can be added. To experiment with appearance options, begin by adding a section, such as a collection list, then customize the text, spacing, and layout options to best fit your brand.
Interchangeable icons
Yet another new feature is the ability for merchants to choose between a bag or cart icon in their store. While simple in application, it's just another way Superstore brings more customization and design options to merchants. To change your icon, go to Theme Settings > Icons and make your choice.
How to get the new Superstore
If you've already purchased Superstore, you can upgrade to the new version at no extra cost. If you've made code customizations outside the theme editor, you'll need to follow our instructions for updating your theme. You can also use the Theme Updater App.
If you don't own Superstore but are in the market for a powerful and versatile Shopify theme, you can learn more about the latest version and purchase it via our theme store.