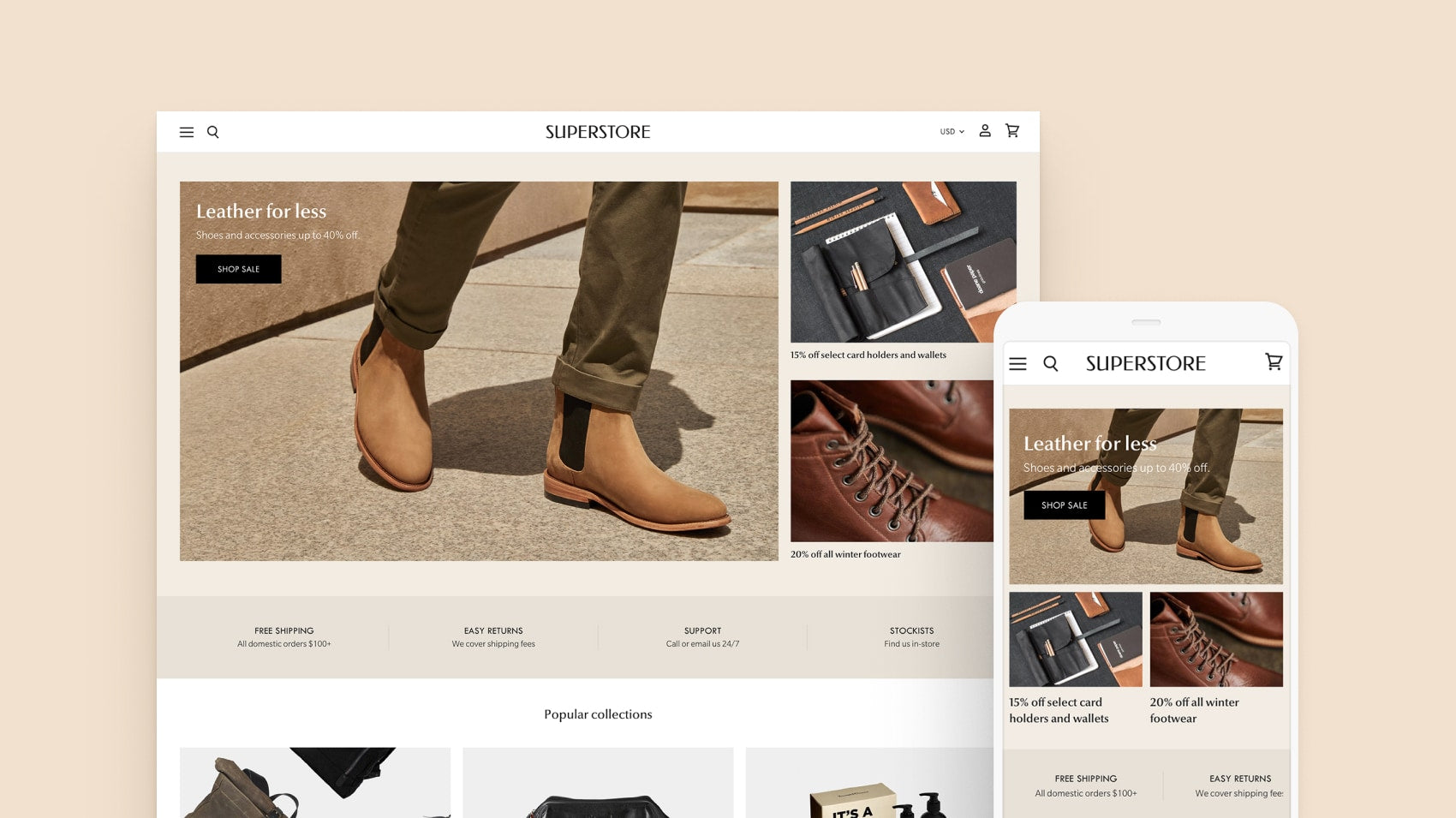 Introducing Superstore: The ultimate wholesale Shopify theme
Meet Superstore: our very first Shopify theme built specifically for wholesalers and large product catalogs.
It's been a year in the making and we're so excited to share this brand new theme with you. In this post, we'll show you some of Superstore's best features. To see it in action, go ahead and check out Superstore's Tech and Fashion demos.
Boost your average order value in one click
Superstore is the first and only Shopify theme that integrates seamlessly with the Wholesale Club, the easiest way to offer wholesale pricing on Shopify. The app installs with one click and features exclusive, on-page wholesale pricing functionality.
This wholesale integration includes AJAX cart actions like adding a product and changing quantities, all without refreshing the page. It also allows for product quick shop popups, currency conversion, and an improved user experience with styling that makes the app feel like it's a part of the theme.
Whether you already offer wholesale pricing in your store, or you're considering it, Superstore's Wholesale Club integration is a truly powerful tool for merchants who cater to both wholesale and non-wholesale customers.
Power your store with our fastest theme yet
By offering Superstore exclusively on our website we can pack it full of additional speed and performance-boosting features like Turbolinks, lazy loading, and minified JavaScript.
These features power Superstore with crazy-fast loading times, even with a huge product catalog, reaching impressive desktop speed scores of up to 98 out of 100.
Create any look with flexible design options
Customize your storefront with Superstore's countless options for design, layout, typography, styling, highlights, and promotions. This theme makes it easy to match your business' branding to create a look that's entirely your own.
Bonus: its highly-configurable page design and layout options make it possible for you to design your store to suit your product catalog and customer's needs.
Feature your sales with built-in promo sections
Make your store's offers and discounts pop with a look that's similar to other major online retailers. Superstore's built-in eye-catching promotion sections make promoting your sales in both the product pages and in the cart really easy and visually appealing.
Maximize conversions with fast product discovery
Superstore's predictive live search can boost conversions by helping your customers easily find what they're looking for with super fast search results. Its product filtering is powered by AJAX technology, which allows customers to quickly filter and sort products on collection pages, making new product discovery simple.
Then get customers to the checkout faster with the theme's ultra-powerful navigation, featuring multi-column drop-down menu navigation.
Easily edit code with integrated custom scripts
Superstore allows you to make additions and edits to the theme's code without ever having to leave the convenience of the theme editor.
Tell us what you think
We'd love to hear what you think of Superstore! Send us your feedback, including what you love about the theme and which features you'd like to see in future versions, to
feedback@pixelunion.net
.