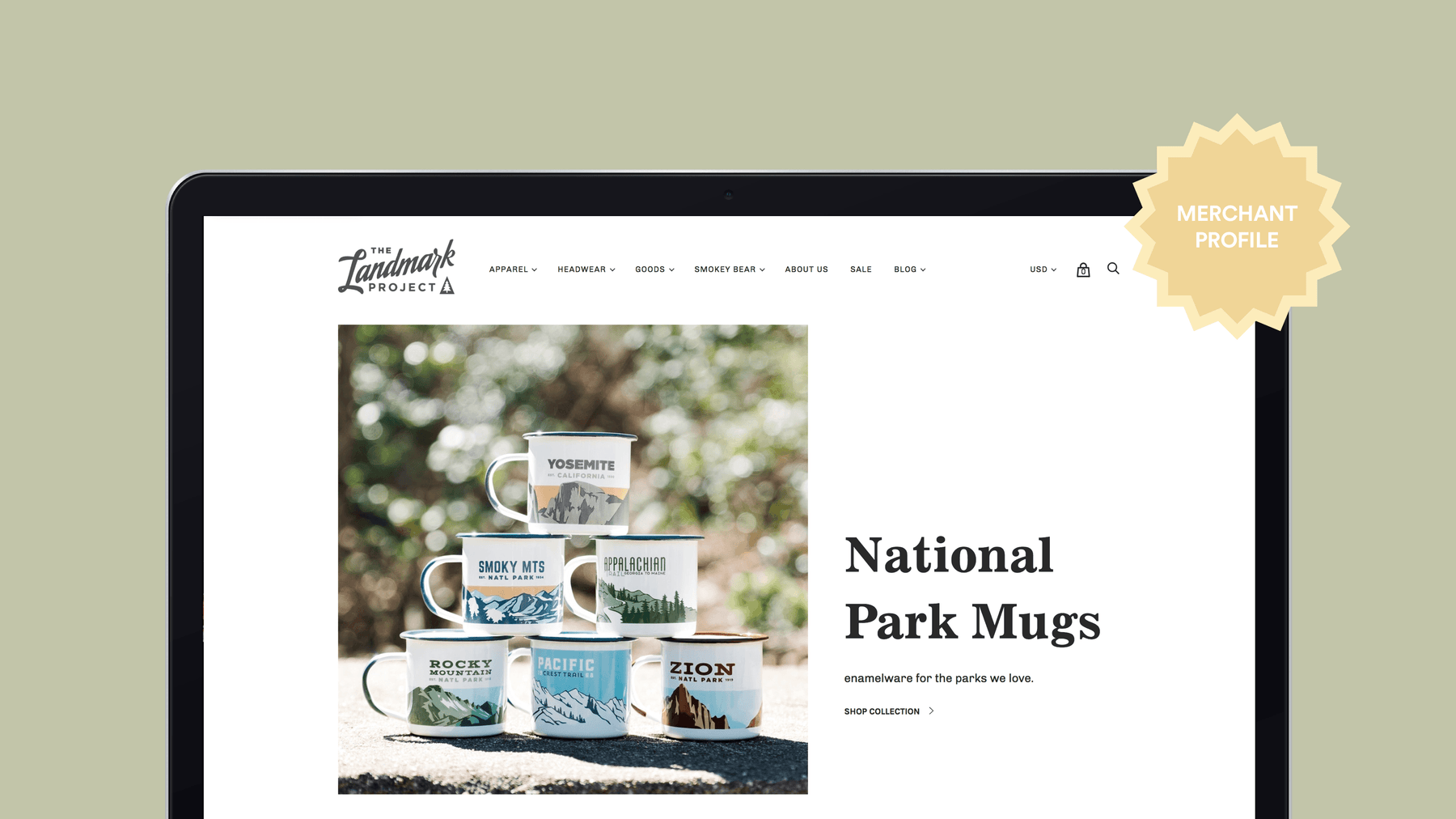 The Landmark Project: Gifting and giving back with special offers
Sales and discounts play a huge role in the success of many online stores. And while there are plenty of Shopify apps that promise to help you manage your promotions, none matches the flexibility, ease of use, and depth of options of Ultimate Special Offers.
From upsells to BOGO to giving a free gift with purchase, Ultimate Special Offers is a perfect one-stop solution for creating dynamic offers without having to manage a long list of Shopify discount codes. Since launching the app, we've seen online stores in many different industries using it to successfully increase their conversion rate and maximize their sales.
The Landmark Project is one such business that's harnessing the full power of Ultimate Special Offers. The best part is that not only are they using special offers to increase their revenue, they've found a way to do so elegantly in a way that doesn't devalue their brand.
A landmark business model
The Landmark Project is an outdoor lifestyle brand based in Greenville, South Carolina. We've been fans of theirs since the minute we laid eyes on their store. How can you not love a brand that sells beautiful original artwork printed on apparel to pay tribute to U.S. National Parks?
The business launched in 2014 with a few basic designs that caught the attention of outdoor enthusiasts. From there it grew quickly from a small print shop wholesaling t-shirts into a strong brand with over 100 unique designs and a full-scale ecommerce operation on Shopify.
Relying on their beautiful imagery (which includes both product photography and photos of National Parks), The Landmark Project has cultivated an engaged Instagram audience of over 30,000 followers. That same imagery features heavily in their Shopify store, from their homepage to their product pages to their blog.
"We have a really talented content creation team," says the brand's marketing coordinator, Ben Croft. "It's important to allow our customers to feel involved with the brand and welcomed when they come into—or click into—our store."
The Landmark Project made the move to ecommerce in mid-2017. According to Ben, they were drawn to Shopify for its "ease of use and out-of-the-box integrations."
One of those key integrations was Ultimate Special Offers.
A monumental discount strategy
The Landmark Project started using Ultimate Special Offers in May 2018.
"We chose it over other apps because it fit the bill for what we were trying to accomplish, which was to offer a gift with purchase," Ben says. "It lets us incentivize conversions without devaluing our brand with constant discounts and sales. Since then, we've continued to diversify our promotions so they feel new and exciting each time."
As an online business, this diversification is extremely important. Using a variety of offer types not only ensures that every promotion feels fresh, it allows you to see which sales resonate best with your customers. Of course you'll always want to cash in on crucial sale periods (BFCM, Christmas), but it's important to take note of other important dates and see how your brand, products, and promotions can align with each opportunity.
The Landmark Project's promotion strategy is primarily holiday-based with other seasonal offers sprinkled in. In the springtime, they hold a warehouse spring-cleaning sale where they use Ultimate Special Offers to discount the previous year's designs to quickly move a large volume of inventory, making room for the current year's designs. In the fall, they put out limited releases like embroidered pullovers and flannels.
These seasonal promotions lead up to their biggest promotions of the year, which coincide with the most lucrative time of year for most ecommerce merchants.
The landmark holidays
It's no secret that Black Friday, Cyber Monday, and Christmas are the bread and butter of ecommerce businesses. For some retailers, November and December make up as much as 30% of annual revenue. And while many stores offer discounts deeper than the Grand Canyon, a creative sales strategy will do more to generate buzz and keep customers coming back.
"Every year we kick off the holiday season in November with a gift-with-purchase campaign," Ben says. "We then run a more complex, tiered gift-with-purchase campaign through early and mid-December in which customers receive a gift based on how much they spend."
With both campaigns being huge revenue generators for the brand, Ultimate Special Offers is a critical tool in making them happen. "Without it," Ben says, "the promotions would put high amounts of pressure on our fulfillment department to manually keep track of gifts and cause them to potentially miss holiday deadline guarantees."
Their tiered gift-with-purchase campaign is a perfect example of how online stores can get creative with Ultimate Special Offers. As customers spend more money, the value of their gift increases. In the first tier, customers receive a free shirt, in the second a free beanie (or toque for our Canadian readers), and in the third a free poster.
"The idea is to pleasantly surprise customers when they check out," Ben says, "and at the same time encourage them to spend more to make it to the next gift-with-purchase tier."
More than just sales
The Landmark Project's mission isn't just to provide top-notch products. They also give back to the parks from which they draw inspiration. So far, The Landmark Project has raised over $35,000 for the U.S. Forest Service to help with wildfire prevention education.
"At the end of the day," Ben says, "it's not just about making money. It's about making an impact."
It's no secret that giving is good for business. Studies show that 55% of online shoppers are more likely to spend money if they know a portion of it is going to a good cause. The Landmark Project's perfect balance of strategic sales, quality products, and giving back to their community has been a huge part of their success.
Powerful results
Lessons learned
There's a lot to be learned from The Landmark Project's success. From finding your niche to building an authentic brand to using Ultimate Special Offers to run strategic sales and promotions, applying these lessons can help you grow your business. Here's a list to ensure your store is checking all the right boxes:
A creative promotion strategy. Keeping customers on their toes and offering new and exciting promotions will make sure each offer is successful.
A well-designed store. This starts with choosing the right theme, getting feedback, and optimizing as you move forward through your ecommerce journey.
A well-defined audience. Knowing who you're marketing to will influence your store's design, special promotions, social platforms, and more.
Authenticity. Being true to your brand's values and giving back to your community will build trust with your audience, and in turn, help drive sales.
–
Ultimate Special Offers
Start creating discounts and promotions today.