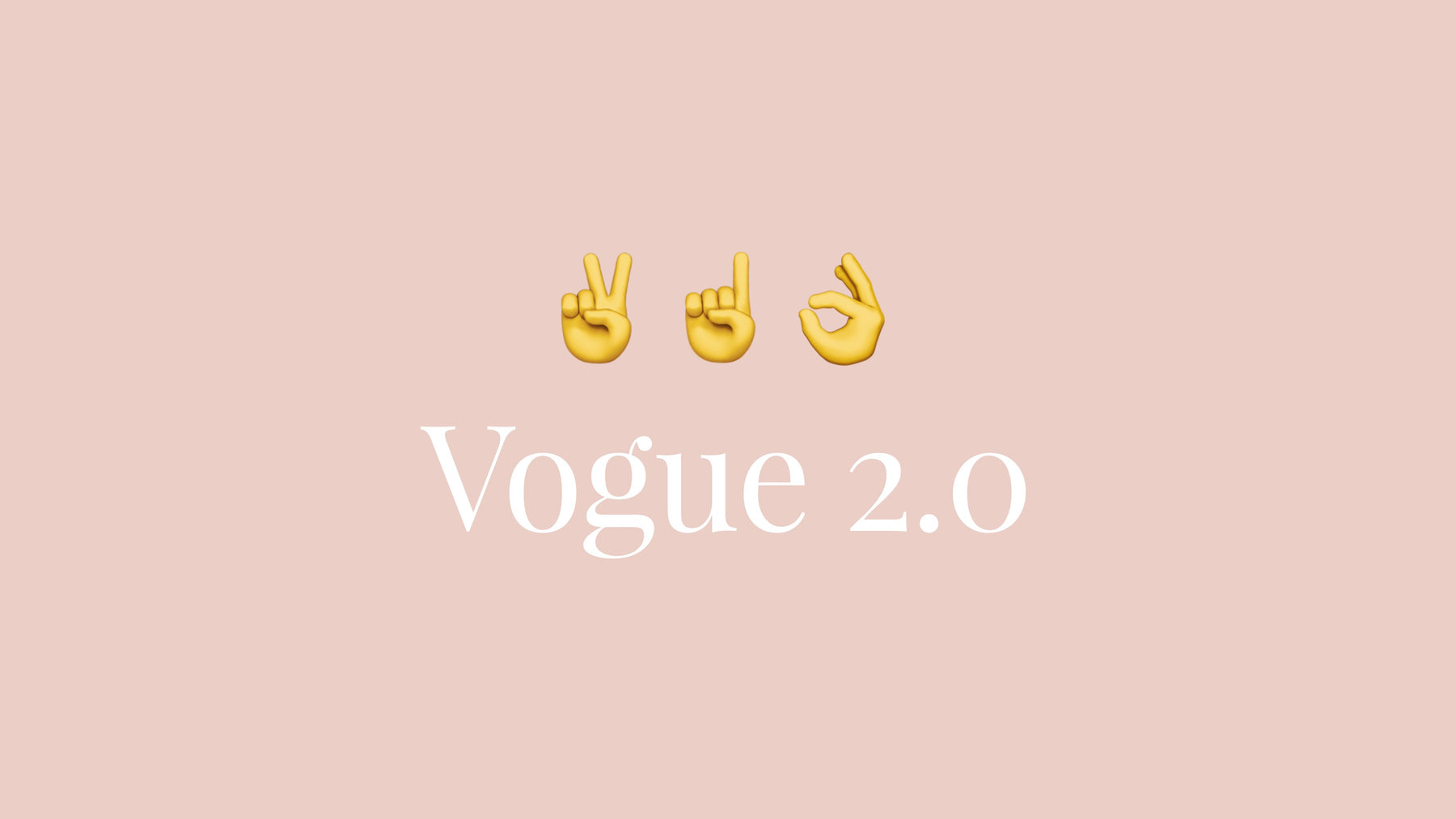 Vogue 2.0: A massive update to our lookbook-style Shopify theme
We don't like to sit still. As designers, we're constantly reviewing, tweaking, polishing, and improving our products—and for the most part, we keep pretty quiet about it.
But every now and then we have an update that just needs to be shared. Some days we want to shout it out loud and write 1,000-word blog posts and emoji-filled tweets.
Friends, today is one of those days.
That's because we just launched Vogue 2.0, a massive update to our lookbook-style Shopify theme that includes a boatload of exciting new features.
Exactly how many is a boatload, you ask? Let's put it this way: we quadrupled the number of homepage sections. We added a shiny new product page template. There's a new and improved search page, super-handy announcement bar, and sooooo many small-but-awesome tweaks that make the theme even more stunning than it already was.
Read on to learn more, or make a beeline for
the theme page
 where you can browse our new demos, read some testimonials, and get your hands on your very own copy of Vogue 2.0.
An ultra-customizable full-screen slideshow
When we first launched Vogue last November, we did so without a slideshow. It was a bold move, considering that at the time slideshows were to ecommerce themes what red baseball caps were to certain political rallies.
We figured we were breaking the mould by offering merchants an alternative to the tried-and-true slideshow — namely dynamic sections for showcasing immersive, full-bleed photography.
Some merchants loved it. Others just wanted a slideshow.
So we set about building a slideshow for Vogue 2.0 — the ultimate slideshow, no less. Something that could support both images and video, that allowed merchants to overlay slides with customizable filters, and that paid attention to the unique needs and preferences of mobile customers.
Several months later, we've accomplished just that.
Featuring elegant pagination and support for up to six slides, Vogue's slideshow is all about options. Want to create a multimedia introduction to your brand? No sweat. Rather autoplay a video showcasing your latest collection? We've got you. How about a good old-fashioned slideshow to showcase your top sellers and promotions? Piece of cake.
Now that's a slideshow. 
A shoppable single-product page template
One of the features we were most excited about when Vogue launched was its continuous-scroll product page. Rather than forcing customers to return to the collection view between products, the theme would automatically load the next product in the collection — a great thing for small-catalog sellers looking to immerse their customers in a collection.
To maximize this product-centric, immersive effect, we opted to exclude the variant options and add-to-cart button from the main page, displaying them only when a user clicked "Select options." Once activated, the product details would expand from the left sidebar.
While that sophisticated approach worked well for some merchants, others pointed out that it "hid" the all-important call-to-action and actually lengthened the path to purchase.
Could we add a new template that puts the add-to-cart button front and centre, and keeps prospective buyers focused on a single product?
Yes, yes we could.
Vogue 2.0 comes with a new product page setting: enable single product view. Now, rather than automatically loading the next product in a collection — and forcing the customer to scroll back to the product they were initially interested in purchasing— you can display just one product at a time.
And if you do want to entice them with other products in the same collection, you can always enable related products—no scrolling required.
Eye-catching and engaging social media feeds
With the average person spending nearly two hours a day on social media, and three out of every four relying on social networks to guide their purchasing decisions, it's safe to say that social media is non-negotiable for online merchants in 2017.
But simply being on social media isn't enough. You need to be soliciting reviews, building relationships with influencers, using paid advertising to retarget past visitors, and integrating content from your social networks into your online store.
The first three require some legwork, but that last one? That's a cinch now that Vogue comes with two shiny new homepage social media sections. Behold:
With Vogue's new Instagram section, you can feature your latest, greatest 'grams in a visually-appealing, interactive grid. Hovering over an image will reveal the caption, likes, and dates, while clicking on it will direct users to your Instagram page.
More of a wordsmith than a shutterbug? Vogue's new Twitter section lets you display your five most recent tweets in a slick, horizontally-scrollable (or "swipeable" ) slideshow. You can switch retweets on or off, add a header or not, and customize the background colour of said header. Again with the options! They don't quit.
Other updates
In addition to the new features detailed above, Vogue 2.0 includes a number of bug fixes, visual enhancements, and new sections, including:
A customizable announcement bar designed to increase the visibility of special offers and content
A social-proof-building customer testimonials section
An elegant map section, perfect for businesses with brick-and-mortar locations
A new and improved newsletter signup box
Ultra-customizable image with text sections that let you build the perfect homepage layout, complete with overlays, calls to action, and separate controls for desktop and mobile devices.
How to get Vogue 2.0
If you already use Vogue in your Shopify store, you can upgrade to the new version at no extra cost. Because it's such a major update, it does not qualify for automatic updates, and you will need to follow our instructions to upgrade manually. Don't hesitate to reach out to our support team if you need a hand.
Or, if you're in the market for a new Shopify theme and like what you see here, there's never been a better time to give Vogue a go! Just head over to the theme page and enjoy.