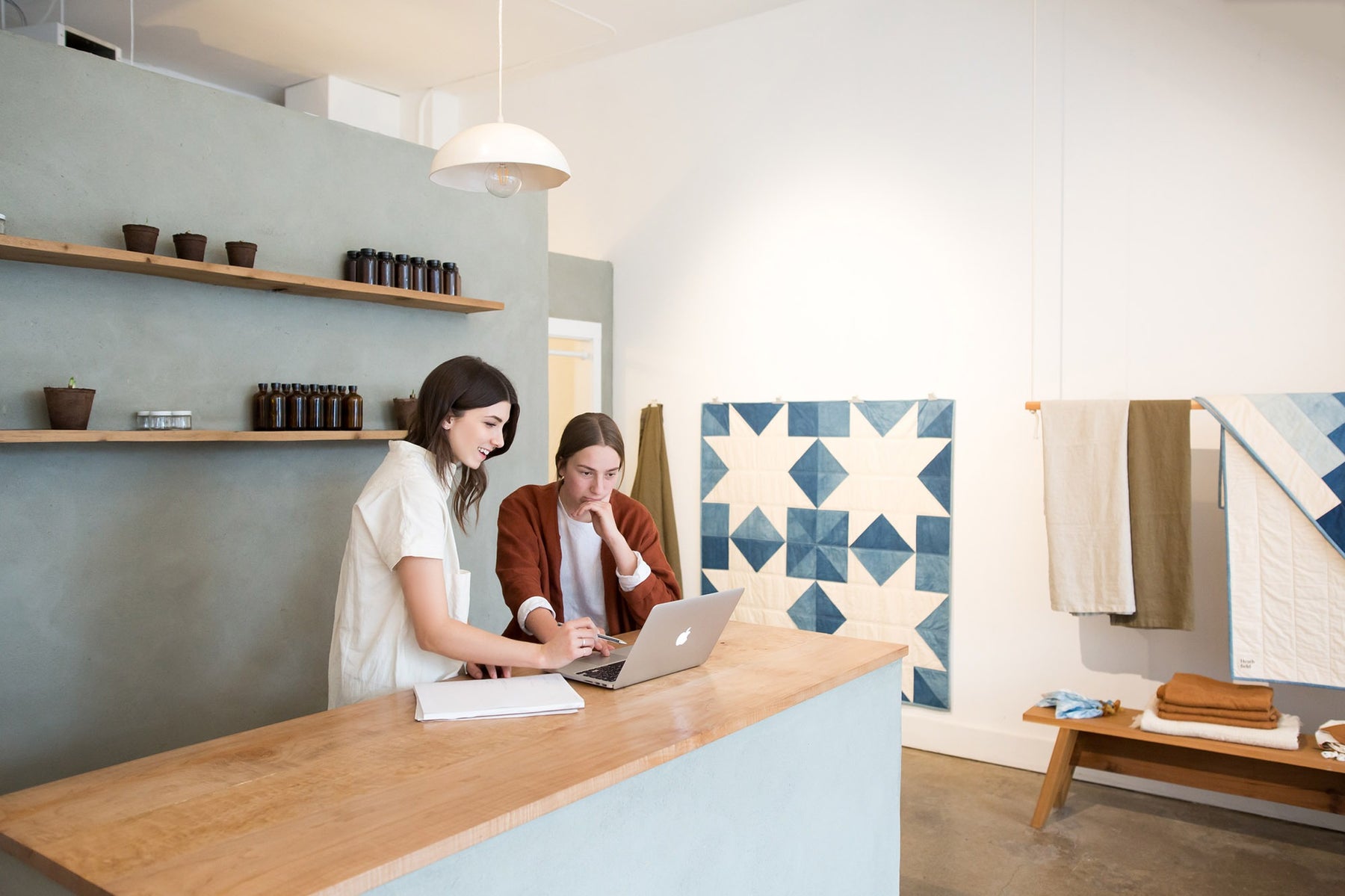 Vogue + HOLD General = A Shopify dream come true
Every now and then, an opportunity comes along that's just too good to pass up. Cheap tickets to Maui, shares in a company you know is going to take off, free samples at the grocery store. In our case, it was the chance to work with one of our favourite local businesses to make their Shopify dreams come true.
HOLD General has been on our radar since Marla Ebell opened its brick-and-mortar doors in 2016. Located just across the bridge from our Victoria office, HOLD has quickly become a go-to source for beautiful home goods and organic produce, but it wasn't until our art director Monika Tischer began chatting with Marla about the online side of her business that we realized we might actually play a part in HOLD's success.
From talking to Marla, it became clear that although having an online presence is important to her, she struggled to create an experience that's as thoughtful, immersive and memorable as a visit to her physical store. Her previous design—which used a free Shopify theme—felt limiting. It didn't let her show her products in detail, convey their value, or engage potential customers in the way she envisioned.
That struggle sounded familiar. Having recently launched our Vogue Shopify theme, we were well-acquainted with merchants looking to emphasize the visual components of their brand—and the constraints they experienced given the options available.
In Marla, we found the merchant we were designing for all along: someone who wanted to provide a detailed view of her products and collections, who wanted to showcase high-quality product and editorial imagery, and who wanted to create an engaging, authentic, and branded customer experience that mirrors her physical store.
It was a fortunate strike of serendipity we couldn't not pursue.
Monika visited HOLD and spent a full day talking to Marla, looking at her site, and getting to know her brand, products, and customers. Fortunately, Marla already had a beautiful assortment of images to work with, and we were able to leverage them to maximum effect with Vogue's full-bleed home and product pages and continuous product scroll.
One of the first things we did was create a lookbook for HOLD's "Tools for Simple Living" collection, allowing Marla to add context to her most popular products, presenting them from multiple angles in real-life, visually appealing settings. Even though customers aren't able to pick up and examine products in an online shop, HOLD's lookbook gives a more detailed view of the product, how it's used, and how it might fit their home or lifestyle.
When it came to the blog, it was clear that storytelling was important to Marla. Instead of presenting HOLD's "stories" as an endless stream of text and images (typical of most blog templates), we were able to create an eye-catching visual index, with signpost-like filters for improved discoverability. We even used a featured blog section to spotlight a favourite maker interview on the homepage, inviting casual browsers to linger and engage.
In fact, that invitation to escape and linger is what we feel we've achieved throughout HOLD's online store. What started as an unexceptional, cookie-cutter space bearing little reminiscence to HOLD's curated in-store aesthetic has become a charming and comfortable environment for customers to browse, buy, and get lost.
As Monika puts it:
"When you walk into HOLD, you instantly feel right at home. With Vogue, we were able to translate that feeling to the online shop—a little corner of the internet where you can scroll for hours, read about local makers, and browse through Marla's cozy imagery." Want to see what Vogue can do for your online store? Right this way.
–
Special thanks to Jordan Ettinger (videographer) and Kelly Brown (photographer) for lending their creative talents to this project.