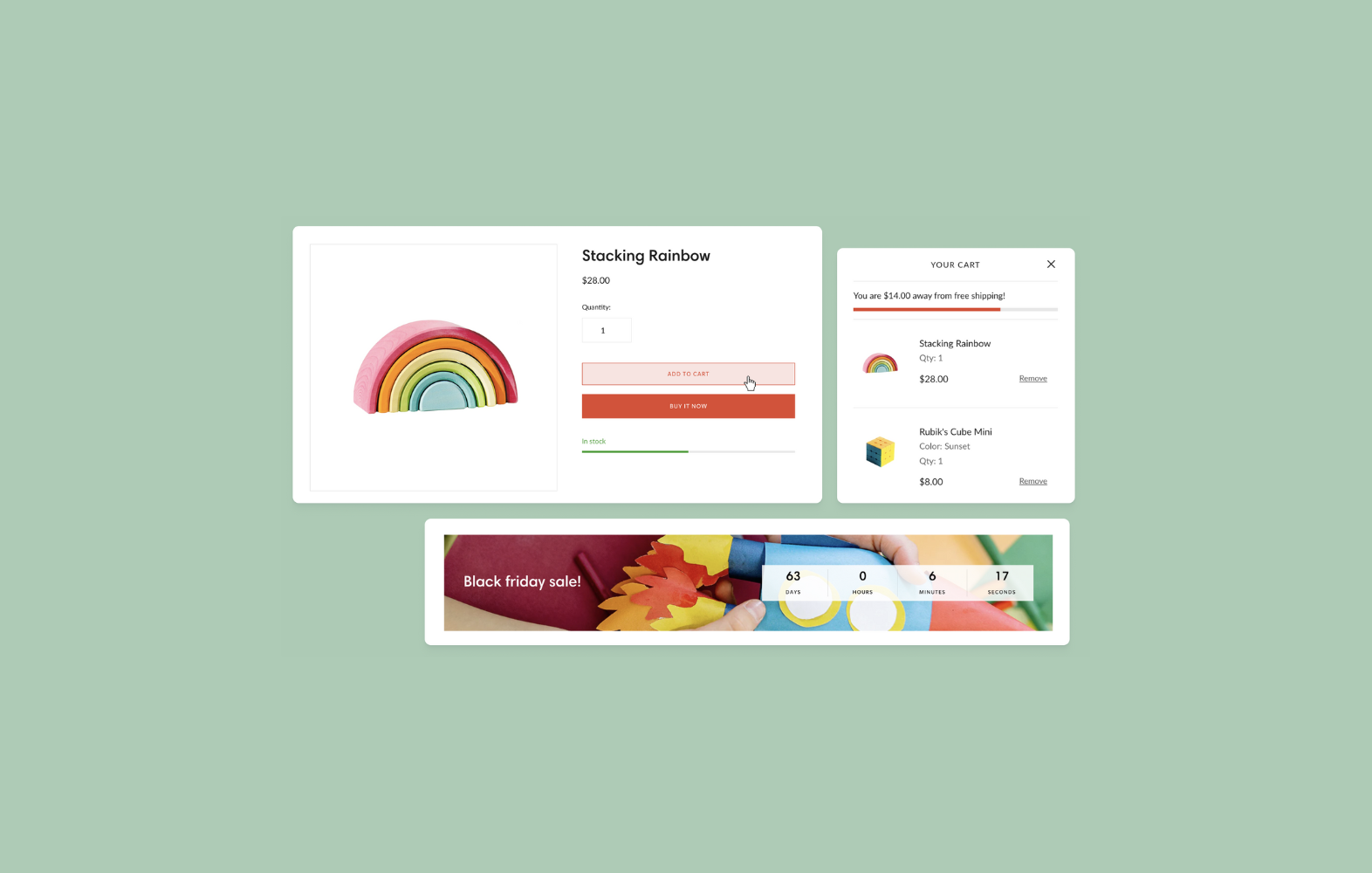 Fun features, playful presets: Atlantic v17 unlocks the toybox
The journey of our theme, Atlantic, has been influenced by feedback from thousands of store owners, shaping its evolution into a refined and iconic theme. Today, we are thrilled to unveil Atlantic 17, the latest version equipped with advanced tools designed to amplify promotions, simplify navigation, and speed up conversions. So, without further ado, let's explore the new and exciting features of Atlantic v17!
Scrolling text
As the buzz of BFCM 2023 approaches, savvy store owners seek effective promotional tools. Enter the Scrolling Text feature in Atlantic v17. This innovative tool allows you to captivate visitor attention, relay crucial messages, and augment user experience seamlessly.
Whether it's flashing promotions, exclusive discounts, urgent announcements, or glowing testimonials, the scrolling text provides an engaging medium to convey concise and critical information, helping keep your visitors informed and engaged.
Back-to-top button
Something as simple as a Back-to-Top Button can significantly enhance your website's navigation, providing a smoother, more enjoyable browsing experience. This subtle addition can unexpectedly improve user satisfaction, encourage conversions, and foster a user-friendly environment that customers will appreciate and enjoy.
Cart shipping messages
Introducing Cart Shipping Messages, a feature that encourages customers to add more items to their carts. By dynamically displaying how much more they need to spend to qualify for free shipping, this tool not only simplifies the buying process but adds an element of gamification that customers love.
The result? Increased sales, satisfied customers, and an elevated shopping experience for all.
Frequently Asked Questions (FAQ)
Address customer inquiries proactively with the enhanced FAQ Section. A well-crafted FAQ page not only minimizes the workload for your customer support but also empowers customers with instant answers to their pressing questions.


Providing clarity on shipping durations, return policies, and product usage, the FAQ is an invaluable resource. It instills confidence in hesitant buyers and offers the reassurance needed to finalize purchases. Ultimately, a robust FAQ section is a win for both store owners and shoppers, streamlining the sales process while ensuring a hassle-free shopping experience.
Plush demo storefront
Atlantic v17 is more dynamic than ever and the Plush demo store is a playful new take on the iconic theme. Check out the new sections in the context and color scheme of a Baby and Kids Shopify store.
Try Atlantic v17 in your store
Atlantic v17 stands out as a powerhouse of features offering an unparalleled ecommerce experience. Each new tool—from engaging scrolling text to playful and persuasive cart shipping messages—has been crafted with both the business and customers in mind.

Atlantic v17 is not just a Shopify theme; it's a comprehensive solution for Shopify store owners aiming to thrive in the competitive online marketplace. Let Atlantic v17 propel your store to new heights of success and customer satisfaction.
Already purchased Atlantic?
Let Theme Updater Plus automate your update to v17!