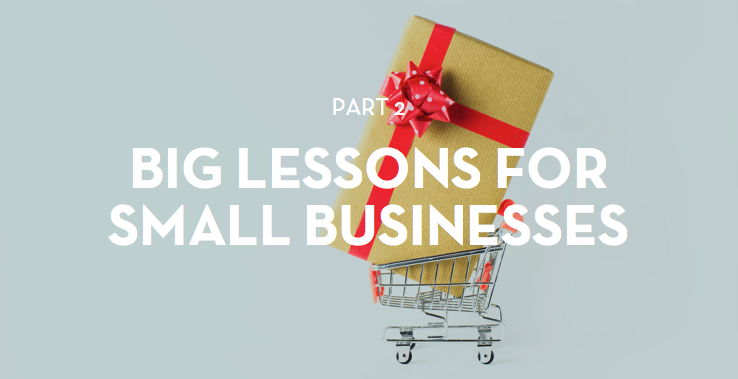 Five lessons small businesses can take from big brands
Few people today are familiar with Amazon's beginnings as an online bookstore run out of Jeff Bezos' garage. Fewer still could tell you that eBay traces its origins to a broken laser pointer, or that Wal-Mart launched its big-box empire with a five and dime in a town of 2,900 people. These companies have been dominating for so long, we forget that they too used to be fledgling startups.
In 2015, pretty much anyone with a online store is competing with an established brand. Though it's easy to dismiss them as heavyweights punching above your weight class, there's plenty to be learned from seeing major retailers as your competitors. Your business might not experience the same growth path, but you can study patterns to success.
This is particularly true if you're a new seller gearing up for your first holiday sales campaign. Established companies like Amazon consistently set the bar for the rest of the industry when it comes to the fourth-quarter shopping frenzy, beating their own sales records year after year and coming up with new ways to impress holiday shoppers.
When a company is selling more than 426 items per second, it begs the question: What can we learn from them?
Lesson #1: Focus on Your Customer
According to ForeSee's latest Annual Holiday Retail Report, Amazon led the pack in customer satisfaction for the eighth year in a row in 2014. No doubt this has a lot to do with the company's massive support team, which strives to make Amazon "Earth's most customer-centric company." Even Jeff Bezos dons a headset for a few days each year to stay focused on "the most important person in the room"—the customer.
While many ecommerce startups wait for their support ticket queue to start overflowing before assembling a team to manage it, smart sellers prioritize customer service early on. Amazon has already announced it's hiring 100,000 temporary employees this holiday season, and though your staffing needs will probably vary, you might consider hiring some extra hands for the rush.
That said, being small has its advantages. As a smaller business, you can take Amazon's customer-centricity to the nth degree, building stronger bonds with customers and creating a real community around your brand. Bigger companies aren't able to replicate that sort of intimacy with customers—and that gives you a definite competitive advantage.
Lesson #2: Email Well, Email Often
Email isn't dead. It seems every couple of years someone likes to proclaim otherwise—instant messaging works better, nobody uses email anymore, spam has ruined it, etc.—but invariably they're proven wrong. According to a 2015 Adobe survey, people spend an average of 6.3 hours a day using email, checking in from bed, on vacation, and even while driving.
So it's not surprising that email continues to drive online sales. Despite an uptick in social media platforms and other marketing channels, email marketing drove a whopping 27.3 percent of sales on Black Friday last year, far more than any other channel. If you want to communicate with your customers and make more money, email is the way to do it.
Just ask J.Crew, which translated its trademark mastery of the print catalogue into bold, beautiful email newsletters. From short and sweet subject lines to perfectly-styled imagery, every part of J.Crew's emails appeals directly to its clean-cut customers, compelling them to click that understated "Shop Now" button. Here's an example of one of their superlative email missives, annotated by the folks at Storyhouse Creative.
While smart design and snappy copy are key to J.Crew's success, if you're looking to master email marketing, frequency is just as important. So, how often should you email? According to data from Cortex Commerce, J.Crew sent five emails over a two-month period in early 2015—a good balance between spammy and silent—but the answer is different for every business.
We like this advice from the Daily Egg: "Email as frequently as you can, as long as you can continue adding real, tangible value to your prospect or customer." Words to email by.
Lesson #3: Harness the Power of Customer Reviews
One of the reasons people love online shopping is because they can review and compare dozens of stores and products simultaneously. In 10 minutes, shoppers can gather more key points and customer opinions of a product than previously could have been amassed in a whole weekend of shopping around and polling friends. Even when purchasing in-store, 80 percent of consumers conduct online research before pulling the trigger.
Customer reviews make or break sales. If there's one company that proves this theory beyond any shred of doubt, it's eBay. Look at any listing on the site, and beside the seller's name you'll see their feedback rating, the total number of reviews they've received, and a corresponding star (silver shooting stars are best). A feedback score of 99.7 percent—the average rating among eBay sellers—means that seller has "satisfied" 99.7 percent of its customers.
eBay's feedback system may have its issues (can such overwhelmingly positive reviews really be trusted?) but it demonstrates the importance of customer reviews to online businesses. According to a study by iPerceptions, 63 percent of customers are more likely to make a purchase from a site that has user reviews, while consumer reviews are 12 times more trusted than manufacturer descriptions.
Adding a review and rating system to your store has one other benefit: SEO. When all your competitors are using the same generic manufacturer descriptions, having regularly-updated, user-generated content can help differentiate your site and make it more attractive to search engines. The best part? Even negative reviews can bump your product pages to the top.
Lesson #4: Make Shopping Personal Again
Famous for its "greeters," Wal-Mart recently revamped its web store to personally greet patrons online as well. The redesign includes a customized homepage tailored to each shopper's location, search and purchase history, and offers relevant, frequent product recommendations.
As the company's CEO of Global Ecommerce, Neil Ashe, explains: "We want to know what every product in the world is. We want to know who every person in the world is. And we want to have the ability to connect them together in a transaction."
Chances are, you don't have access to as much data as Wal-Mart (the company collects an absurd 45 million filing cabinets worth every hour), but you can still benefit from customer analytics, thanks to a rapidly expanding marketplace of personalization tools. In a way, these apps do the work of a well-trained salesperson for you. They greet people, listen to their needs, deliver a solution, and—if you're lucky—make a customer for life.
After all, ecommerce is basically sales, isn't it? Strip away Wal-Mart's powerful servers and fancy algorithms, and all they're really doing online is asking the same question legions of greeters sport on the back of their blue vests: How may I help you?
Lesson #5: Emphasize Omni-Channel Retailing
As the Harvard Business Review prophesied in its 2011 article "The Future of Shopping", today's customers want everything. They want the broad selection, wealth of product information and buyer reviews that come with shopping online, but they also want the personal service and ability to touch and try-on that come with in-store shopping.
For Nordstrom, a luxury department store that's currently outperforming every other retailer in its class, that means integrating disparate channels into a singular shopping experience. Last year, the store turned "likes" into dollars by becoming the first retailer to implement Like2Buy, a service that adds ecommerce to its Instagram feed. Eight months later, the company launched TextStyle, allowing customers to complete purchases via text message based on recommendations from an in-store salesperson.
You might not have the resources to develop in-house solutions like these, but there are tools at your disposal that can help you emulate them. Take advantage of the Instagram, Facebook and Pinterest direct-buy integrations available to online sellers. Let social media guide your store merchandising and promotions. Try selling offline with a holiday pop-up shop.
The bottom line: omni-channel retailing is about improving your customers' shopping experience and making it easier for them to get what they want. As Jamie Nordstrom put it: "We don't hear customers talk about channels very much. Customers value experiences. The more successful we are at creating a great shopping experience … the better our business will be."
The Final Word
For ecommerce rookies in 2015, there's good news and bad. The bad news is that selling online is an incredibly competitive game dominated by established brands with decades of experience and unthinkable amounts of capital. The good news is that more and more Davids are taking on the Goliaths—and winning. With the ecommerce industry projected to grow 15 percent in the next three years, there are huge opportunities for new sellers and new ideas.
So don't forget that every business, no how matter how big, started out small. Your little startup can follow in the footsteps of ecommerce giants, learning from the best and emulating their successes. At the same time, you can take what they've done—and do it better.