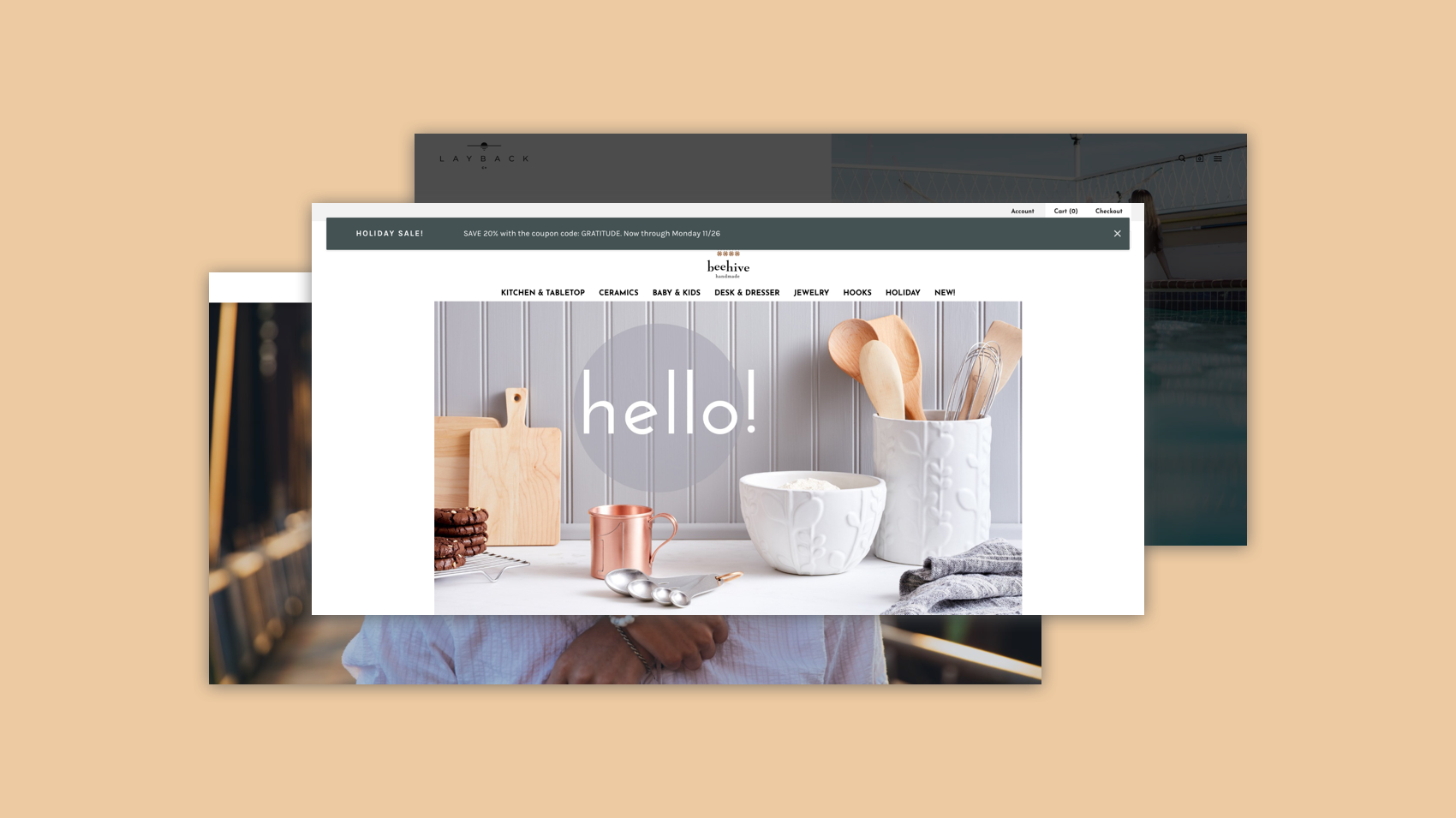 8 great real-life uses of Shopify apps this BFCM
Another year, another ecommerce record smashed. According to Adobe Insights, online shoppers spent $24.2 billion over the BFCM weekend this year. Cyber Monday led the way with $7.9 billion in sales, followed by Black Friday at $6.2 billion.
While merchants clamber to keep up with seemingly non-stop orders, we've been busy here at Pixel Union making sure our Shopify apps—Ultimate Special Offers, Pixelpop, Bizzy Social Proof, Countdown Sales Timer, and Smart Shipping Bar—keep engaging and converting customers on the biggest shopping days of the year.
BFCM is like the Super Bowl for apps, and Ultimate Special Offers pulled through with a Tom Brady-level performance. Shopify's only all-in-one sales app processed over 270,000 orders containing 790,000 products, resulting in over $22 million in sales. That's over $8,500 per store.
Pixelpop also had an amazing weekend, serving up over 3.2 million popups leading to 65,599 total engagements, including a whopping 14,073 email addresses collected. These email signups will come in handy down the road, so great work if you were one of the merchants who took advantage of the BFCM traffic surge.
On top of digging into the numbers, we've also been able to glimpse some of the innovative and inspiring ways merchants are using these apps. In this post we'll showcase some of our favourite examples in hopes of inspiring you. After all, the buying bonanza is far from over. Adobe predicts ecommerce sales will top $124.1 billion this holiday season, and as of right now (November 28) we're not even halfway there.
Let's keep the momentum going!
Supply
Supply got the BFCM party started early with a sale beginning Monday, November 19.
Visitors were greeted with a beautifully designed, full-screen popup promoting the store's "biggest promotion" of the year. What we love most about this popup is its design. The colour scheme ties in well with the core colours of Supply's storefront, and the accompanying product photography looks top-notch.
This popup was swapped out with a Cyber Monday-focused one when Supply's Black Friday sale ended.
Beehive Handmade
We don't know about you, but we saw a lot of "BLACKFRIDAY20" and "CYBER25" discount codes this past weekend. So many we were tempted to start trying them in random stores just to see if the key fit.
What's great about Beehive Handmade's code—"GRATITUDE"—is that it's different. It's positive and on-brand, and doesn't it look great up there in that discreet but appealing top bar?
Layback
There are a few things we love about Layback's popup. The design complements the overall look and feel of the store, while conveying clear instructions on how to take advantage of their sale.
They also ditched the term "Black Friday", which we imagine doesn't sit well with their audience. Instead, their promotion is labelled the "No Bad Days Sale." This captures the essence of their brand, resonating with customers while still allowing them to participate in the hype of BFCM.
Win, win, win.
Trujillo Coffee Co.
Our favourite use of Smart Shipping Bar this BFCM goes to Trujillo Coffee Co. Their red and green shipping bar holiday-izes their store, while the accompanying hero image makes us want to cozy up by the fire with a nice cup of hot Trujillo brew.
We expect this shipping bar to be present right up until the end of the holidays. Gotta love longevity!
Copper H20
Batman and Robin. Bert and Ernie. Pixelpop and Countdown Sales Timer. Copper H20 unleashed a dynamic duo of Pixel Union apps this BFCM to promote their sale.
First, they've got a subtle black-and-white timer at the top of their store counting down the remaining days, hours, and minutes of their sale. Then, they've got a contrasting, can't-miss-it popup informing users of their Black Friday sale (which—get this—includes a free gift).
Pixelpop + Countdown Sales Timer = Slam dunk.
Benji Sleep
There's something mesmerizing about the perfect hero image. Couple that with a clever tagline, a clear call-to-action, and a countdown timer, and you've cooked up a recipe for BFCM success.
Benji Sleep used a contrasting countdown timer at the top of their store to further their messaging of "Don't sleep on this sale!" They matched the font in the timer to that of their store, and included a clear call-to-action button taking customers straight to the sales.
They definitely did not sleep on taking advantage of the BFCM frenzy.
Province of Canada
It's no secret that we're fans of Province of Canada. How could we not be? Their exemplary use of our tools does not go unnoticed.
This clothing store out of The Great White North celebrated BFCM with a week-long cyber sale. Their coral-coloured popup ties itself in nicely with the accents of the store's hero image, while clearly promoting the offer's savings and length. They also used Bizzy Social Proof (bottom left) to display sales notifications and give their store the feeling of a bustling brick-and-mortar shop.
East Coast Beard Bros
We couldn't help but include this extremely bold offer from East Coast Beard Bros.
Using Pixelpop's holiday template, they enticed—nay, dared—customers to load up their carts with a bounty of beard products. The customer with the highest valued cart throughout the day not only received their order for free, they also received 40% off their next five purchases.
–
If you're feeling inspired and want to see what you can do with these apps in your store, head over to the App Store and treat yourself to a fresh copy of Ultimate Special Offers, Pixelpop, Bizzy Social Proof, Countdown Sales Timer, and Smart Shipping Bar.
And if you're looking for more ecommerce tips and tricks, get our free Holiday Handbook for Shopify Entrepreneurs.