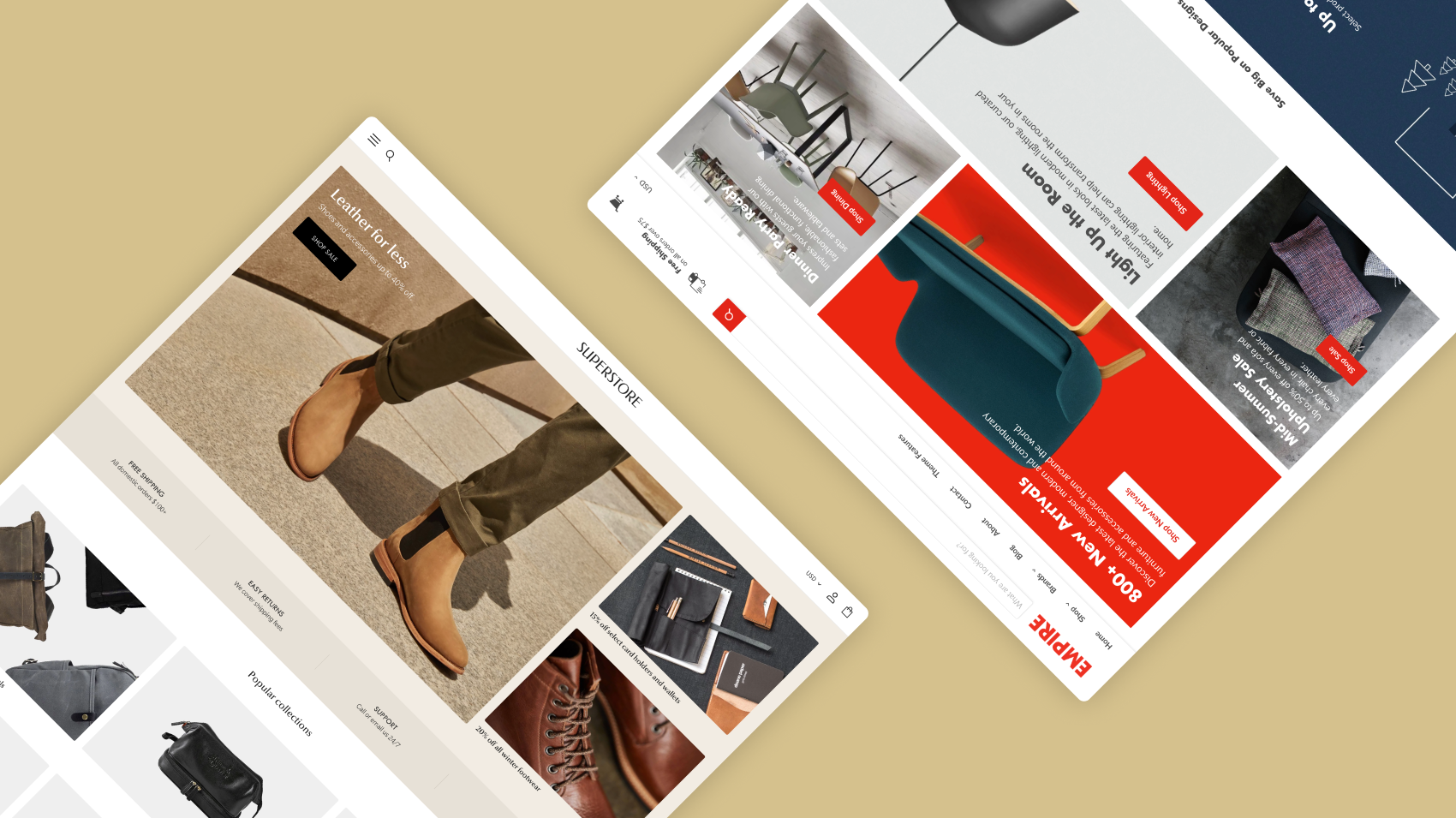 Superstore vs. Empire
It's a battle of the titans! Our flexible wholesale powerhouse, Superstore vs. our best-selling large-catalog theme, Empire. While it's true that both themes share similarities and features, there are unique differences that present significant value for merchants. In this post, we'll highlight some of the key differences as well as similarities between Empire and Superstore.
Superstore
Superstore is not only our most recently created theme, but is also unique in that it's our only theme that's solely available in our store, and not in the Shopify marketplace. Merchants may also notice that Superstore carries a higher price-point than that of our marketplace themes. This is due to the added flexibility and customization options we've added to Superstore, in order to maintain its reputation as a highly versatile wholesale theme. With built-in marketing tools such as an announcement bar and design features like custom swatches, image with text and page layout customization Superstore can adapt to suit your business needs.
Superstore also integrates with our app Wholesale Club, which allows merchants to easily offer discounts on selected collections and products, with multiple pricing levels and customizable order minimums. You could say it's a match made in heaven for wholesalers!
Additional Superstore features include epic design flexibility, dynamic highlight banner, image with text support, and 21 language translations. For a full list of features and updates, visit the Superstore product page where we also showcase live merchant stores, like Hola BB shown below.
Hola BB
Empire
Drawing inspiration from the Amazon framework, Empire continues to prove itself as our top-selling theme in the Shopify marketplace for over two years running. With hyper-fast navigation, refined search, and large-catalog support, Empire is a tried and true theme for merchants with vast product collections.
Our recently updated version of Empire also added a number of product-based features not yet seen in Superstore. Contextual search, for example, allows customers to filter search results using product types or tags. This allows your customers to easily find what they're looking for, without having to manually navigate through collection pages. Additional Empire features include live search, homepage menu lists, quick buy, and customizable promotion tiles. For a full list of Empire features and updates, please refer to its corresponding product page.
Thus, while Superstore certainly brings an added layer of design and layout customization, Empire is also extremely well suited for product-centric stores carrying large inventories. To get the full scoop on Empire V5, check out our blog post covering the update. In addition to checking out the featured store below, we also recommend going through our theme demos, which are up to date with recently added features.
 Craft Kettle
In summary, for merchants seeking additional customization options and built-in promotional features such as the announcement bar, Superstore is an ideal fit. For merchants with large-catalogs seeking a proven theme with a strong emphasis on customer experience with features such as advanced filtering and search options, Empire is an excellent choice.
All considered Superstore and Empire are both suitable theme choices for merchants with larger inventories and product catalogs.