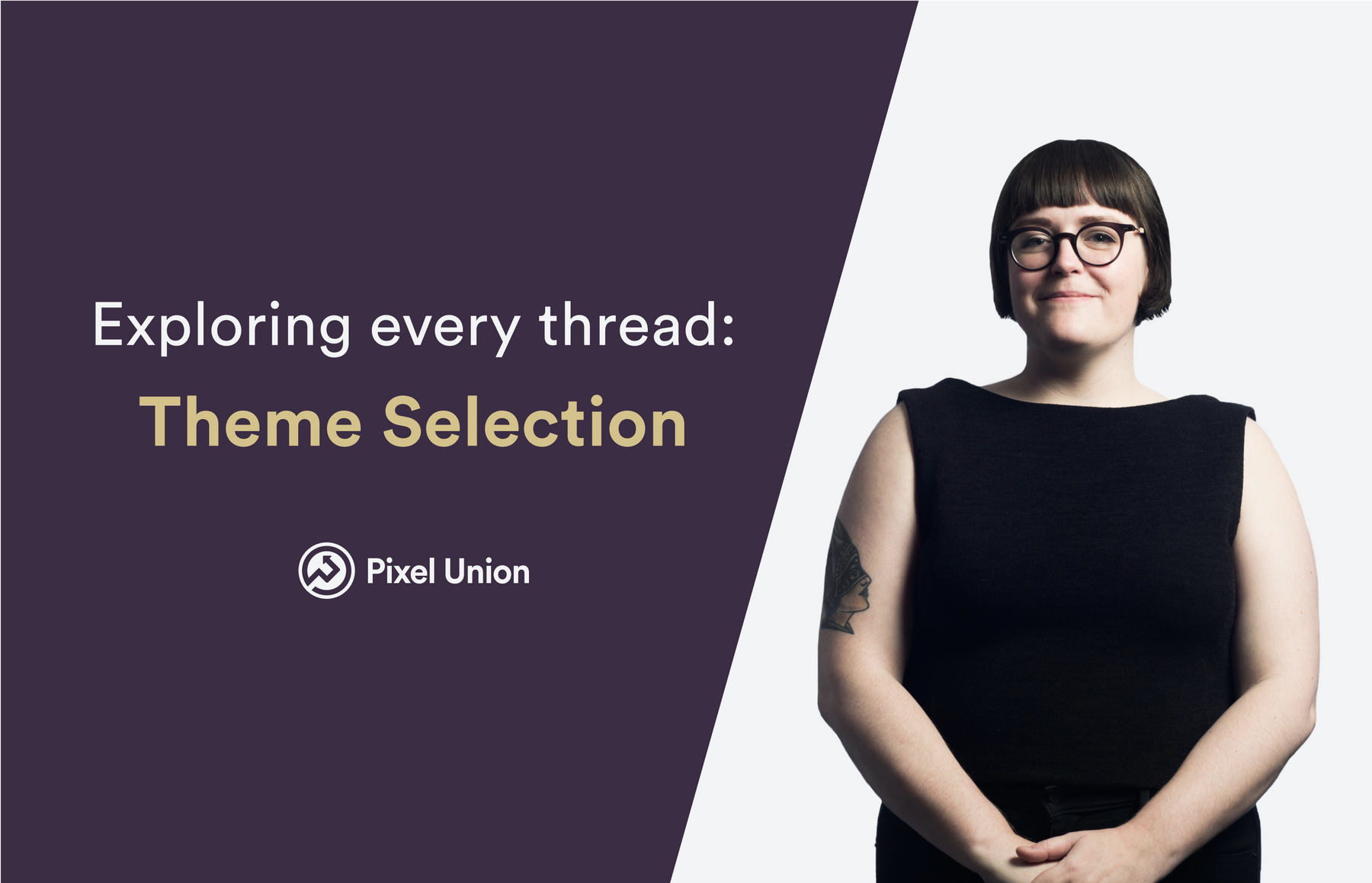 Exploring every thread: Theme Selection
This post is part of our exploring every thread series, where I, Kate, discuss some of the challenges I've faced in my journey as a Shopify merchant, and how I've been able to overcome them. Be sure to check out our first video, if you haven't already! 
This week I'm going to talk about my process for choosing a theme and deciding on colors and branding for my business. Your online store is where your customers will be introduced to your brand and picking the right theme will enhance their experience and understanding of your business. I talk to dozens of merchants about choosing their theme every week, so this was a great chance to turn the tables and choose a theme for myself.
Hopefully, you have an outline of what products you're hoping to offer online, the price points and some other structure built out in Shopify. This will help make sure you have something to see when you demo themes! To help get ready, there's a great Shopify checklist here.
Where did I start?
Here at Pixel Union, we have 11 themes for a wide range of shops. As I mentioned before, I've got a pretty niche product - patches for Fictional Star Wars baseball teams. I'm going to sort our themes into different groups by type, then I'll get into how I landed on my theme.
One of the first things to consider when shopping for a theme is the size of your catalog. Do you sell a single product, offer a small range of products, or do you have a huge catalog of products and collections? This will give you a great starting point and help make sure you get the features to match your needs.
A solo or small catalog will need way less navigation for example. Instead, a store with a smaller catalog would benefit from features that show off the details of your products. You can see this in our
Startup
theme, shown below.
With a medium size catalog, you're looking for a more general mix. Navigation gets a bit more important because you'll have more collections and groupings to show off and you want to make it easy for your customers to find what they want. This is a great catalog size to have more visual elements to reinforce your brand and content. Grid is a great example of a theme like this, as shown below!
Finally, large catalog stores often offer a wide range of products so you need to make sure your customers are able to search through your store in an intuitive way. This is where Mega Navs, Filters, and Live search come in. Themes for this catalog size also have more brief features to catch your customer's eye - - like a peek of a collection on the homepage instead of the whole thing! Empire is a great option for a large catalog.
What did I pick?
For me, the perfect theme was Handy. It is great for a small to medium catalog so it can grow as I add more products. It also has the right look and features for me. It's streamlined and mobile-focused which is important to me and how my customers will interact with my site most.
I also tried out our new theme Superstore, which is intended for large catalog stores but offers a lot more control over settings in the theme editor, which means more options for customizing without editing the theme's code. I was interested in the range of settings but ultimately, the fewer settings in Handy worked well to guide the look and take some decisions off my plate.
If you have experience with themes not quite offering you enough, Superstore is worth looking at - - it's great for a more advanced merchant looking for more control. I'll be keeping an eye on it down the road as I grow as well.
Picking color palettes and typography!
Now I have my theme! I don't have much else at the moment, so my focus is on defining my color palette, fonts, and general feel of my brand to guide the rest of my decisions.
I'm also a clothing designer, so picking color combinations is something I love to do, but not something that I've done for an online store. I decided to get inspiration from color palettes online - - I'll link some of those resources at the end!
By seeing colors together it gave me a better feel for how everything could look on the site. I also knew that my general look would be a bit vintage-inspired with muted shades to let the colors of my product and photography stand out. I stuck to 3 colors, a background color, text color, and accent color. This was enough to get me started and keep it as simple as possible.
Tip: Check out your favorite stores! Do you like a lot of color and accents or something more minimal? What will help your products and branding stick out? Use the inspiration for what you like all ready to guide you.
For fonts, I had a similar process. I combed the web for examples of two fonts together until I had a couple to test in my theme editor.
Fonts are another area where I could lean on my general branding of the 'vintage ball team'. So a bolder font paired with something more minimal was a great combination for me.
When I was setting up the theme editor, I tested my two fonts in each section to see what worked best. Our themes have a font picker right in the Theme Editor that will easily show you all the free fonts with a preview of how they look in the list. This really sped up my testing! I'm glad I didn't add more to juggle or I would still be picking!
So what's next?
I'm setting up this site on a small budget, so picking free fonts and working with the theme features as much as possible helped me stretch my funds.
I made sure to go through the sections in Handy to plot out what I needed to tell the best story to my customers. With this planning, I knew I would need a slideshow, featured collection, featured product, image with text, newsletter sign up and an Instagram feed. Once I knew this I could plan out the content I needed to fill it all out.
Tip: If you're going through a theme and feeling overwhelmed, check out the theme demos and your favorite sites! What features are they using that you like and what could that look like for your products and branding?
This way, I could see what gaps I had product photography, lifestyle photography and stock images. I'll cover all of that in an image specific article.
My homepage had a plan, so from here it was important to get to know the rest of the theme settings- - like customizing the product pages and collection pages for example. You don't need to know everything at once but playing around and testing it out will teach you how to get the most out of it when you're ready!
Resources that helped me out
Fontpair.co Shopify provides free Google fonts so seeing pairs of them like this can really speed up picking out a couple that work for you.
Canva's post on color palettes for websites I love Canva! I use it as a free tool to tackle all sorts of branding and campaign needs and on top of that, they had a great post to help me pick site colors.
That's it for this week. Let me know if you have any other theme questions that come up- or if you have a favorite part of setting up a theme!
Talk to you soon :)
Kate